Aam Pora Shorbot Recipe - Bengali Aam Panna Recipe
Bengali Aam Pora Shorbot is a Summer Drink recipe made with raw mangoes that are smoked on a stove top and made in to a pulp - Mixed with light spices, it makes for a great cooling drink that you can serve to your guests.

Donna George
On

Monday, 12 June 2017 00:11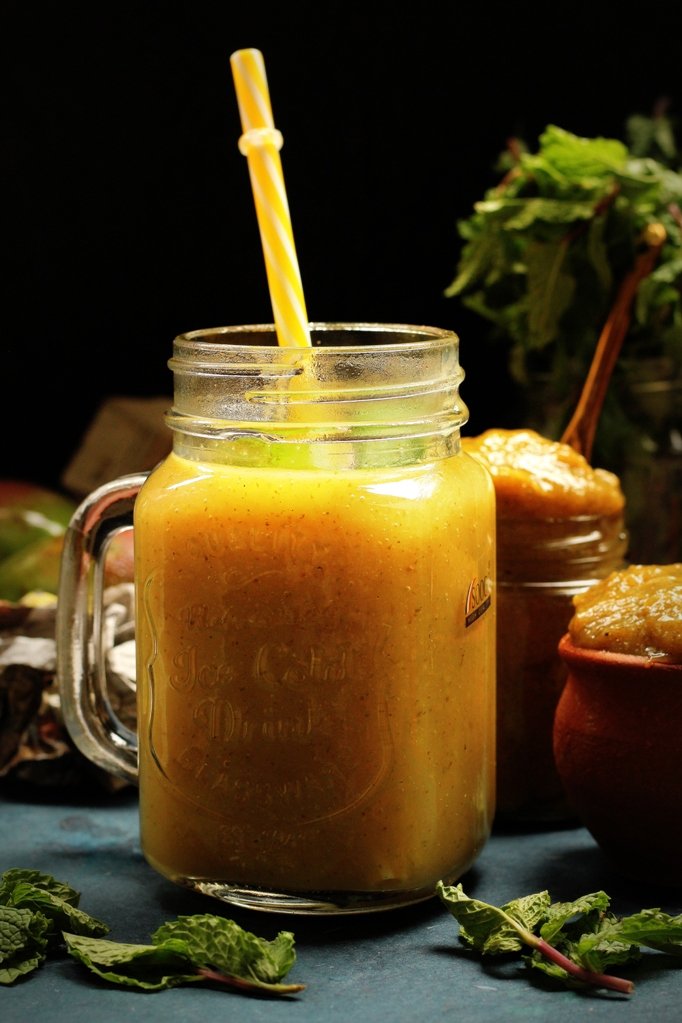 Summer calls for foods and drinks that cool our bodies. Raw mangoes, the wonderful summer fruit/vegetable is perfect to protect you from sun strokes and extreme heat. The refreshing Aam Pora Shorbot is a smoky spiced raw mango cooler which is similar to the popular Aam Panna.
This Bengali Aam Pora Shorbot makes use of smoked mangoes. The end result is a gorgeous tasting raw mango drink with subtle notes of smoky flavour. Smoking mango helps in cooling down an otherwise hot mango fruit. This makes it a more cooling drink for the body.
So tasty and so simple to prepare. Go ahead and try this healthy home made summer cooler today!
Serve Aam Pora Shorbot to your guests along with some snacks like Raw Banana Chivda and Dal Vada with Oats and Vegetable.
If you like this recipe of Aam Pora Shorbot, you can also try other Mango recipes such as
Ingredients
6

Mango (Raw)

, sour variety
1/2 cup

Sugar

, or jaggery (reduce or add quantity as per taste)
3 tablespoons

Cumin powder (Jeera)

, roasted
2 teaspoons

Black Salt (Kala Namak)

, adjustable 
6 sprig

Mint Leaves (Pudina)

, make sure the stalks have been removed and only leaves used, leaving a few leaves aside for garnish

Chilled water

, as required

Ice cubes

, optional
How to make Aam Pora Shorbot Recipe - Bengali Aam Panna Recipe
To begin making the Aam Pora Shorbot recipe, we will firstly prepare the pulp for Aam Pora Shorbot.

Wash the raw mangoes and wipe them. Roast the mangoes on a direct flame on low to medium heat until the outer skin is charred and black. This will indicate that the flesh/ pulp has to become soft and fully cooked.

Cool them by covering them with a damp cloth or kitchen towel.

Peel and discard the charred skin of the mangoes. Separate the pulp discarding the stone.

Into a blender, add the extracted pulp, mint leaves, black salt and roasted cumin powder.

Grind the ingredients till smooth.

This concentrated mango mixture can be stored in a glass jar or air tight bottles, in the refrigerator for a week. Your Aam Pora Shorbot Pulp is ready. With this you can make it either savoury or sweet.
To make the sweet version
To prepare this drink, we need a big steel or glass mixing bowl/ pot and a balloon whisk.

Into the mixing bowl, add enough chilled water. Add a few tablespoons of the prepared Aam Pora Shorbot Pulp along with jaggery.

Using a balloon whisk, continuously whisk together the pulp and chilled water till the ingredients have blended well.

Do a taste test and add more pulp if necessary. Remember to whisk the contents well.

Pour into individual serving glasses or mason jars. Garnish with fresh mint leaves and ice cubes. Serve chilled.
To make the savoury version
Without the use of jaggery, whisk Aam Pora Shorbot pulp with chilled water along with a little bit of black salt for taste.

Serve Aam Pora Shorbot to your guests along with some evening snacks like Raw Banana Chivda and Dal Vada with Oats and Vegetable.
You can adjust the thickness of the drink to your preference. I like it thick and so added generous amounts [5 to 6 tablespoons or more] of concentrated mixture/ pulp per glass. If you like it thin take about 2 to 3 tablespoons of concentrated mixture/ pulp per glass.
The recipe makes use of smoked/ charred mangoes. This lends a nice subtle smoky flavor to the drink. But if you don't like the smoky flavor, simply boil/ steam peeled deseeded mangoes instead.
The quantity of sugar and salt depends upon the sourness of the mangoes so adjust accordingly.
Make sure the mangoes you use are very sour. The colour of the drink depends on the colour of the mangoes and addition of the ingredients like pudina and jeera.
If you like your drink with a few chunks of mango pulp in it; do not grind the mango mixture in a blender. Instead, simply mash all the ingredients with your hands into a coarse pulp.