No visit to Bangalore is complete without a trip to the newly opened Tata Cha, a beautiful cafe on 12th Main, Indiranagar in Bangalore. With beautiful interiors inspired with a very Indian touch and yet a very aspirational feel to make it a great place to hangout with family, friends or even an office meeting.
The Cha cafe is just 3 blocks from our office and every day we have seen the cafe ground grown from the laying of the bricks to a very beautifully laid out joint. As we passed by everyday, we grew really curious about the place which was brewing up. And suddenly we get an email, to be there for the launch and try out some of their specialities.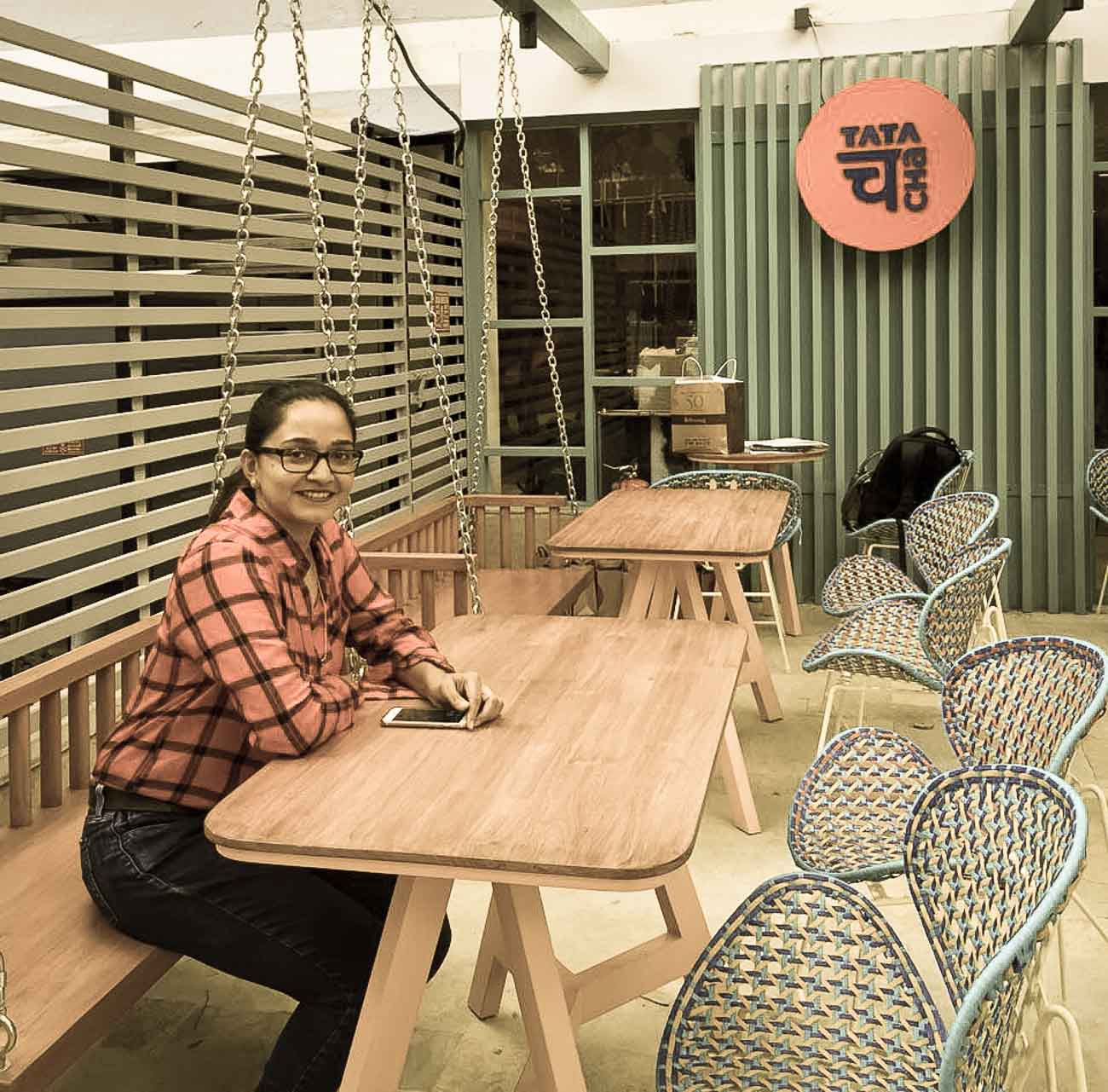 The ambience as we walked in was completly giving and homely. The swings on the outside brought a feel to simply put my feet up, with a glass of Gulkand Chai and some Bun Maska to go along with it. I personally love swings and enjoy sitting on them, reading a book and drinking a cup of chai.
Now with a place with stones throw to my office building, I get this tingling sensation that its going to be a place for me to simply sit back and relax with my chai and book. To me, a place which is open, which serves comforting food is some place I will visit often.
Let me walk you through some of my favorites from the menu ! I personally love food and as a personal, rarely critique the food of a place. Having said that I am really picky about the place I eat as well. I am no longer at an age, where I am able to digest food cooked and made any where. I like my food to be less greasy, medium on spice and low on sweet ( preferably no sugar at all). I tend to eat light, and when I walk out of a restaurant, I like to feel satiated and not liked I am drugged :) and ready to doze. I pay a lot of important to choosing and eating the right foods when I visit a restaurant.
To me Food is Fuel and Not a Drug, which not just satiates but makes my tummy feel happy and good at the end of the meal.
Chilli Guava
Chilli Guava as the cue card suggests was a really refreshing drink. When I like something, I love dissecting the recipe to see if I can make it at home. Well this does not stop me from visiting a restaurant or a place ( as it does feel nice when someone else makes things for you).
So here is what I think went into it.
Guava the fruit, possibly the one with the red pulp, kala namak, a dash of chaat masala (may be), crushed ice (it was like a granita) and some chillies. I think they used a milk version of red chillies - like a paprika or a cayenne pepper.
The taste, as absolutely brilliant. So if I were to make it at home, I will skip the ice, simply smoothie it with some water and the remaining ingredients and may be add some ice to it.
I simply loved this drink! If you visit Tata Cha - do try this drink.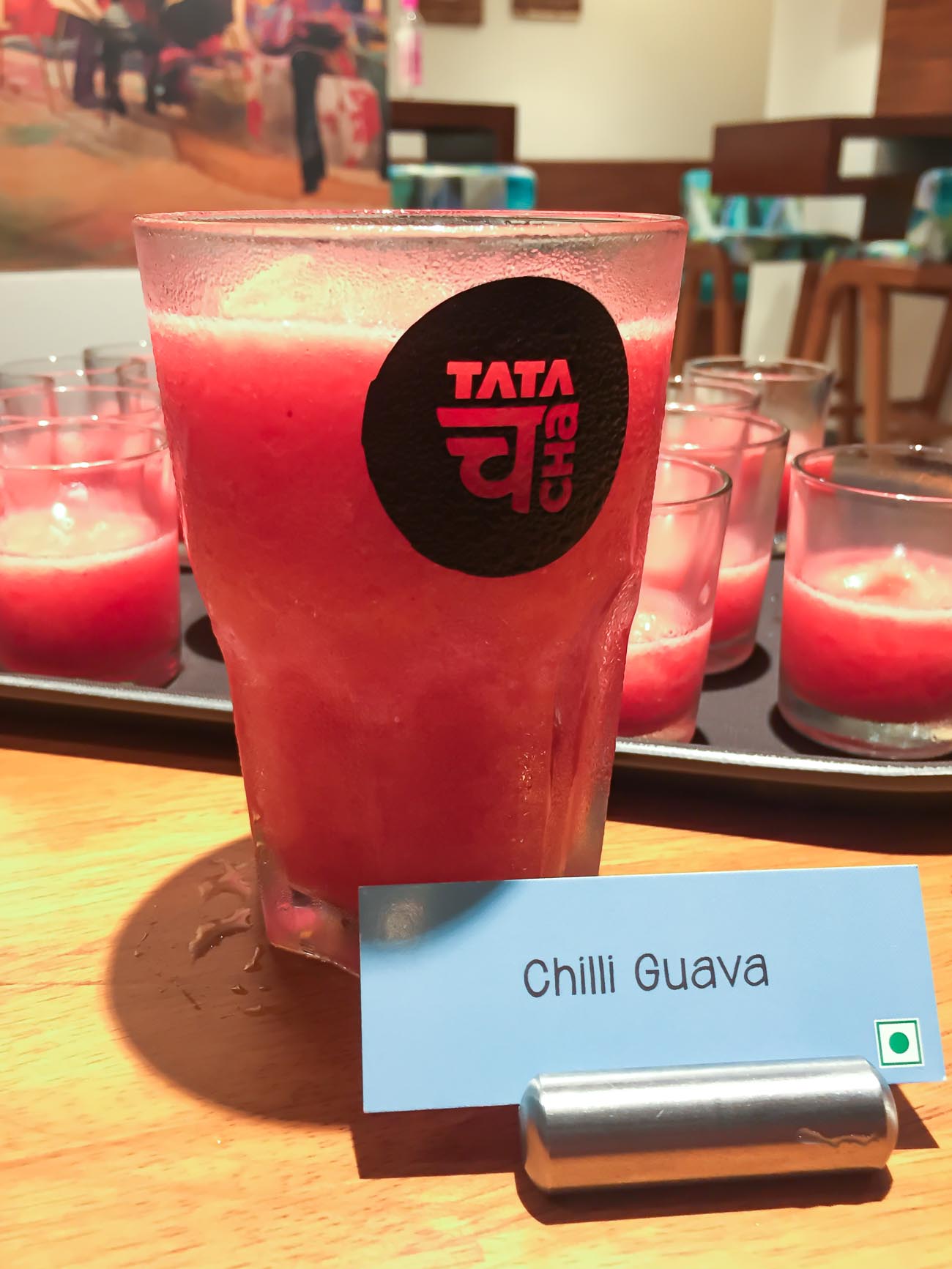 Apart from the Chilli Guava at Tata Cha, they had a wide variety of hot and cold teas and some really interested twist to the beverage. I tried the Tangy Tamarind and the Shikanji and they tastes like our good old drinks that we have when we visit a street corner. They also had some lovely chai's that one typically makes at home from the Doodh Chai, Gulkand Chai, Masala Chai and Gur Chai. I had the Gulkand Chai and I must say that i was expecting it to be overly sweet and completely flavored. But it was just perfect. The right amount of sugar by my standards as I dont have sugar in my chai and the flavor of gulkand and the rose petals in it - nailed it. I guess this is something I will pick up when I visit it again and have to along with with Methi Khari biscuit.
Apart from the hot and cold drinks and chai's they had these small portions of main courses that are mostly found at homes and never in a restaurant. But to bring them into a cafe, brings in a very homely touch to a cafe.
Dal Pakwan
Visit a Sindhi family on a Sunday morning, and you are likely to be greeted by the aroma of Dal Pakwan being prepared for breakfast! The classic dal that is delicately spiced and flavored and had along with a crispy pakwan (a bread), was a delightful treat.
Like Dal Pakwan, I was pleasantly surprised that Tata Cha, had tried to bring in small and yet popular food from homes of regions across India. I think this is a great idea, because some one who is not from that region, can get the flavors from a cuisine they have not tasted.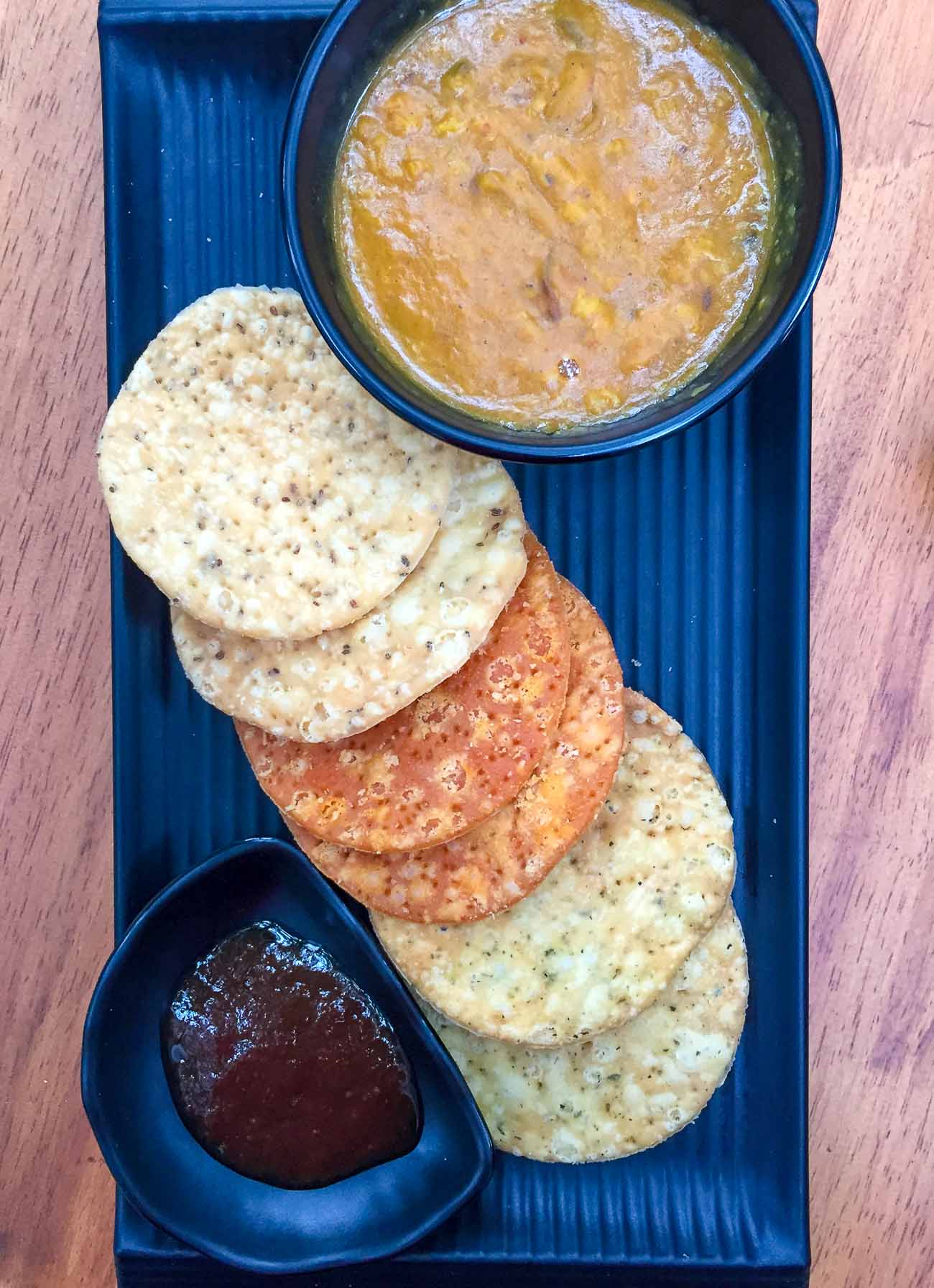 Butter Chicken
Butter Chicken is a classic dish from North India and ironically the world called it the king of the Indian Cuisine. It is for sure one classic dish and Tata Cha had a interesting twist to it - the Butter Chicken Khichdi.
At first, the thought of it made me take a step back, but when I tastes it - i felt a burst of flavors from the butter chicken and a creamy taste from the khichdi. It blended really well.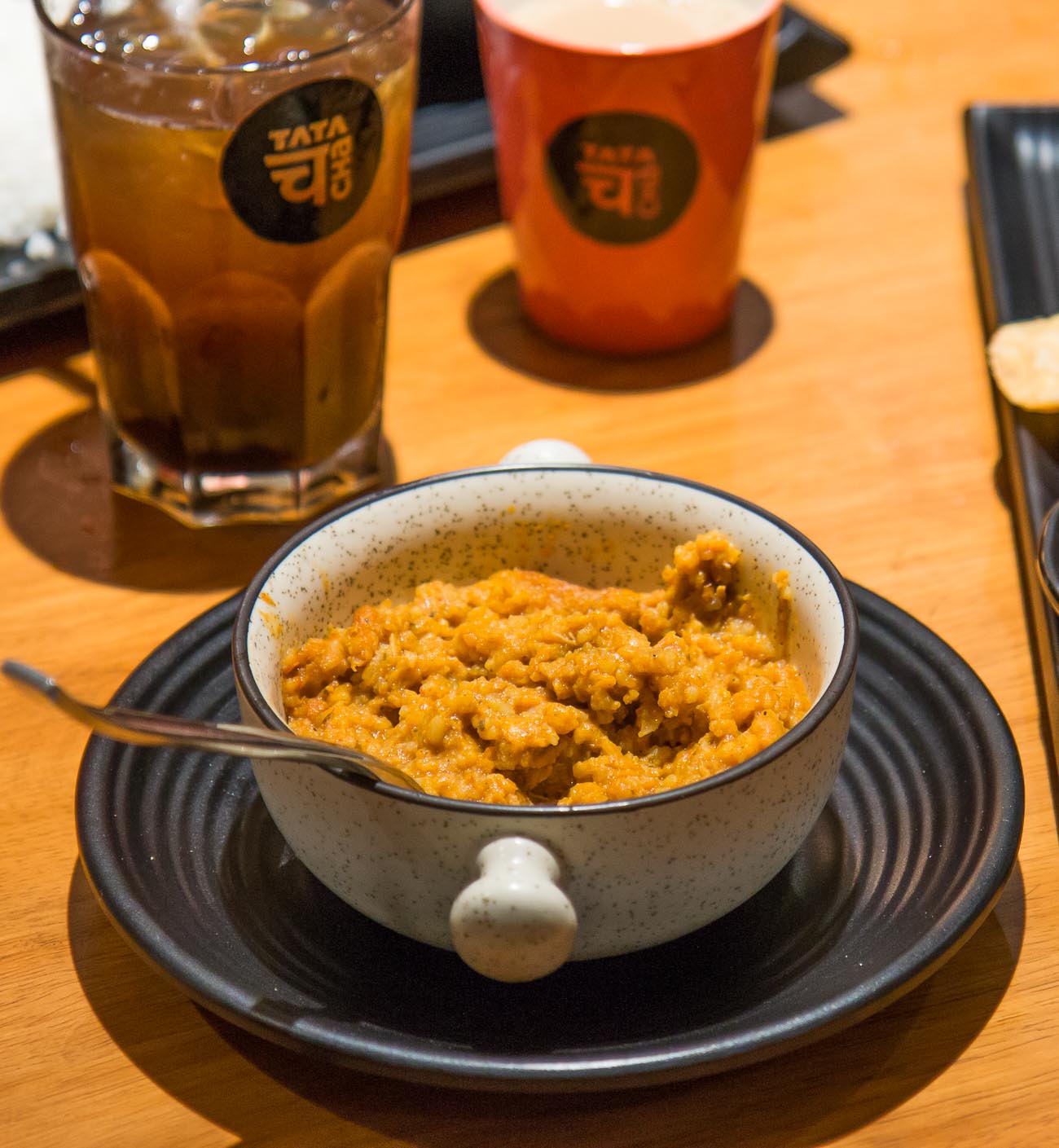 Veg Stew
And the last of the things I ordered was the Veg Stew with Rice. Surely a slight twist to the traditional recipe from the Kerala Cuisine. It was made more creamy so I will go along with rice.
They served it piping hot too! Imaging having this on a day, when you want a light meal and want grab some comforting food for the soul and enjoy a book or some time with your friends. This and the khichdi fit into that bill.
In short, Tata Cha was vibrant, calm, homely and had a great pleasant feel to it. Apart from the above food, they and many other snacks from the traditional indian cuisine like the Bun Maska, Vada Pav, Khari Biscuits and much more. Below are some of the picture of the food we took and the time Archana's Kitchen team spent to get a vibe of the place, the nooks you can couch in and the other food you can have.