Punjabi Aloo Paratha Recipe - Spiced Indian Potato Flatbread
Punjabi Aloo Paratha Recipe, a delicious Indian flatbread which is stuffed with spicy Potato Masala. It is usually eaten for breakfast or for dinner.

Archana Doshi
On

27 May 2008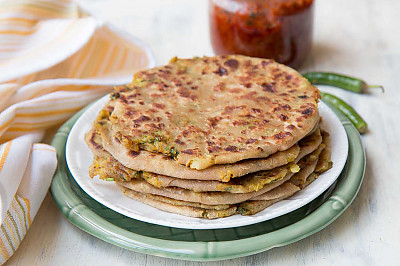 Punjabi Aloo Paratha Recipe is a classic Spiced Indian Potato Flat Bread Indian flatbread made from boiled potatoes flavored with onions, green chillies, coriander. It is a staple breakfast for most North Indians. You can also make it for your dinner or pack in your Lunch Box.
Traditionally these parathas are cooked in ghee and had with a dollop of butter. The addition of Ghee makes these parathas crispy and delicious.
Serve Aloo Paratha along with Dhaniya Pudina Chutney and Tadka Raita for your Breakfast with a hot cup of Masala Chai.
If you like Parathas, then you must try some of our favorites that you can make for your Breakfast:
Ingredients
Ingredients for the Dough
2 cups

Whole Wheat Flour

1 teaspoon

Salt

, as required

Water

, to knead the dough

Cooking oil

, or ghee for cooking
Ingredients for the Filling
4

Potatoes (Aloo)

, boiled and mashed
1

Onion

, finely chopped
1 inch

Ginger

, finely chopped
2

Green Chillies

, finely chopped
1/2 teaspoon

Turmeric powder (Haldi)

1 teaspoon

Coriander Powder (Dhania)

1/2 teaspoon

Cumin powder (Jeera)

1/2 teaspoon

Red chilli powder

1 teaspoon

Garam masala powder

1 teaspoon

Amchur (Dry Mango Powder)

2 sprig

Coriander (Dhania) Leaves

, chopped
How to make Punjabi Aloo Paratha Recipe - Spiced Indian Potato Flatbread
To begin making the Punjabi Aloo Paratha Recipe, first we will make the paratha dough. In a large bowl add in 2 cups of whole wheat flour and some salt.

Use your fingers and stir in the salt into the flour. Add water a little at a time and knead to make soft, pliable paratha dough. Knead paratha dough for a couple of minutes until the dough is smooth and elastic. Use the fold press and knead motion to make the dough smooth.

Next add a teaspoon of oil to coat the paratha dough and knead little more. You want a paratha dough that will be soft smooth and not sticky. Divide the dough into 8 to 10 equal portions. Cover the dough and allow the it to rest until you get the filling ready.

The next step is to make the filling for the aloo parathas.

Mash the potatoes into a coarse lumpy texture with your fingers or a fork.

Once mashed, add in the green chillies, onions, coriander leaves, salt to taste, hcumin powder, coriander powder, dry mango powder, garam masala, turmeric powder and finally if you want it extra spicy, the red chilli powder. Using your fingers again, mix all the ingredients into the potatoes until well combined.

Divide the aloo filling into 8 to 10 equal portions. This process of dividing and keeping the portions of aloo paratha dough and filling ready, helps you gauge the number of parathas you can make and if you need more or less of the filling.

The final step is to stuff the filling into the aloo paratha dough.

We dust the paratha dough in flour, flatten it with your finger and place it on a flat surface. Roll them out thin to approximately 3 inches in diameter circle.

Take a portion of filling and place it in the center. Next Gather the sides of the paratha dough and bring them together. Remove the little excess dough which popped out when you brought them together. Press the filled aloo paratha dough down.

Dust the filled aloo paratha dough in some flour and roll it gently applying just a pressure. Roll it to desired thickness and proceed the similar way with the remaining portions of paratha dough and filling.

Preheat a skillet on medium heat and place the filled aloo paratha. Allow it to cook on medium heat for about 30 to 45 seconds and flip over.

Add this stage add a teaspoon of ghee or oil and spread it around. Flip again, so the oiled side can cook on the skillet. Spread a little more ghee and keep pressing the parathas while on the skillet to cook the paratha evenly from inside out.

Do the flipping over process a couple of times until both sides get cooked, browned and crisp evenly. Make sure you cook on medium heat as it allows the aloo parathas to get a crisp on the outside and yet soft texture.

Once the aloo paratha is cooked transfer to a plate. Continue to the same process with the remaining parathas the same way.

Serve Aloo Paratha along with Dhaniya Pudina Chutney and Tadka Raita for your Breakfast with a hot cup of Masala Chai.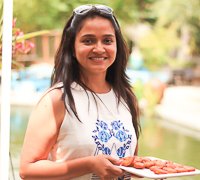 Archana Doshi is the founder of Archana's Kitchen. Archana launched Archana's Kitchen in 2007 as a way to keep track of her and family's recipes, and along the way grew it into one of the most popular cooking websites in the world. Archana is dedicated to helping home cooks be successful in the kitchen. Archana says "I hope you enjoy cooking recipes from my website where the sole effort is to make cooking simple for you. When you try out one of our recipes, we are longing to hear back from you. Do take your time to come back and share your comments, as your feedback means a lot to me"