Amaranth Sooji & Oats Dhokla Recipe
In association with Saffola Fit Foodie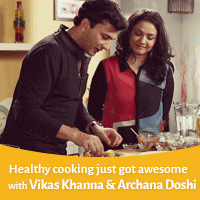 Archana Doshi
On

Monday, 27 April 2015 00:47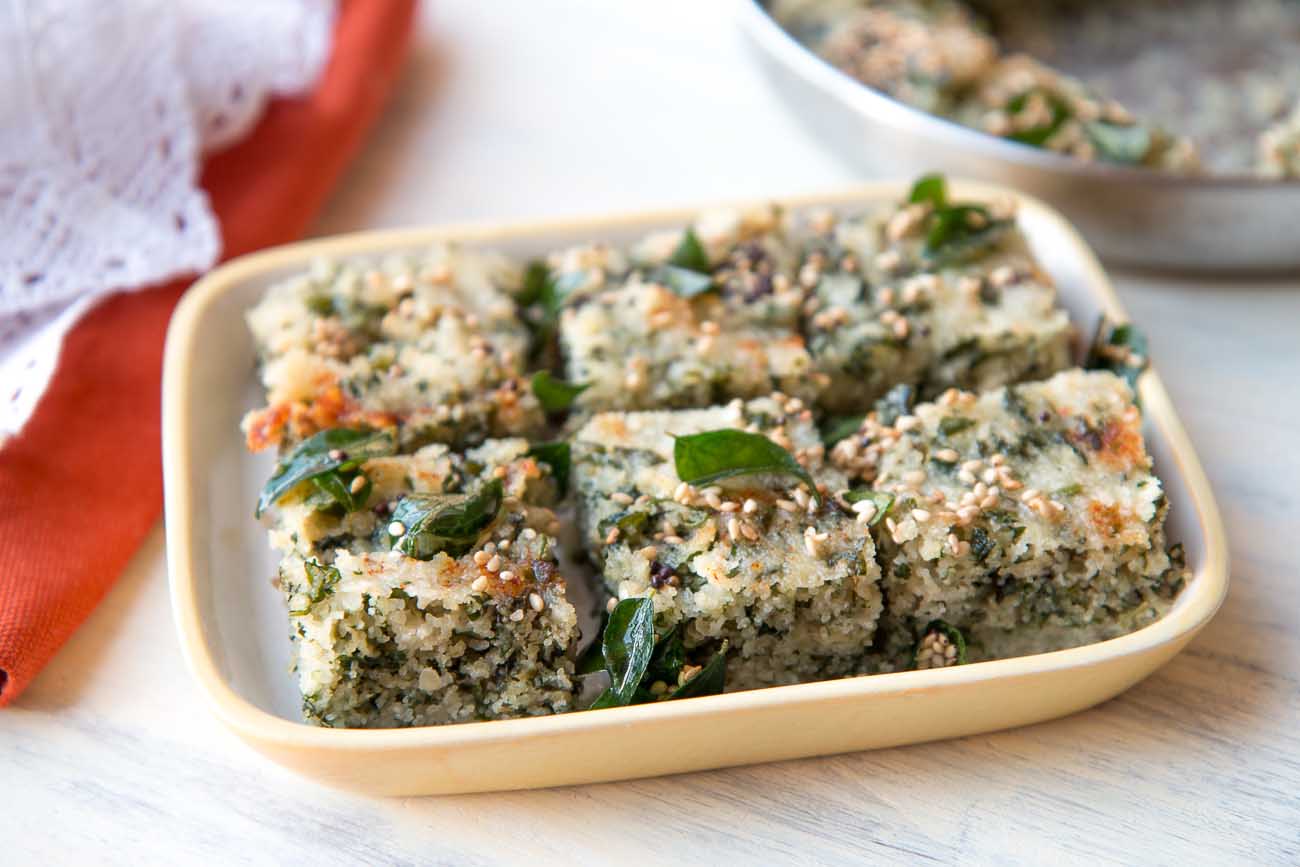 The Amaranth Sooji & Oats Dhokla Recipe is a delicious steamed cake made with a blend of greens, semolina and oats. It makes a very wholesome and nutritious variation from the traditional Sooji Dhokla that is often made. The addition of sauteed Amaranth along with oats makes it not only nutritious but a perfect lunch box snack for adults and children. Serve the Amaranth Sooji & Oats Dhokla along with Green Chutney for breakfast or dinner.
Did You Know: The Amaranth leaves are packed with antioxidants, protein, vitamins, calcium, carbohydrates, iron and minerals Highly packed with carbohydrates, proteins, vitamin K, folate, riboflavin, vitamin A, vitamin B6, and vitamin C. They are also an important source of manganese, iron, copper, calcium, magnesium, potassium and phosphorus necessary for maintaining proper mineral balance in the body. The leaves are high dietary in fiber content (3 times that of wheat) that help improve digestive health and reduces constipation. It is easily digestible and good for both young ones and adults.
Course:
North Indian Breakfast
Ingredients
2 cups

Sooji (Semolina/ Rava)

40 grams

Peppy tomato oats

200 grams

Green Amaranth Leaves

, finely chopped
1 cup

Curd (Dahi / Yogurt)

2 teaspoons

Enos fruit salt

1/2 teaspoon

Asafoetida (hing)

1

Ginger

, grated
1 teaspoon

Cooking oil

Red chilli powder

, for garnish

Salt

, to taste
Ingredients for seasoning
1 teaspoon

Mustard seeds

1 teaspoon

Sesame seeds (Til seeds)

1 teaspoon

Cooking oil

1 sprig

Curry leaves
How to make Amaranth Sooji & Oats Dhokla Recipe
To begin making the Amaranth Sooji & Oats Dhokla Recipe, we will first roast the semolina (sooji). In a wok, dry roast the semolina until you get a slightly roasted flavor. Roast on medium heat for about 3 to 4 minutes taking care not to brown the semolina (sooji). Once roasted, transfer to a large mixing bowl and keep aside.

Next we will cook the amarath leaves. Add the chopped amaranth leaves into the same heavy bottomed pan or wok, sprinkle some salt and stir-fry the leaves until it becomes soft and cooked. Make sure to evaporate any excess water that gets released while cooking the greens. Once cooked, allow the amaranth leaves to cool down and keep aside.

Once the leaves are cooled, we will make the sooji oats dhokla batter. In a large mixing bowl where you have kept the roasted semolina, add the oats, the salt, the asafoetida, the cooked amaranth, the ginger, the salt, the teaspoon of oil and yogurt. Add water little at a time and stir to make a thick batter (about 2-1/2 cups). Check the salt and adjust to suit your taste

Sooji Oats Dhokla batter to rest for about 5 minutes.

The next step is to steam the Amaranth Sooji & Oats Dhokla. Preheat a steamer with water on medium-high heat.

Grease the Dhokla Plates with oil and pour the Amaranth Sooji & Oats Dhokla batter evenly into the plates. Fill it only up to 3/4th level of the plates. Sprinkle just a little red chilli powder over the dhokla batter to add to the taste of the dhokla

Place the filled dhokla plates in the steamer and steamer on high for 10 minutes. After 10 minutes turn off the heat and remove the dhokla from the steamer and set aside for 5 minutes before you can cut them into shapes.

The final step is to season the Amaranth Sooji & Oats Dhokla. Heat a teaspoon of oil in a tadka pan; add the mustard and cumin seeds and allow it to crackle. Add the curry leaves and give it a stir. Turn off the heat.

Drizzle the seasoning over the Amaranth Sooji & Oats Dhokla and serve it along with Green Chutney for breakfast or dinner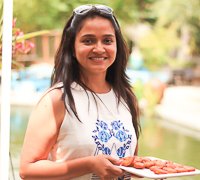 Archana Doshi is the founder of Archana's Kitchen. Archana launched Archana's Kitchen in 2007 as a way to keep track of her and family's recipes, and along the way grew it into one of the most popular cooking websites in the world. Archana is dedicated to helping home cooks be successful in the kitchen. Archana says "I hope you enjoy cooking recipes from my website where the sole effort is to make cooking simple for you. When you try out one of our recipes, we are longing to hear back from you. Do take your time to come back and share your comments, as your feedback means a lot to me"