Apple Enchilada Recipe
This sweet Apple Enchilada makes a delicious dinner party dessert, that takes a good 1 hour to make. Apples are flavoured with cinnamon powder and demerara sugar which are match made in heaven. This is a innovative version of the savoury enchiladas that we always savour. You can serve it with a creamy caramel sauce.

Jyothi Rajesh
On

Wednesday, 22 March 2017 00:18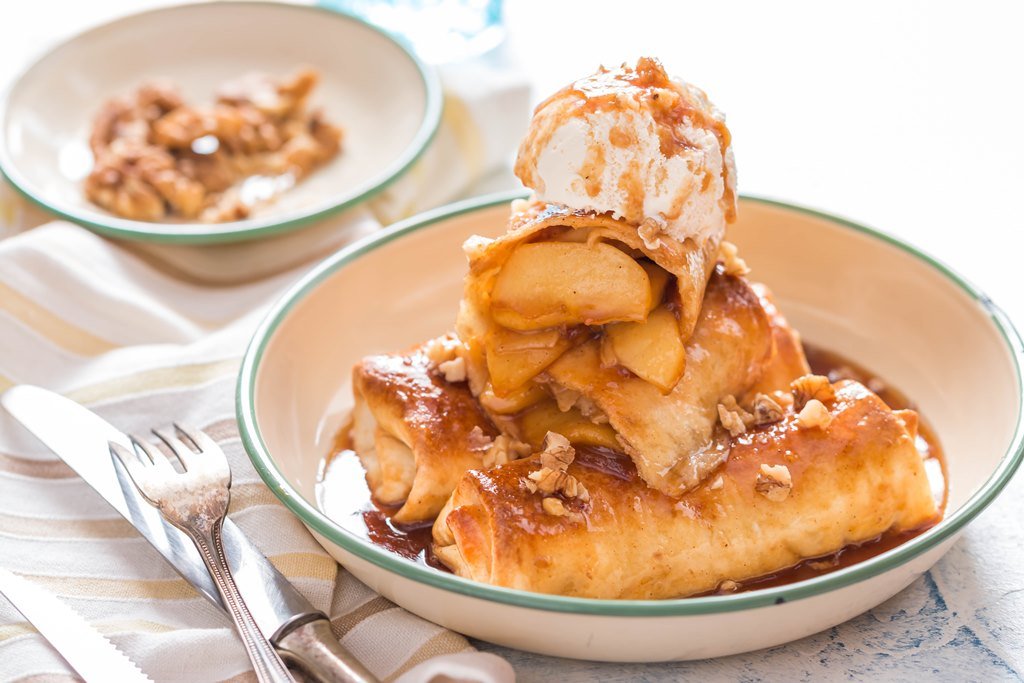 Enchiladas are popular Mexican dish that is made by stuffing vegetables and baked beans in corn tortillas, enchilada sauce and cheese added to it and then baked in oven. While that is savoury enchilada there is sweet version too, which usually uses fruits in the stuffing.
I'm using apples here. You can easily substitute with peaches or cherries. Sweet apple enchiladas with cinnamon powder, butter and sugar in it makes it a rich delicious dessert. The aroma that fills the house when you bake this enchilada is divine.
Serve Apple Enchilada after your meal as a dessert or as a tea time snack with a hot cup of coffee.
If you like this recipe, you can also try other Apple recipes such as :
Ingredients
3

Tortillas

, corn one
2

Apples

1 tablespoon

Butter (Unsalted)

2 teaspoon

Cinnamon Powder (Dalchini)

1/2 teaspoon

Lemon juice

1 tablespoon

Brown Sugar (Demerara Sugar)

For brown sauce
2 tablespoon

Brown Sugar (Demerara Sugar)

2 tablespoon

Sugar

1/3 cup

Butter (Salted)

1/2 cup

Water

Salt

, a pinch

Vanilla Ice cream

, for topping (as required)

Walnuts

, chopped for topping (as required)
How to make Apple Enchilada Recipe
To begin making the Apple Enchilada Recipe, peel the skin on apples, and slice then lengthwise.

Heat 1 tablespoon butter in a pan. Add apple slices and cook for 3 minutes until softened. Add sugar and cinnamon powder, mix well. Continue to cook for another 4 to 5 minutes. Turn off flame and let it cool completely.

To prepare the brown sauce, mix all the ingredients mentioned in the list (Brown Sugar, Sugar, Butter, Water & a pinch of salt) in a sauce pan. Heat the pan and bring it to boil. Once it starts boiling, keep whisking and continue to boil.

In 3 to 4 minutes the sauce will thicken up a bit. Remove from flame. Lightly warm the tortillas so it doesn't break while rolling.

Place 2 full spoons of apples one end of the tortilla. Fold the two sides of the tortilla over the apples. Hold the end where apples are placed and carefully roll tucking in the sides as much possible and roll tight. Repeat for rest of the tortilla.

Grease a pan with butter. Place the rolled tortillas on baked tray. Pour the sauce generously over the tortillas. Let the tortillas sit for about 15 minutes.

Pre heat oven at 180 degree centigrade. Now bake for 20 minutes or until tortillas turn golden brown.

Remove from oven and transfer to serving plates. Top with chopped walnuts and scoop of vanilla ice cream. Serve immediately.

Serve Apple Enchilada after your meal as a dessert or as a tea time snack after with a hot cup of coffee.