Arabian Chicken Mandi Recipe -Yemeni Style Rice & Chicken
The Arabian Chicken Mandi Recipe is a delicious preparation of chicken cooked with mandi powder served over a layer of basmati rice. It is packed with flavours and taste of the perfect blend of spices. Serve it along with raita for a delicious meal.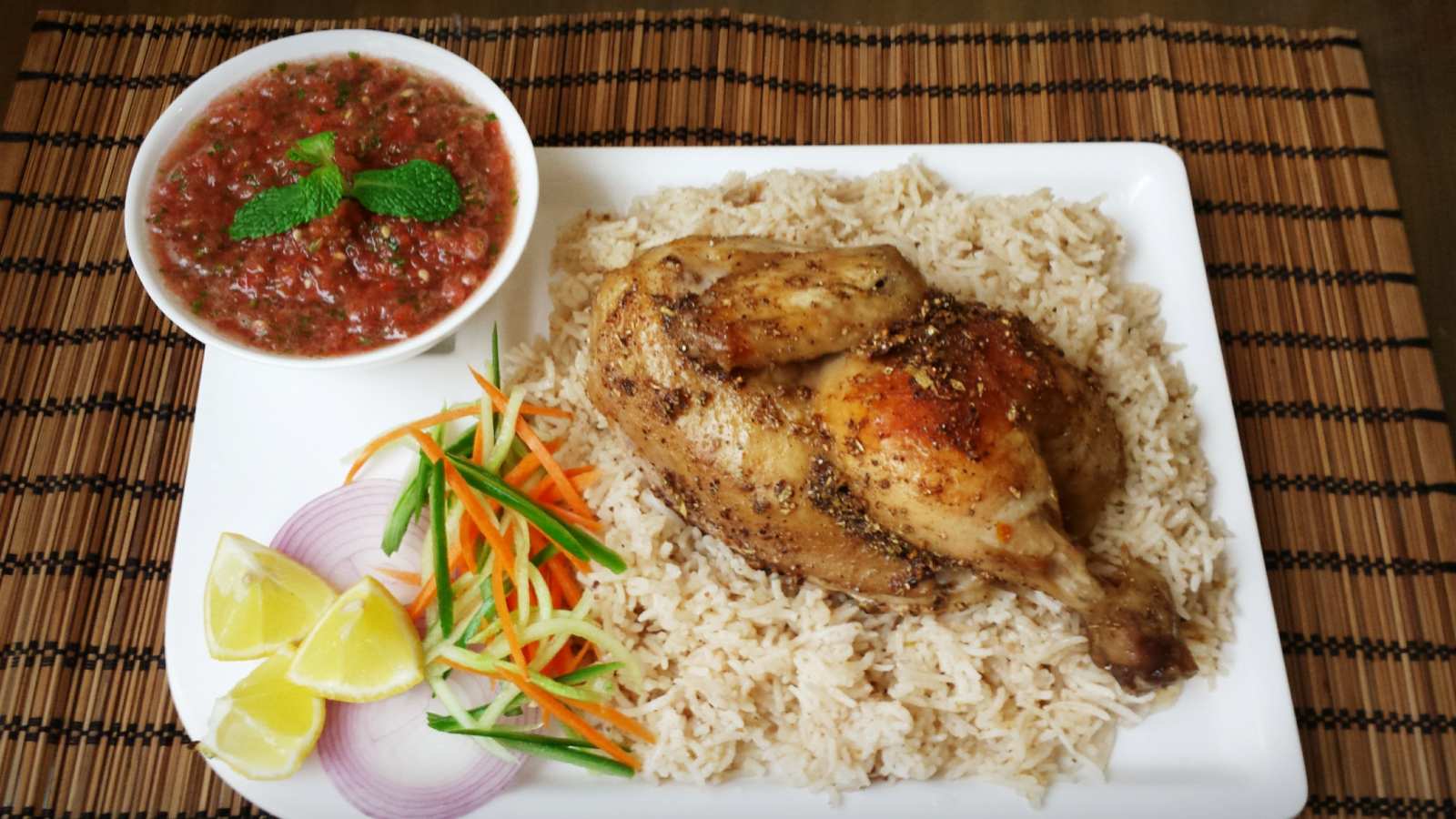 Arabian Chicken Mandi is a traditional Yemeni dish and it's very popular among all the Arab countries.
The word 'mandi' comes from the Arabic word nada, meaning 'dew', and reflects the moist 'dewy' texture of the meat. The Mandi Masala is a spice mixture made by dry roasting whole spices which give the main flavour to this dish.
Mandi is a delicious combination of rice, chicken and a mixture of spices. Traditionally, Mandi is cooked in a tandoor but this is our version to make the Mandi at home on a stovetop. Mandi is considered as healthy meal when compared to our traditional Indian biryani, as we use less oil in the recipe.
Serve Arabian Chicken Mandi with Raw Mango raita and Pickled onions for a delicious weeknight dinner.
If you like this recipe, here are a few more Biryani recipes you can try
Ingredients
500 grams

Chicken

, with bones
1

Onion

, finely chopped
1

Tomato

3

Green Chillies

1 tablespoon

Ginger Garlic Paste

3

Bay leaves (tej patta)

1 teaspoon

Ghee

2

Cardamom (Elaichi) Pods/Seeds

2

Cloves (Laung)

2 inch

Cinnamon Stick (Dalchini)

1 teaspoon

Whole Black Peppercorns

2 tablespoons

Extra Virgin Olive Oil

2 tablespoons

Butter (Salted)

, softened

Salt

, to taste
2 cups

Basmati rice

4 cups

Water

For mandi spice powder
1 tablespoon

Cardamom (Elaichi) Pods/Seeds

1 tablespoon

Cloves (Laung)

1/2 tablespoon

Whole Black Peppercorns

1/2 teaspoon

Nutmeg powder

1/2 tablespoon

Dry ginger powder

2

Bay leaves (tej patta)
How to make Arabian Chicken Mandi Recipe -Yemeni Style Rice & Chicken
To begin making the Arabian Chicken Mandi recipe, firstly we will prepare the Mandi spice powder.
For mandi spice powder
To make the Mandi spice powder, dry roast the cardamom pods, cloves, black pepper, nutmeg dry ginger powder and bay leaves in a on on medium heat for 4-6 minutes.

Turn off the heat, and allow it to cool.

Transfer the spices in a mixer jar, and grind into a fine powder using a mixer grinder.
For the Chicken
Heat a large saucepan on medium heat and add oil.

Once the oil is hot, add finely chopped onion and sauté till translucent . This will take about 2-3 minutes.

To the softened onions, add the ginger paste and garlic paste and sauté till the raw smell goes away.

Next, add bay leaves, cinnamon, cardamom, cloves and black pepper and mix everything well.

In a mixer jar combine, tomato and green chillies and grind into a puree and add it to the pan.

When the oil starts to separate, add the chicken and mix. Add 4 cups of water and the Mandi spice powder according to your taste. Mix, cover and let it cook for about 15 minutes. After 15 minutes, turn off the heat.

We will furthermore bake the chicken, to get a crispy skin.

In a small mixing bowl, add soft butter and Mandi spice powder and some salt, mix well and keep aside.

Preheat the oven to 200 degrees centigrade. Remove the chicken from the stock and place it onto a baking tray and brush with butter and mandi spice powder mixture.

Bake for 20 to 25 minutes or until the skin of the chicken turns to a nice golden brown colour.
For the rice
Wash and soak basmati rice for at least 20 minutes.

Heat olive oil in a large pan on medium heat, and fry the drained rice, stirring continuously for about 10 to 15 minutes.

Add this pan roasted rice to the chicken stock. Now slide a large piece of aluminium foil on top of the saucepan and then cover it with the lid. Cook the rice on medium low flame for about 10 minutes.

Remove the lid and check if there is any trace of water left. If water is left, then cover and cook for another 3 to 5 minutes. Now fluff the rice with a fork .

Take ghee in a small bowl and place it in the middle of the rice.

Heat a piece of charcoal on direct flame until it is sred hot, this will take about 5 minutes.

Once the charcoal is burning hot, place it in the bowl of ghee that is in the rice. Immediately slide back the aluminium foil and secure with lid.

Open it only at the time of serving, as it gives a nice smokey flavor to the rice. To serve, spread rice onto a large serving tray and place a piece of baked chicken on the top.

Serve Arabian Chicken Mandi with Raw Mango raita and Pickled onions for a delicious weeknight dinner.