एशियन स्टाइल चिकन नूडल सूप रेसिपी - Asian Style Chicken Noodle Soup Recipe
एशियन स्टाइल चिकन नूडल सूप एक स्वादिष्ट सूप है जिसमे रेड चिल्ली सॉस और सोया सॉस का प्रयोग किया जाता है. इस सूप को रात के खाने के लिए चिकन मन्चुरियन और हक्का नूडल्स के साथ परोसे।

Pooja Nadkarni
On

Monday, 04 June 2018 10:25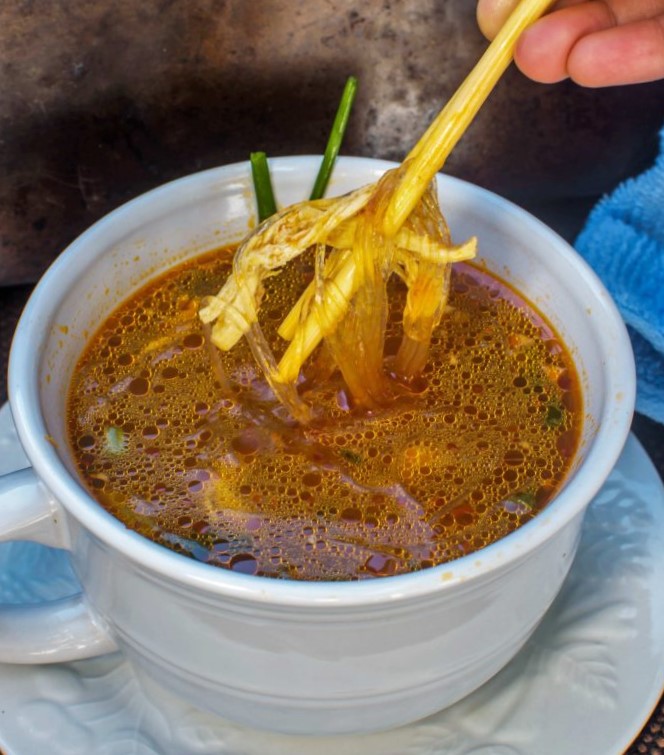 यह चिकन सूप एशियन स्टाइल चिकन नूडल सूप है जिसे आप ठण्ड के दिनों में बना सकते है. इसमें चिल्ली सॉस का प्रयोग किया जाता है जो इसे और भी फ्लेवर से भरपूर और स्वादिष्ट बनाता है. अगर आप वेजीटेरियन है तोह आप चिकन की जगह टोफू का प्रयोग कर सकते है.
एशियन स्टाइल चिकन नूडल सूप को रात के खाने के लिए चिकन मन्चुरियन और हक्का नूडल्स के साथ परोसे।
अगर आपको यह रेसिपी पसंद आई है तो, आप यह भी बना सकते है,
Diet:
High Protein Non Vegetarian
Ingredients
1/2 किलो

चिकन

, बोनलेस
10

लॉन्ग

2 इंच

अदरक

, बारीक काट ले
1 बड़ा चमच्च

निम्बू का रस

, या चावल का सिरका
1 बड़ा चमच्च

सोया सॉस

1 बड़ा चमच्च

रेड चिल्ली सॉस

1 छोटा चमच्च

काली मिर्च पाउडर

हरे प्याज

, थोड़ा, काट ले
1

प्याज

500 ग्राम

उडोन नूडल्स

, या सोबा नूडल्स

नमक

, स्वाद अनुसार
5 कप

पानी
How to make एशियन स्टाइल चिकन नूडल सूप रेसिपी - Asian Style Chicken Noodle Soup Recipe
एशियन स्टाइल चिकन नूडल सूप रेसिपी बनाने के लिए सबसे पहले चिकन को धो ले और पानी निकाल ले.

एक सॉसपैन में पानी गरम करें। इसमें लॉन्ग चिकन डाले और चिकन के नरम होने तक पकाए। इसमें 10 से 12 मिनट लगेंगे।

पक जाने के बाद चिकन को एक प्लेट में निकाले और पानी में से लॉन्ग निकालकर अलग से रख ले.

चिकन के ठंडा होने के बाद उसे हाथ या फोर्क से तोड़ ले या श्रेड कर ले.

एक सॉसपैन में चिकन का उबाला हुआ पानी, अदरक, प्याज, चिकन डाले और उबलने के लिए रख दे.

इसमें काली मिर्च पाउडर, निम्बू का रस/सिरका, रेड चिल्ली सॉस, सोया सॉस डाले और मिला ले. 10 मिनट के लिए पकने दे.

10 मिनट के बाद इसमें हरे प्याज और नूडल्स डाले। मिला ले और नूडल्स के पकने तक पकाए। गरमा गरम परोसे।

एशियन स्टाइल चिकन नूडल सूप को रात के खाने के लिए चिकन मन्चुरियन और हक्का नूडल्स के साथ परोसे।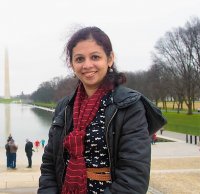 Hi, My name is Pooja , mom , housewife, painter and a full time food blogger. I love to cook and experiment in my kitchen. Always busy either preparing food or trying to take some good clicks of my food.