Assamese Sweet Kordoi Recipe
Star fruit shaped deep fried sweet munch

akshatha
On

Wednesday, 25 January 2017 00:17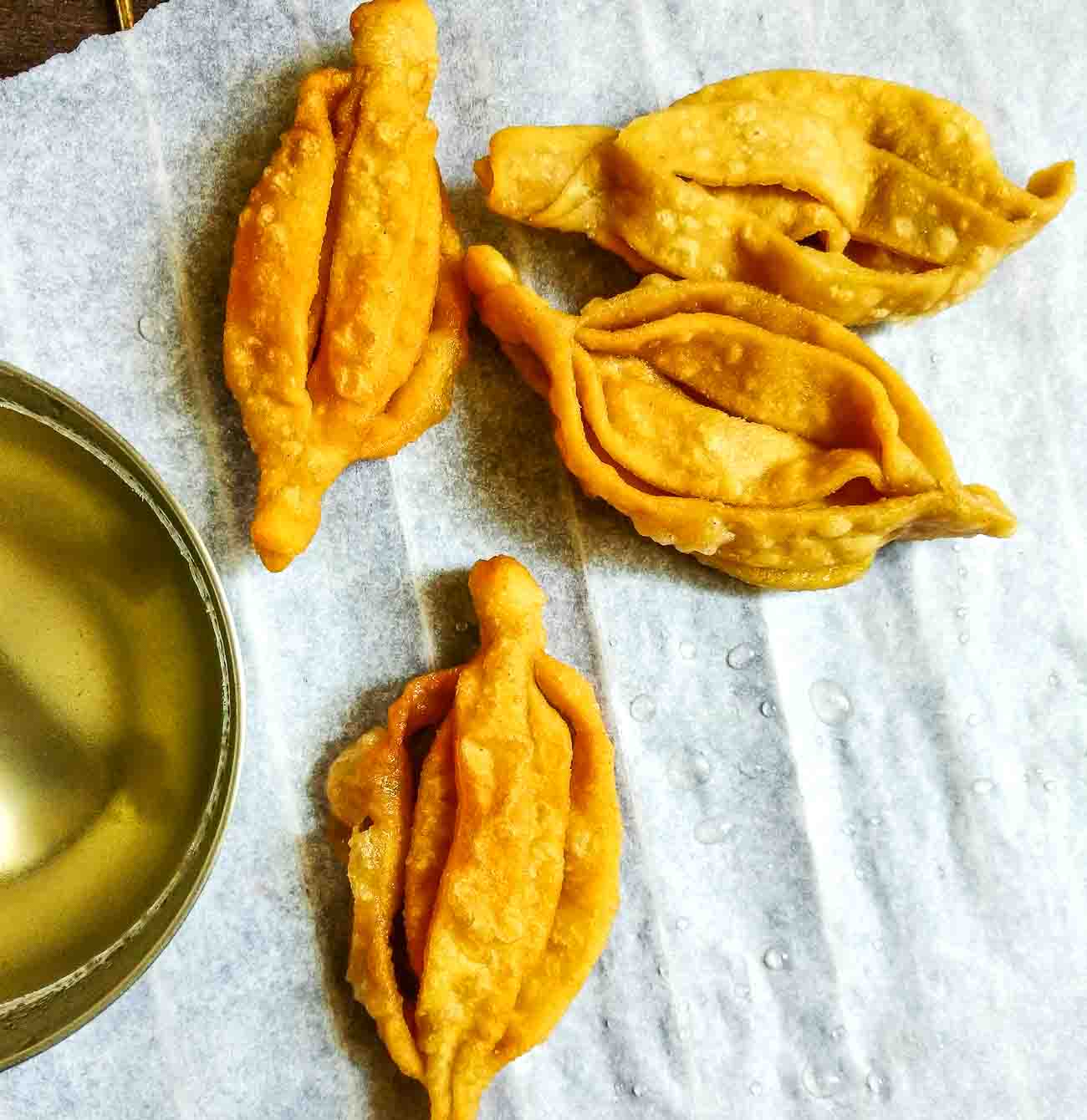 Kordoi are fried Assamese snacks that have both sweet and savoury versions, particularly popular during Bihu festival. These Assamese Sweet Kordoi Recipe are named after star fruit (which is called kordoi in Assamese). A simple dough is made using flour, rolled, shaped, fried and then dipped in sugar syrup. Assamese Sweet Kordoi Recipe are not only a breeze to make, but look very pretty and are absolutely scrumptious to snack on during evenings with a cup of hot Adrak Chai!
If you like this recipe, here are more snack recipes for you to try
Notes:
They can be stored in an airtight container for 2-3 days
You can add Nigella seeds to the dough , if you wish.
Ingredients
For The Dough:
1 cup

Whole Wheat Flour

1/4 teaspoon

Salt

1 tablespoon

Ghee

1/2 cup

Lukewarm Water

, (adjust)
For The Sugar Syrup:
1/4 cup

Caster Sugar

, (powdered sugar)
1 cup

Water

Oil

, to deep fry
How to make Assamese Sweet Kordoi Recipe
To prepare Assamese Sweet Kordoi Recipe, mix together the flour and salt.

Add the ghee and mix.

Adding water gradually, knead until you have a smooth pliable dough. Cover and keep aside for 15 minutes.

Make bigger balls of dough, about 2 inches in size.

On a lightly dusted surface, roll each dough ball into a small circle (about 5-6 inches) .

Using a sharp knife , cut 6-7 vertical and parallel lines into the dough circle , each line about 1/2 inch from the next. Dont cut all the way through. The lines should not reach the edge of the circle (about 1/4 inch from the edge). Think of a slotted spoon !

Starting from one end, roll the dough circle . Pinch both the ends and push the ends gently towards the centre. This will fluff up the centre and give the kordoi its characteristic shape like a start fruit.

Repeat with all the dough. This measurement makes about 12 such kordoi.

Heat oil in a deep frying pan and fry the shaped kordoi in batches until golden brown and crisp.

Cool the kordoi, placing them on kitchen towels or tissue to drain excess oil.

Meanwhile, make the sugar syrup by bringing the sugar and water to a boil in a saucepan.

Simmer for few minutes until syrup is thick and sticky.

One by one, drop the kordoi into this syrup, turn over to the other side, and remove.

Serve Assamese Sweet Kordoi Recipe warm or cool, paired with Adrak Chai.