The Back To School Lunch Box Ideas and Recipes is a an ebook that is packed with ideas and recipes that you can use to pack the kids school lunch boxes. All the recipes are tried and tested with my children and over the years they have been refined with the changes in taste buds and meal requirements. With this book, you can now plan your 2 week menu for a school lunch box with many alternative ideas for many of them.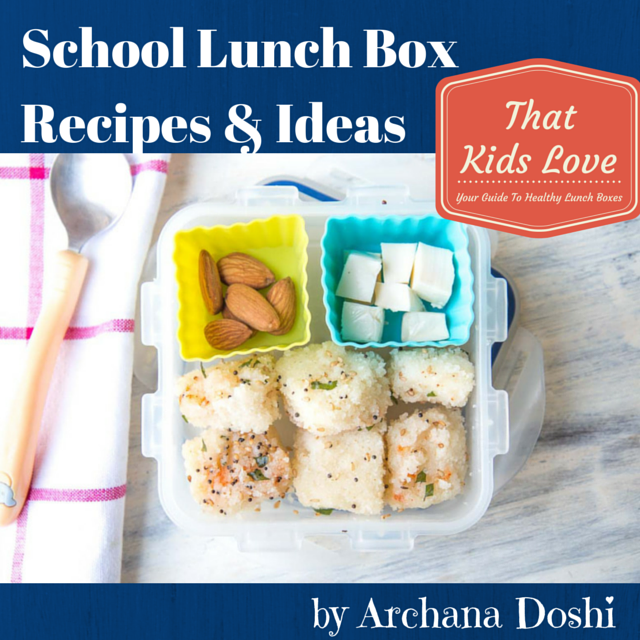 Price in Rupees
Rs 350
Price in USD
$6.99
eBook (PDF)Instant Download Now! Length: 42 pages.
Dear Parent
I hope this back to school cookbook, will help you in your endeavour to pack healthy lunch boxes with much ease for your child. You don't have to be super fancy and a super mom to make the lunch boxes look good, all you need is a good heart, a great looking lunch box that does not leak and everyday ingredients that most often you will have in your pantry.
The Back To School Lunch Box Recipes Ebook contains
1. 20 lunch box and snack box ideas along with recipes.
2. Many of the ideas will also show you alternative recipes ideas with its links that you can use for packing.
3. Each idea will have a tip on How to Plan the cooking the previous day so mornings get easier
I would love to hear your feedback on the book, the adaptations you made to the ideas and how your child loved the lunch box. Do email me at backtoschool@archanaskitchen.com with all your feedback. I value all of it very deeply. I will personally respond to all of your queries, feedback and compliments.
Thank you so much in advance and I will look forward to all your emails
Archana Doshi (Author)
Happy Cooking and Healthy Eating!
PREVIEW A FEW PAGES OF THE BACK TO SCHOOL LUNCH BOX IDEAS EBOOK