Baingan Methi Ka Bharta Recipe with Pomegranates

Archana Doshi
On

Wednesday, 01 July 2015 10:27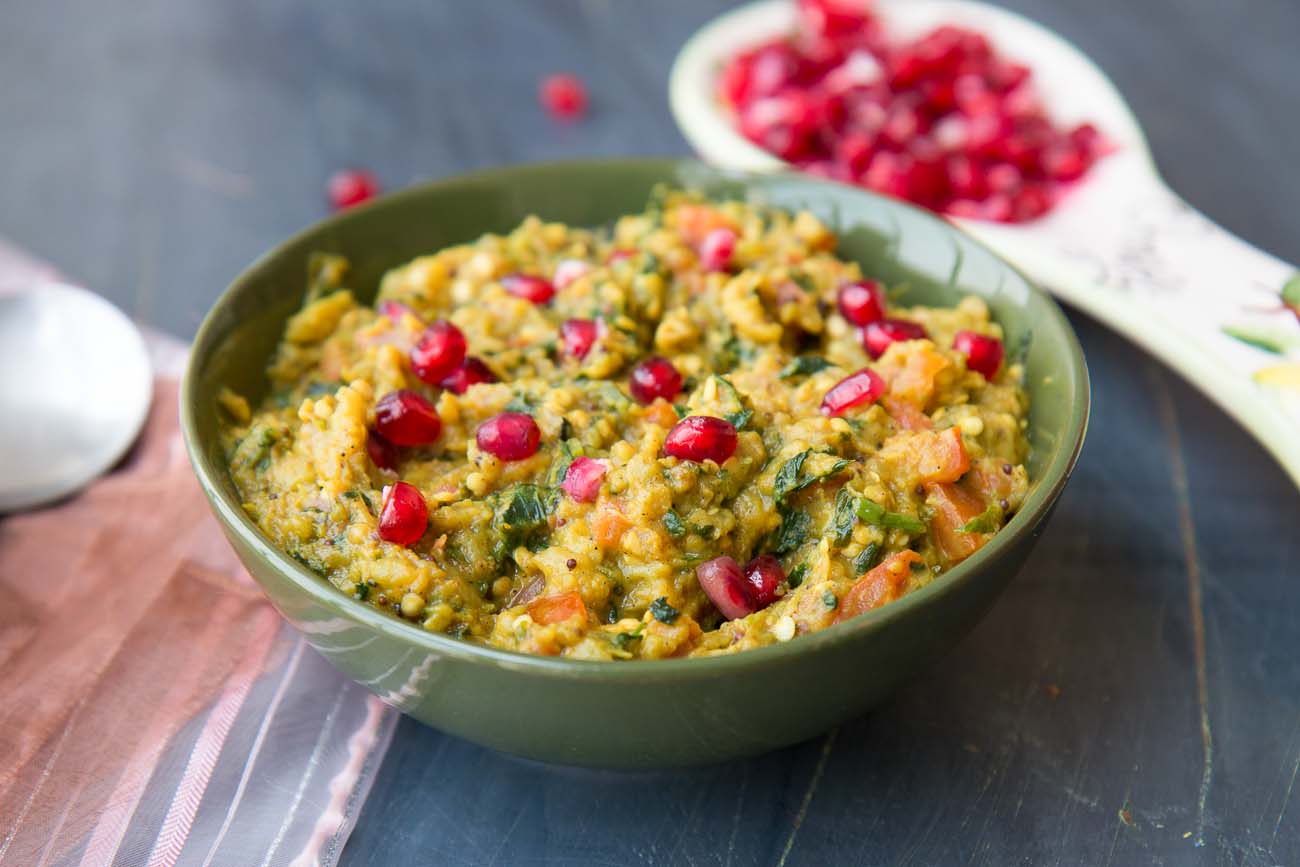 Baingan Methi Ka Bharta Recipe with Pomegranates is a twist to the classic Punjabi Recipe that is made from smoked and chargrilled brinjals then mish-mashed and cooked along with a combination of spices. Along with the main ingredients that flavor, this recipe also has methi leaves, that are sauteed and added to the Bharta to pack it with flavors. And to add color and subtle sweetness to this dish, when serving the Baingan Methi Ka Bharta, I sprinkled it with Pomegranate seeds and served it along with Phulkas and Punjabi Kadhi Pakora.
If you like this recipe, you can also try other Dry Vegetable recipes such as
Ingredients
150 grams

Methi Leaves (Fenugreek Leaves)

, finely chopped
1

Brinjal (Baingan / Eggplant)

2 inch

Ginger

, peeled and grated
1

Onion

, finely chopped
1

Tomato

, grated
2

Green Chillies

, finely chopped
1 teaspoon

Turmeric powder (Haldi)

1 teaspoon

Garam masala powder

1 teaspoon

Coriander Powder (Dhania)

1 tablespoon

Butter

1 teaspoon

Red chilli powder

Salt

, to taste
1 tablespoon

Cooking oil

1/4 cup

Anardana Powder (Pomegranate Seed Powder)
How to make Baingan Methi Ka Bharta Recipe with Pomegranates
To begin making this recipe, we will first saute the chopped methi leaves. Heat a teaspoon of oil in a pan, add the chopped methi leaves and stir fry it on medium heat until you notice the leaves shrink and soften.

The methi leaves will also give out a lot of water. Evaporate most of the moisture by turn the heat to high for a few minutes. Once most of the water is evaporated, turn off the heat and keep the methi aside.

The next step is to make the Baingan Bharta. For this, the brinjal can be roasted in two ways; in the oven or on the gas flame.

Method using the oven for roasting : Preheat the oven to 180 C.

Place the brinjal on a baking sheet and place in the preheated oven for about 30 minutes or until the brinjal has started to soften and the outer skin is charred.

When you prick inside with a knife, you can feel that the brinjal has become tender, if not continue to roast until done.

Method using the flame for roasting: Place the brinjal on the stove top flame, with continuous monitoring, using tongs to turn the brinjal around while it is roasting.

After about 10 minutes you will notice that the brinjal's skin begins to char and the inside begins to get tender. To test, when you insert a knife you will feel it is soft and not hard. If hard continue to roast until done.

Once brinjal is roasted allow the brinjal to cool down. Peel the charred skin of the cooled brinjal and discard the skin. Coarsely mash the pulp using a fork or mince finely using a knife.

Heat oil in a pan over medium high heat. Add the cumin seeds and allow seeds to crackle. Add the grated ginger and chopped onions, sauté over medium heat until the onions are tender.

Then add the grated tomatoes, turmeric powder, green chillies, coriander powder, garam masala powder and chilli powder. Stir to combine and sauté until all the ingredients come together for about couple of minutes.

Stir in the roasted brinjal, butter and salt. Turn the heat to low and simmer the brinjal for about 10 minutes or so until it gets well combined with the tomatoes and spices.

Turn off the heat and stir in the sauteed methi leaves. Check the salt and spices and adjust to suit your taste.

To add color and subtle sweetness to this Baingan Methi Bharta, sprinkle it with Pomegranate seeds and served it along with Phulkas and Punjabi Kadhi Pakora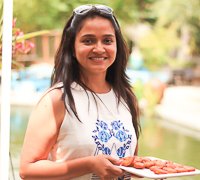 Archana Doshi is the founder of Archana's Kitchen. Archana launched Archana's Kitchen in 2007 as a way to keep track of her and family's recipes, and along the way grew it into one of the most popular cooking websites in the world. Archana is dedicated to helping home cooks be successful in the kitchen. Archana says "I hope you enjoy cooking recipes from my website where the sole effort is to make cooking simple for you. When you try out one of our recipes, we are longing to hear back from you. Do take your time to come back and share your comments, as your feedback means a lot to me"