Bajri Methi Na Vada Recipe - Pearl Millet Flour Fritters
Bajri Methi Na Vada Recipe is a traditional Gujarati snacks recipe. It is made from bajra flour, whole wheat flour fenugreek leaves and few spices. These Crispy vada recipe is a perfect monsoon recipe and can be served as an evening snack with green chutney and masala chai.

Hina Gujral
On

Sunday, 23 August 2015 08:08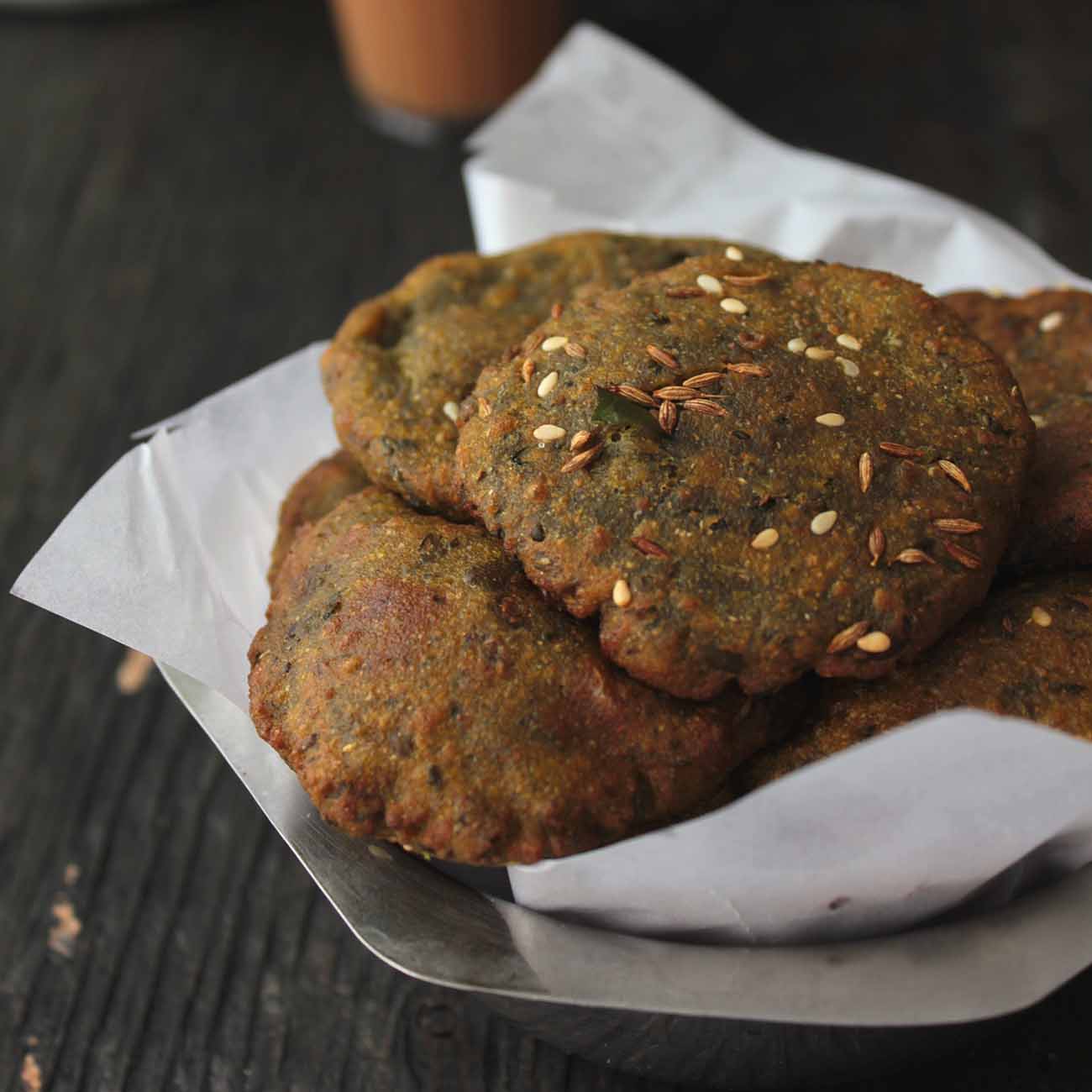 Bajri Methi Na Vada Recipe is a simple and delicious fritter made with Bajra or Pearl Millet and Whole Wheat flour. The addition of fenugreek leaves adds an additional dimension of flavors to the vada and a mixture of seeds pressed into the vada just before frying, gives it a delicious crunch.
Bajri Methi Na Vada is deep fried and you can indulge in these tasty and crispy vadas on a winter day or rainy evening. Enjoy this with your family, or even serve it at a chai party.
You can serve the Bajri Methi Na Vada Recipe along with Pudina Chutney and a steaming cup of Masala Chai.
Did you know: One of the most commonly consumed grains in India, bajra is often referred to as "poor man's staple". This powerhouse of a grain has multiple health benefits. Mainly made of starch, and mostly insoluble fibres. This makes it a great long-acting source of energy and takes longer time to break. Therefore you feel fuller, for longer. It is also a storehouse of amino acids essential in production of proteins.The amino acids are readily available and therefore easier to digest than in wheat, for example. The niacin present in bajra also helps in lowering cholesterol and keeping heart disease in check.
Here are a few more snack recipes that you can also try
Ingredients
1 cup

Bajra Flour ( Pearl Millet)

1/4 cup

Whole Wheat Flour

1 teaspoon

Red Chilli powder

1/2 teaspoon

Coriander Powder (Dhania)

1 cup

Methi Leaves (Fenugreek Leaves)

, finely chopped
1/4 cup

Curd (Dahi / Yogurt)

2 tablespoons

Oil

, and more for deep frying
1

Green Chilli

, finely chopped
1 tablespoon

Sesame seeds (Til seeds)

1 tablespoon

Ajwain (Carom seeds)

1 tablespoon

Cumin powder (Jeera)

Salt

, to taste
How to make Bajri Methi Na Vada Recipe - Pearl Millet Flour Fritters
To begin making the Bajri Methi Na Vada Recipe, combine both the bajra flour and the whole wheat flour along with the finely chopped fenugreek leaves, red chili powder, coriander powder, salt, green chilli and yogurt in a mixing bowl.

Bring all the ingredients together by rubbing them between your fingers. This will make them combine and it will begin to get lumpy. Add a little water at a time to bring it together, and knead it into a stiff dough. At this stage, be careful not to add too much water at one go, or the dough will have excess moisture.

Set the dough aside in the same mixing bowl and cover it. Let it rest for 15-20 minutes.

In a small bowl combine the cumin seeds, sesame seeds and carom (ajwain) seeds. Set aside till required.

Preheat oil in a kadhai over a medium heat. While the oil is getting warmed up, divide the prepared dough into small marble sized portions.

Take each ball and roll it between your palms to make a smooth ball. Then flatten each ball out with your fingers, into a small disc. Ensure that the edges along the circumference are not cracked.

Sprinkle a pinch of the seeds mixture over the vada and press them gently with your fingers, to embed them into the vada.

Continue this till all the vadas are prepared, lining them up as you go, in preparation to deep fry them.

When the oil is hot enough, add the vadas one by one into the hot oil. Fry them in small batches, taking care not to overcrowd the kathai.

Deep fry till golden and crisp on both the sides. Then, using a slotted spoon, drain the excess oil and transfer them to a plate lined with an kitchen paper to absorb the excess oil.

Serve the Bajri Methi Na Vada along with Pudina Chutney and a steaming cup of Masala Chai to bring an extra crunch to your chai time or chai party.