Bajri-Til Bhakri Recipe (Sesame Crusted Bajra Flatbread)

Madhuli Ajay
On

Friday, 08 January 2016 00:48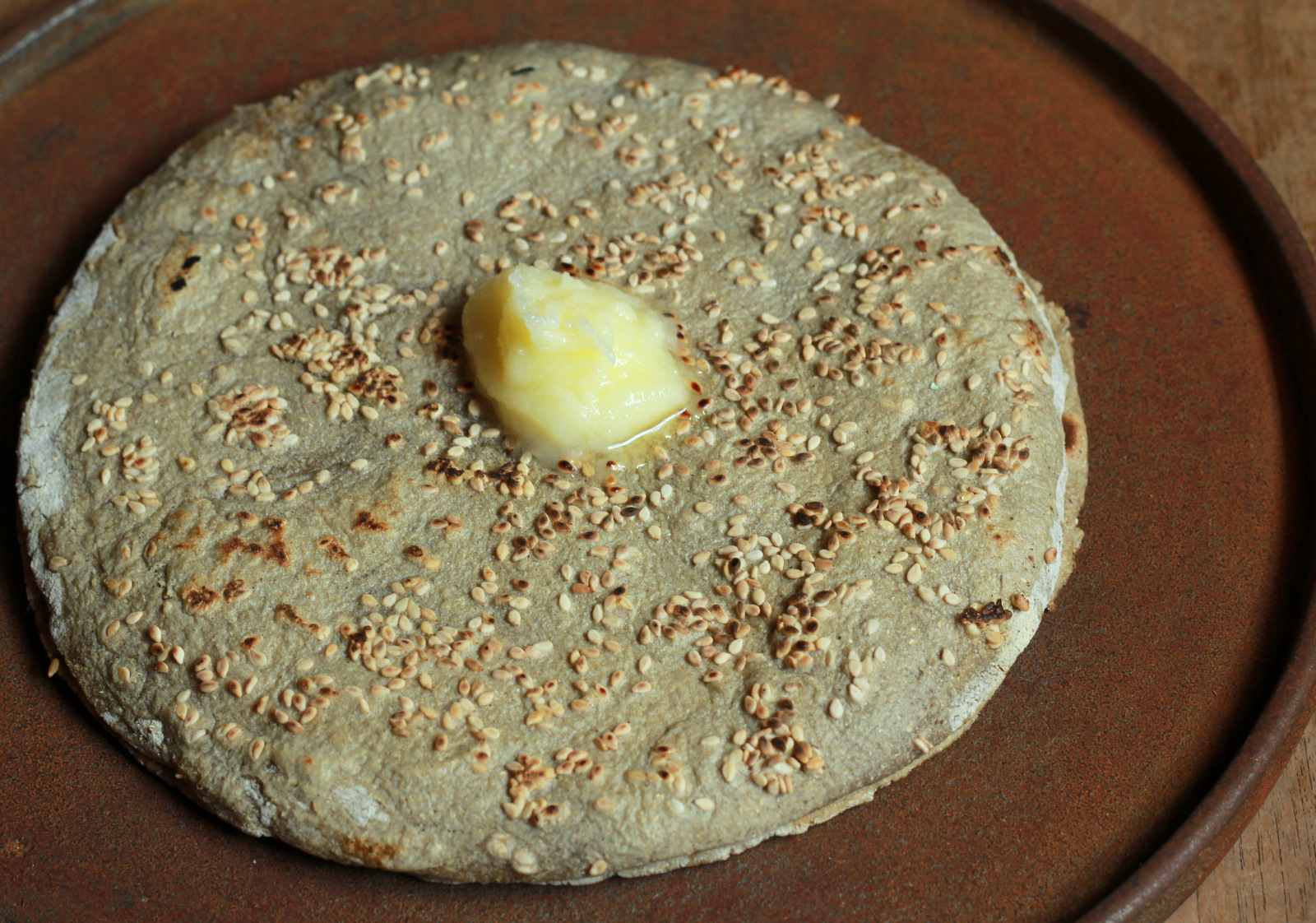 Bajri-Til Bhakri (Sesame Crusted Bajra flatbread) is a crusted flatbread with healthy sesame seeds in it. It is one of the oldest and most widely consumed millets in rural India. The key ingredient Bajra is a nutritious grain which is a great energy source and hence is used as a part of the meal during winters to keep the body warm. It is prepared one day before the festival of Makar Sankranti in Maharashtra on the day of Bhogi and is served with Bhogichi Bhaji.
You can also try
Did you know- Bajra is extremely nutritious and very high on fibre, millets are a wholesome alternative to carbohydrates. It is a really great healthy alternative if you are looking for gluten free options. It is easy to digest and has the lowest probability of causing allergic reactions. Not only this, It is also very effective and recommended for cases of severe constipation and stomach ulcers. The presence of phytic acid and niacin in bajra helps in lowering the cholesterol too.
Ingredients
3 cups

Bajra Flour ( Pearl Millet)

1/4 cup

Sesame seeds (Til seeds)

Salt

, to taste

Lukewarm Water

, as required
How to make Bajri-Til Bhakri Recipe (Sesame Crusted Bajra Flatbread)
To begin making the Bajri-Til Bhakri, first sift the bajra flour and salt together in a deep mixing bowl.

Knead the dough well with 1/4 cup of lukewarm water at a time, until it comes together in a smooth ball. The dough will be similar to what we prepare for Makke Ki Roti.

Grease the dough with ghee, cover with a muslin cloth and let rest for 10 minutes.

Meanwhile heat tawa over medium heat. Dust your rolling surface with little whole wheat flour.

Divide the dough into 6 - 8 equal portions and roll out a portion of the dough into a round and thick roti using your hands. You can shape the roti by pressing out a circle with your fingers as well.

Place the roti over the pre-heated skillet and spread a little water on the surface of the bhakri.

Now sprinkle some sesame seeds on the surface and press lightly with a flat spatula, so that the seeds stick to the upper part of the roti.

Turn over the roti and cook the other side for a few more seconds.

Lift the roti tongs and roast over the direct flame till brown spots appear on both the sides.

Similarly, prepare the remaining Bajri-til Bhakri and serve it with a dollop of ghee and Bhogichi Bhaji.