Baked Chevdo Recipe (Chivda Mixture -Tea Time Snack)

Archana Doshi
On

Thursday, 13 December 2007 23:28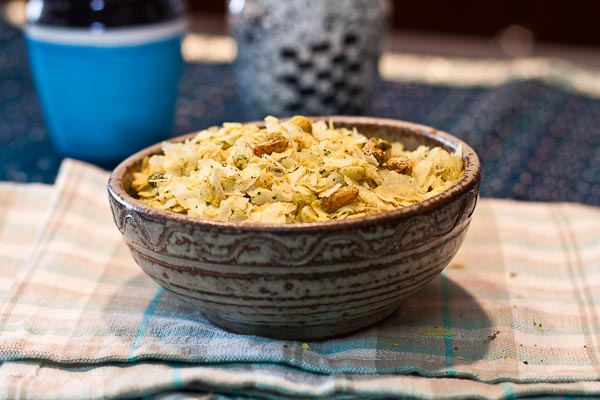 Chevdo also known as Chivda is a delicious and crunchy sweet and spicy roasted rice flakes cereal combined with roasted dry fruits to make it super tasty. In this recipe of baked Chevdo, I have flavoured it with curry leaf powder, green chillies and asafoetida with added salt and sugar to taste. Traditionally, the Chevdo is a deep fried snack, but as always, I like to research into alternative non-fried methods and keep working on the recipe until I have perfected it. And this recipe, is oven baked, resulting in perfect crispness.
Serve Chevdo with tea time snack. During the festival of Diwali, an elaborate preparation of the Chevdo is made that is combined with nuts and dry fruits and shared with friends and family who come to wish during this auspicious festive day.
Here are more snack recipes that you can also try
Note:
1. If you are using fresh curry leaves, you need to fry them in a tablespoon of oil until they become crisp:
2. The most important ingredients that add freshness and flavourful curry leaf powder. To make curry leaf powder, you need to dry the fresh curry leaves on a paper towel for two days in room temperature (not under the sun) until dry and will feel crisp. Once dry and crisp, grind into a powder. I like to make this powder and store in the refrigerator so I can use it in recipes like Chevdo and also in many other dishes to get a curry leaf flavor. The process is the same as making Kasuri Methi (Dried Fenugreek Leaf Powder | Dried Methi Leaves)
Ingredients
500 grams

Poha (Flattened rice)

, the super thin and flat variety
1/4 cup

Sesame seeds (Til seeds)

12 sprig

Curry leaves

, finely chopped, or curry leaf powder (mentioned in notes)
1/4 cup

Roasted Peanuts (Moongphali)

, halved and without skin
1/4 cup

Slivered Almonds (Badam)

, roasted
1/4 cup

Raisins

4

Green Chillies

, finely chopped (adjust)
2 teaspoons

Turmeric powder (Haldi)

1/2 teaspoon

Red chilli powder

, (adjust)
1 teaspoon

Asafoetida (hing)

2 tablespoons

Sugar

, coarsely powdered

Salt

, to taste

Cooking oil

, for roasting 
How to make Baked Chevdo Recipe (Chivda Mixture -Tea Time Snack)
To begin with the Baked Chevdo Recipe, first preheat the oven to 220 C.

Sift the beaten rice using a large sieve sifter to remove any fine excess powders.Do it in batches.

Next, depending on the size of the oven, place the beaten rice on the baking sheet, drizzle a little bit of oil based on the quantity and then a little bit of salt.

Now stir to combine the oil and salt into the beaten rice. The oil we add is just to make sure the salt gets coated onto the beaten rice to give a nice taste.

Place the beaten rice into the oven and bake for 5 to 7 minutes until very very lightly browned. Monitor closely as each oven works differently.

Proceed the same way with the remaining beaten rice and then keep them all together in a large bowl or a baking tray.

Our next step is to roast each on the individual ingredients.

In a small pan, dry roast the sesame seeds until it crackles. Once it does, then add it to the baked beaten rice.

Add in the roasted peanuts and almonds into the beaten rice as well.

(Dont stir as yet, the more you keep stirring, the beaten rice will tend to crumble.)

Next heat half a teaspoon of oil in the same small pan; add in the raisins and roast until it bloats up. Remove from the heat and pour it over the beaten rice. If you let it roast for longer than the bloating stage, then the raisins will become stiff.

Next add in half a teaspoon of oil into the above pan and roast the green chillies, until lightly crisp and browned. Pour this over the beaten rice again.

Finally heat a teaspoon of oil in the above pan; once the oil is heated, turn off the heat - add to this oil - the turmeric powder, red chilli powder and asafoetida powder. Stir to mix well.

Pour this over the beaten rice.

Finally, add the powdered sugar and the curry leaf powder over the beaten rice.

Now stir all the ingredients that you poured over the rice. The stirring has to be a folding action - gentle and more gentle. The nylon poha also known as the thin poha breaks apart very easily. Although in the process of mixing all the ingredient you will notice that some crumble, but that's ok.

Make sure you mix the and finally check for the salt levels, adjust the spices like salt, sugar, chilli and asafoetida according to your taste.

The Baked Chevdo (Chivda Mixture)is now ready to be served along with tea time snack.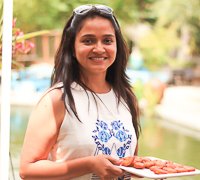 Archana Doshi is the founder of Archana's Kitchen. Archana launched Archana's Kitchen in 2007 as a way to keep track of her and family's recipes, and along the way grew it into one of the most popular cooking websites in the world. Archana is dedicated to helping home cooks be successful in the kitchen. Archana says "I hope you enjoy cooking recipes from my website where the sole effort is to make cooking simple for you. When you try out one of our recipes, we are longing to hear back from you. Do take your time to come back and share your comments, as your feedback means a lot to me"