Baked Vermicelli Malpua Recipe
Malpua, a classic Holi sweet dish made with vermicelli and served along with a generous serving of rabri on top. Try this healthier baked version of malpua with whole wheat vermicelli and paneer and enjoy with your family and friends.
In association with Preethi Kitchen Appliances


Priyanjali Joardar
On

Saturday, 30 September 2017 11:17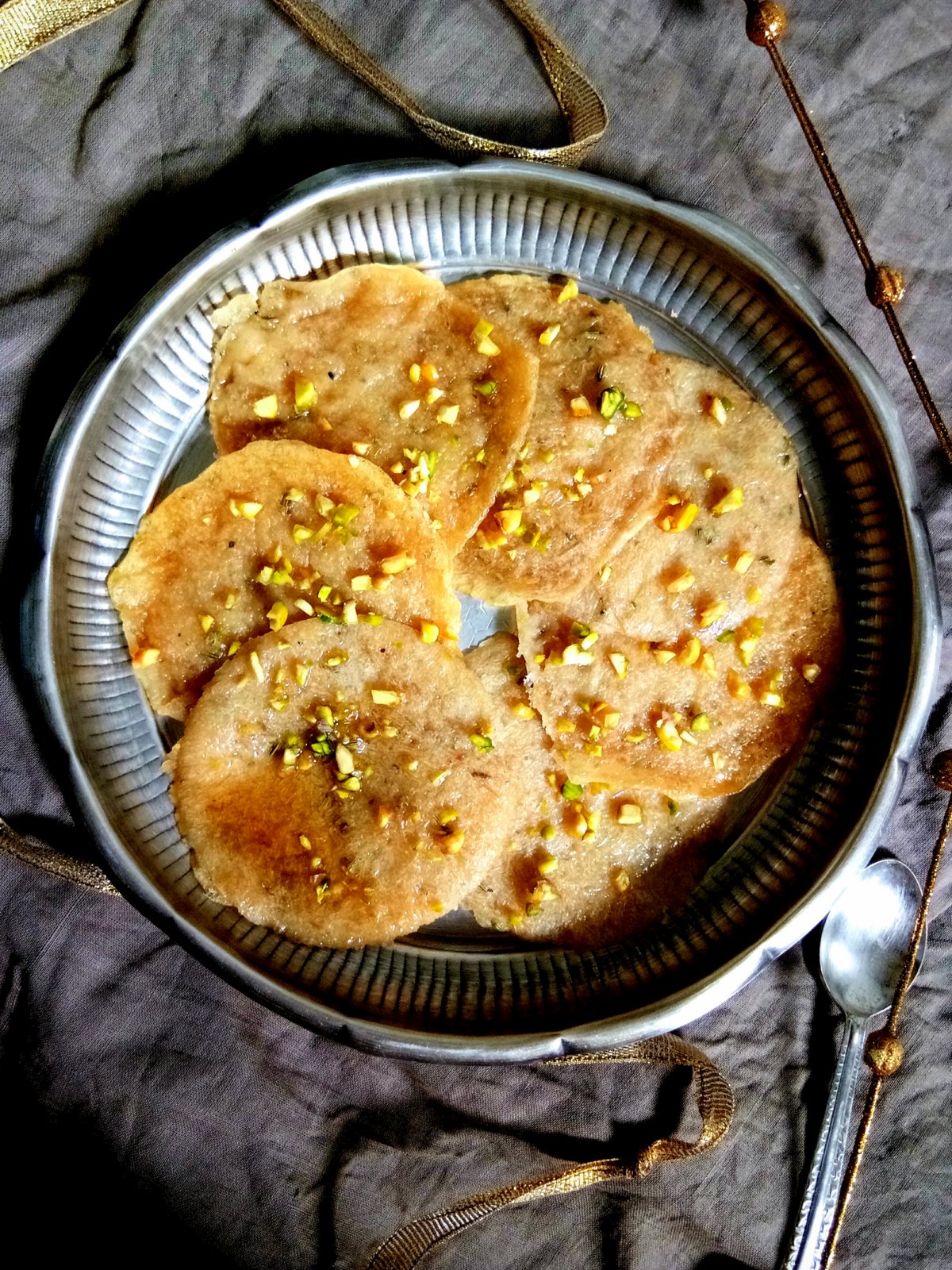 Malpuas are always associated with festivities but you think twice before indulging in one, as these are deep fried and soaked in sugar making them an indulgent dessert.
This Baked Vermicelli Malpua Recipe is a healthier dessert since there is no deep frying involved as it is a baked malpua. Especially weight watchers will love this recipe for sure. Give a healthy twist to the regular malpuas by baking them with this recipe. I have tried to prepare the recipe to its closest authentic taste.
Serve Baked Vermicelli Malpua Recipe as a dessert after your Holi meal, or during snack time to your guests, along with Dahi Vada and Thandai
If you like this recipe, take a look at more Malpua recipes like
Notes:
If you store in the fridge heat in a microwave for few seconds before serving.
Cottage cheese adds richness here so do not skip it.
2 tablespoon of either milk powder or gulab jamun mix can be used.
Add the milk for the batter and make a dosa batter consistency, do not make it very thin.
We get a non stick plate with microwave convection oven which can be greased and used directly. For other ovens, line the aluminum tray with parchment and sprinkle oil and ghee.
Ingredients
1 cup

Semiya (Vermicelli)

1 tablespoon

Whole Wheat Flour

1 tablespoon

Milk Powder

1 tablespoon

Gulab jamun mix

1/4 cup

Paneer (Homemade Cottage Cheese)

1 teaspoon

Fennel seeds (Saunf)

1/2 teaspoon

Cardamom Powder (Elaichi)

1 pinch

Baking soda

1/2 cup

Milk

1 teaspoon

Oil

1 teaspoon

Ghee

1/2 cup

Sugar

1/4 cup

Water

, approximately

Pistachios

, a handful, chopped
How to make Baked Vermicelli Malpua Recipe
To begin making Baked Vermicelli Malpua Recipe, cook the vermicelli with required amount of water. I used very fine roasted wheat vermicelli.

Drain the excess water and allow the vermicelli to cool down.

Meanwhile in a saucepan, make the sugar syrup by heating the sugar and water with 2 cardamom pods. Boil it till it becomes slightly thick and sticky, I did not follow any string consistency here.

Take the vermicelli, lightly mash it with your hand, add cottage cheese mash well, milk powder, gulab jamun mix, fennel seeds, cardamom powder and baking soda. Mix everything, add milk slowly and form a thick batter.

Let the batter stay in room temperature for an hour.

Grease a baking tray with oil and ghee, pour the batter with the help of a ladle, keeping space between each portion.

Bake in a preheated oven at 200 degrees C for 15 minutes. I baked in a microwave convection oven . You have to check with the time and temperature of your oven and keep a close eye on the baking malpua.

Once baked, dip each malpua in sugar syrup and take it out. You can also drizzle the sugar syrup on the top if you prefer less sugar like me.

Garnish with some chopped pistachios and serve them warm.