Banana Cream Pie Recipe

Madhuli Ajay
On

Wednesday, 20 July 2016 01:21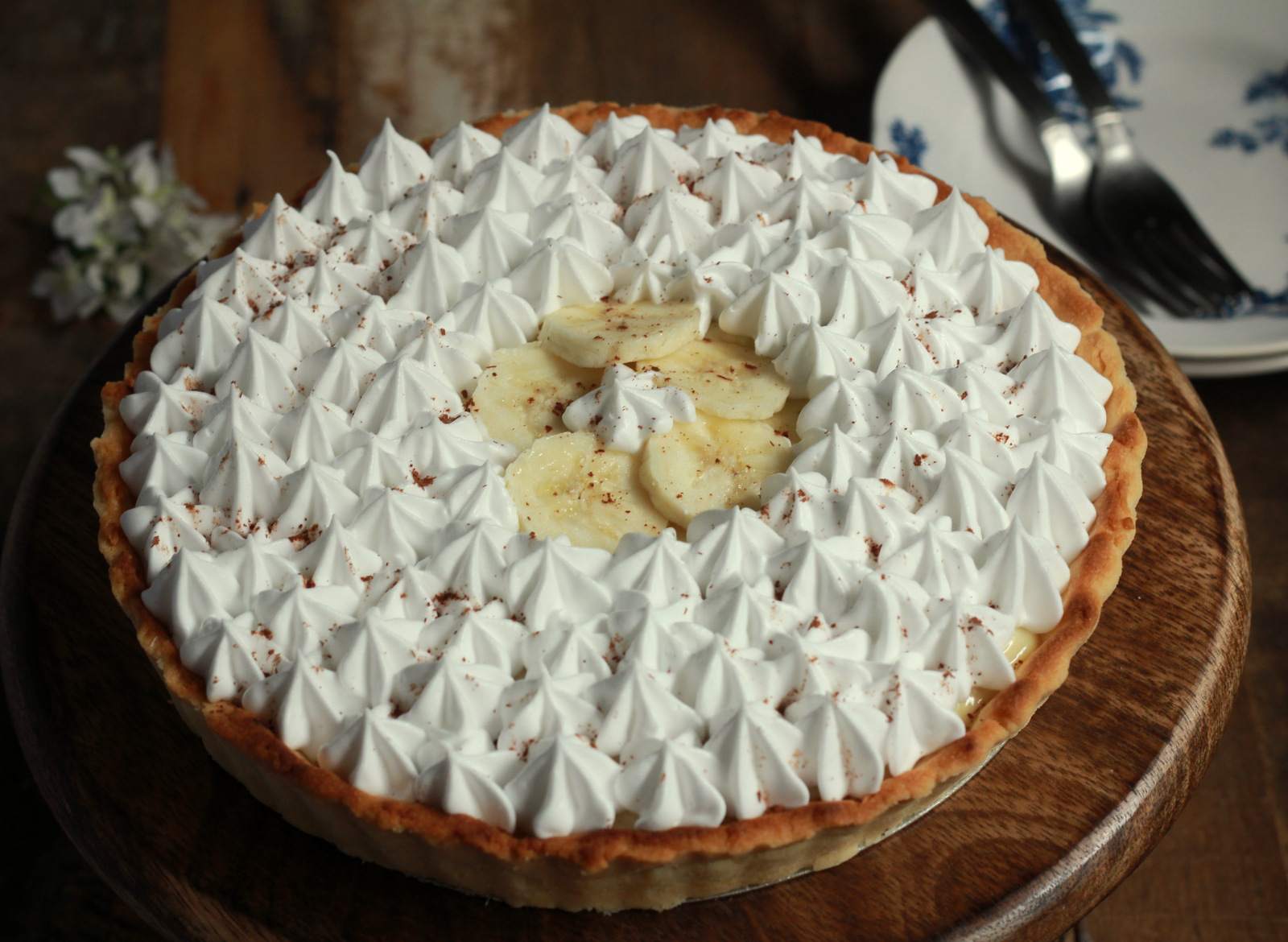 Banana Cream Pie is a decadent, rich dessert in which, flaky shortcrust pastry is filled with vanilla pastry cream and sliced Bananas and is topped with whipped cream. This recipe uses the pie crust and pastry cream both made from scratch and hence looks a little long winded. The pastry cream is made using egg yolks. For an eggless variation, you can use the store-bought vanilla custard powder and cook to a thick custard, according to package instructions. Use ripe firm Bananas, don't use overripe bananas. Pastry cream and whipped cream can be made in advance, so this dessert is easy to put together just a few hours before you need to serve it.
Banana Cream Pie can be served as a dessert for your special dinner.For an amazing dinner, you can serve Roasted Vegetable Pasta Primavera and for dessert serve Banana Cream Pie.
Here few other pie recipes which you can try :
Ingredients
2

Ripe Bananas

, big ones and sliced
1 pinch

Cocoa Powder

, to garnish (optional)
For the crust
2 cups

All Purpose Flour (Maida)

140 grams

Butter

, chilled and cut into cubes
2 tablespoon

Icing Sugar

3 tablespoon

Chilled water

For the Vanilla pastry cream
1 1/2 cups

Milk

5

Egg yolks

4 tablespoon

All Purpose Flour (Maida)

1 tablespoon

Corn flour

1/4 cup

Caster Sugar

1 pinch

Salt

1 teaspoon

Vanilla Extract

For the whipped Cream:
1 cup

Heavy whipping cream

, (or non-dairy cream)
3 tablespoon

Icing Sugar

1/2 teaspoon

Vanilla Extract
How to make Banana Cream Pie Recipe
To begin making the Banana Cream Pie, first make the pie crust. Pre-heat the oven to 190 degrees Celsius.

Add Maida, butter and icing sugar in a mixing bowl or the bowl of a food processor. Rub with your finger tips till the mixture resembles bread crumbs (or pulse 2-3 times, if using the food processor). Add cold water as required, until the dough just comes together. (Do not handle the dough too much, work quickly)

Make a disk and wrap the dough in plastic film. Keep refrigerated for 45 minutes or an hour.

Grease a 7-inch loose bottom, fluted tart pan.

Dust the work surface with a little flour and roll out the dough into a circle slightly bigger than the pan.

Carefully pick up the rolled out dough and place on the pan.

Press the bottom and the sides evenly. Scrape off the excess dough that comes out over the edge.

Prick the bottom with a fork and refrigerate the crust for 10 minutes.

Cut a baking paper slightly bigger than the tart pan.

Place it on the crust and fill with baking beans (or dried Red kidney beans/Chickpeas)

Bake for 10-12 minutes. Remove the baking paper and beans and bake the pie crust for 6-7 minutes, till it is light brown. Cool on a wire rack

Invert a glass and place it on a flat surface. Carefully place the pie pan over it. The fluted edge drops down.

Keep the pie crust on a flat surface. Use a palette knife to take off the plate at the bottom, ensuring that the crust does not crack. (or you can just leave it as it is)

For the Vanilla Pastry Cream, heat the milk in a saucepan.In a heat proof bowl add the egg yolks, sugar, flours, vanilla extract. Whisk.

When you see a few bubbles around the edge of the pan (or when the milk is about to boil), pour half of the milk over the egg yolk mixture, whisking constantly till the mixture is homogeneous.

Pour the mixture back into the saucepan and heat on low flame, whisking constantly till the custard thickens (about 2-3 minutes) Keep it covered to avoid the formation of skin on top of the custard.

For the whipped cream, whip the cream, sugar, and vanilla extract to stiff peaks using a hand blender.If using non-diary cream skip the sugar.

To assemble the Banana Cream pie. Place the banana slices on the pie crust, top them with the pastry cream, spread evenly.

Spread the whipped cream over it (or you can pipe out a design)sprinkle the cocoa over the whipped cream, if using.

Refrigerate for 3-4 hours, cut into wedges and serve.Your Banana Cream Pie is ready to eat.

Banana Cream Pie can be served as a dessert for your special dinner.For an amazing dinner, you can serve Roasted Vegetable Pasta Primavera and for dessert serve Banana Cream Pie.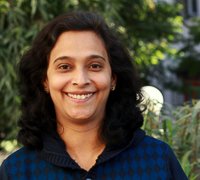 Giving up a lucrative career tinkering with Analytical equipments, Madhuli Ajay chose to tinker in her Food lab- developing new recipes & satisfying her culinary travel cravings. She has been sharing heirloom recipes on her blog 'My Foodcourt' for the past 9 yrs. Madhuli bakes to feed her soul. Testing recipes & photographing food for a cookbook, has fuelled her food photography passion. Based in the gorgeous 'Wine Capital' of India Nashik, Madhuli also loves spending time in her little kitchen garden.