Vietnamese Style Banh It Tran Recipe (Mung Bean Dumpling)
Soft and plumply sticky rice flour dumpling, stuffed with savory mung bean and poached to perfection

Priya Srinivasan
On

Monday, 17 October 2016 00:00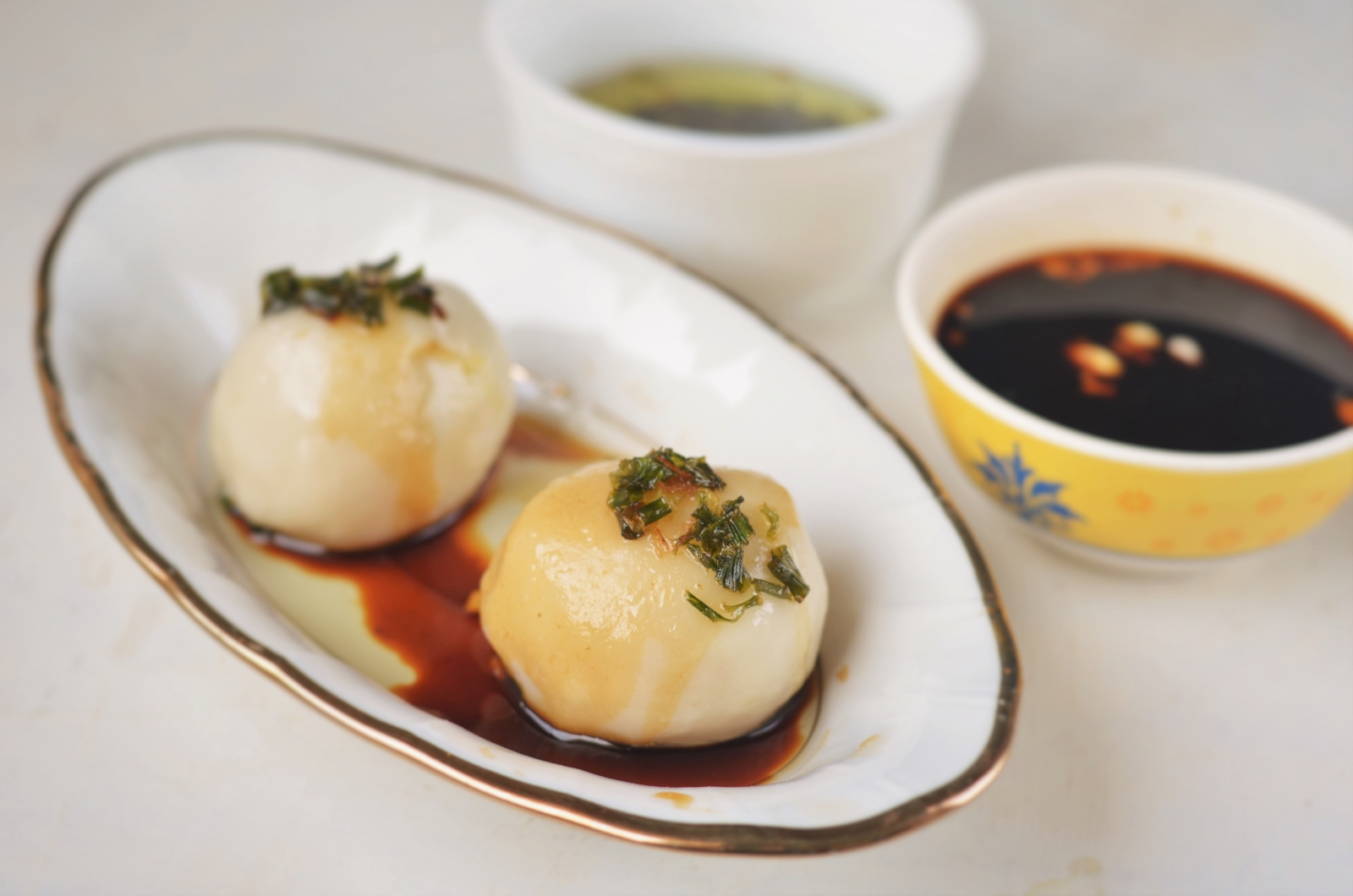 Banh It Tran is a Vietnamese dish, it is a delicious, soft and plumply sticky rice flour dumpling, stuffed with savory mung bean and poached to perfection.
Serve Banh It Tran with some onion oil over it and Nuoc Cham Chay for a tasty wholesome meal.
Other rice flour recipes that you can try are:
Ingredients
For the stuffing
1/4 cup

Yellow Moong Dal (Split)

1/2 teaspoon

Black pepper powder

Salt

, to taste
For the dough
1 cup

Rice flour

1/2 teaspoon

Salt

1/2 cup

Hot water

For the Onion oil
1/4 cup

Oil

1/4 cup

Spring Onion Greens

, chopped
How to make Vietnamese Style Banh It Tran Recipe (Mung Bean Dumpling)
To begin the preparation of Banh It Tran/Vietnamese Mung Bean Dumpling, first wash and soak mung beans for 30 minutes. Pressure cook it until soft. It can be cooked on stove top too, just see to that it turns soft.

Heat a pan with oil, saute the white part of onions first. When it turns soft, drain it using a slotted spoon and add it to the soft mung beans. Add pepper and salt and mix it together, Divide the dal mixture into 5-6 portion. Keep it covered until use.

In the same oil in which you sauteed onions, saute the green part too. After 3-4 minutes, take it off the stove and let it cool.

Now to make the dough, take the flour, add salt and mix well. Add water 1 tablespoon at a time and make a soft dough. Do not get tempted and add more water. You might not need all of the hot water, you will require more than 1/4 cup, but less than 1/2 cup.Keep the dough covered for 10 minutes.

Divide the dough into 5 or 6 portions. You can either roll it in between plastic paper/ziploc or do as i did.

I took a portion of dough, flattened it in my palms, placed a ball of mung beans, brought the dough together and made it into a ball.

Rolling the dough was a bit tricky, keep the dough covered all the time, Do not roll too thin, it might stick to the paper

In a pan, bring about 1.5 - 2 cups of water to rolling boil. To the boiling water, add 2 or 3 dumplings at time. See to that they don't touch each other, or else they might stick together. Keep stirring on and off.

It takes about 8-10 minutes for the dumplings to cook. Once cooked, they float on top. Remove the cooked dumplings from the hot water, using a slotted spoon and put them in cold tap water.

After 5 minutes, take the Banh It Tran out, place it on a serving plate/bowl, drizzle some onion oil on top and serve it along with Nuoc Cham Chay.