Basil Pesto Bombs Recipe
A sweet potato ball and be surprisingly welcomed with a soft and flavourful basil pesto centre.

Gauravi Vinay
On

Friday, 14 October 2016 00:32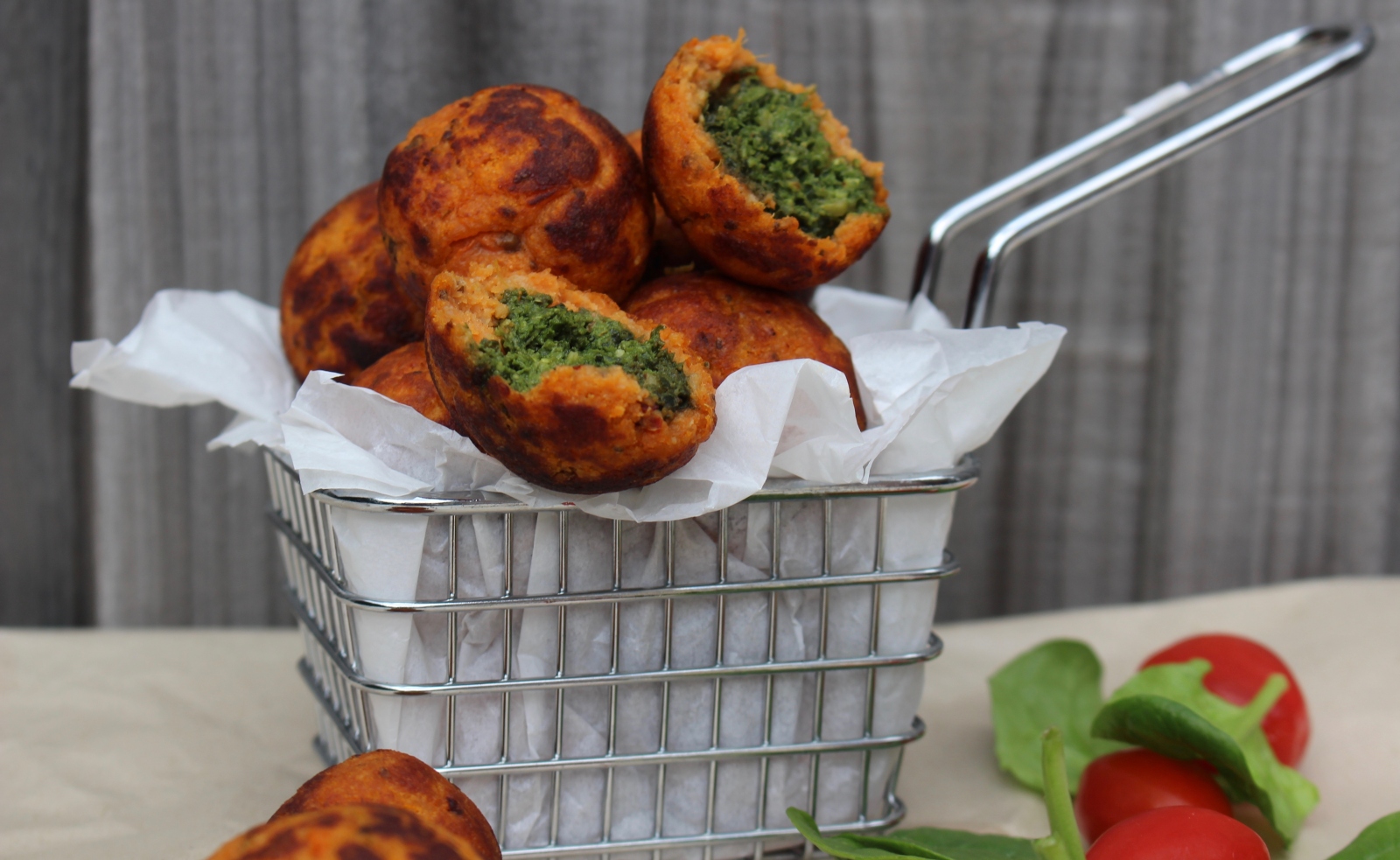 Have you thought of biting into a sweet potato ball and be surprisingly welcomed with a soft and flavourful basil pesto centre. This Basil Pesto Bombs Recipe does just that. It is very healthy, made on a paniyaram pan with very little oil and a great addition to potluck menus. Include them as appetizers with a tomato onion cucumber raita.
If you like this recipe, here are more Indian Appetizer recipes
Ingredients
For Basil Pesto
2 cups

Basil leaves

3 cloves

Garlic

1/3 cup

Walnuts

, pine nuts
1/2 cup

Extra Virgin Olive Oil

2 tablespoons

Parmesan cheese

1/2

Black pepper powder

1/2

Lemon juice

1 pinch

Salt

For Sweet Potato Shell
400 grams

Sweet Potato

1/2

Chia Seeds

1/2

Dried oregano

1/2

Apple cider vinegar

1-2 cloves

Garlic

, minced
2 teaspoons

Red Chilli flakes

1-1/4 cup

Oats Flour

Salt

, to taste

Oil

, to cook
How to make Basil Pesto Bombs Recipe
To prepare Basil Pesto Bombs Recipe, to make basi pesto, wash the basil leaves and drain the excess water and dry them by placing them on kitchen towels.

Now place all the ingredients of the basil pesto except olive in a food processor/ blender and blend them coarsely while slowly incorporating oil while blending or adding oil in intervals.

Store this in an air tight container in the refrigerator for a couple of hours.

Wash, peel and chop the sweet potato and let it steam cook until it is completely soft. Let this cool to room temperature.

In a bowl, add chia seeds and add 1-1/2 tablespoons of water and let it swell for 10-15 minutes.

Now in a large mixing bowl add sweet potato and mash it completely add 1 cup of oat flour, chia mixture, apple cider vinegar, oregano, garlic, salt, chilli flakes and mix them all together to form a dough.

Let this rest for 15 minutes and check for the stickiness. It should not stick to your hands. If the dough is sticky add the remaining 1/4 cup oat flour and mix well.

Now pinch a lemon sized dough, flatten it and spoon 1 teaspoon of basil pesto into the centre and seal all the sides to form a ball. Repeat with the remaining dough mixture.

Cook them on a paniyaram pan/mini dutch pancake pan by drizzling very little oil on a low to medium heat by flipping in between, to get an even colour.

Serve basil pesto bomb recipe with your favourite salad.