बीटरूट चिकन कटलेट रेसिपी - Beetroot Chicken Cutlets Recipe
बीटरूट चिकन कटलेट रेसिपी, एक स्वादिष्ट कटलेट है जो स्वादिष्ट होने के साथ साथ सेहतमंद भी है. इस कटलेट को धनिया पुदीना चटनी और मसाला चाय के साथ शाम के नाश्ते के लिए परोसे।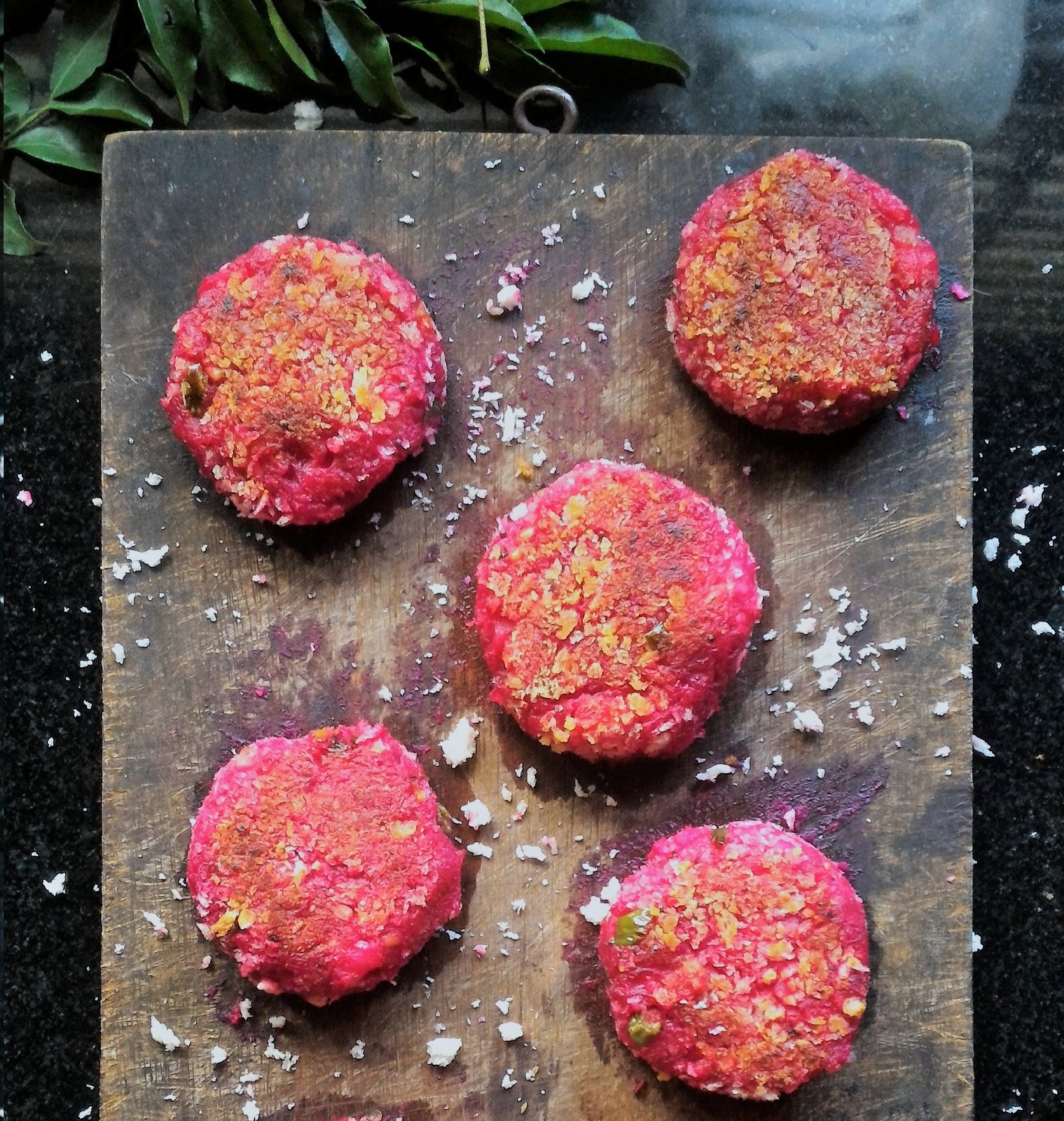 बीटरूट चिकन कटलेट रेसिपी एक स्वादिष्ट चिकन कटलेट रेसिपी है जो बहुत ही स्वादिष्ट और फ्लेवर से भरपूर है. इसमें बीटरूट और हकीकेँ के साथ साथ आलू और रोज के मसलो का भी प्रयोग किया जाता है.
बीटरूट चिकन कटलेट रेसिपी को धनिया पुदीना चटनी और मसाला चाय के साथ शाम के नाश्ते के लिए परोसे।
अगर आपको यह रेसिपी पसंद हो तो, आप यह भी बना सकते है
Notes:
Make sure the potato is mashed well. Lumps will make it difficult to get a good round shaped cutlet.
The water used to boil chicken & veggies can be used to make soup or curries.
Make sure the dough mixture is dry and tight. Do not add water to the mashed mix.
Diet:
High Protein Non Vegetarian
Ingredients
500 ग्राम

चिकन

1

आलू

, उबाल ले
1

चकुंदर

, उबाल ले

हरा धनिया

, थोड़ा, बारीक काट ले

कढ़ी पत्ता

, थोड़ा
2

हरी मिर्च

, बारीक काट ले
1-1/2 छोटा चम्मच

अदरक लहसुन का पेस्ट

1-1/2 छोटा चम्मच

जीरा

1 छोटा चम्मच

गरम मसाला पाउडर

1 छोटा चम्मच

लाल मिर्च पाउडर

नमक

, स्वाद अनुसार
1 छोटा चम्मच

पूरी काली मिर्च

, पीस ले

तेल

, प्रयोग अनुसार
1 कप

ब्रेड क्रम्ब्स
How to make बीटरूट चिकन कटलेट रेसिपी - Beetroot Chicken Cutlets Recipe
बीटरूट चिकन कटलेट रेसिपी बनाने के लिए सबसे पहले एक सॉसपैन में पानी गरम करें। इसमें नमक, काली मिर्च डाले और उबलने दे.

उबाला आने के बाद इसमें चिकन डाले और 20 मिनट के लिए पकने दे. चिकन पक जाने के बाद, उसे ठंडा होने के लिए अलग से रख दे. ठंडा होने के बाद चिकन को कस ले और अलग से रख दे.

अब एक बाउल में आलू को मैश कर ले. इसमें बीटरूट को कस ले और मिला ले.

इसमें चिकन, हरी मिर्च, अदरक लहसुन का पेस्ट, हरा धनिया, कढ़ी पत्ता, जीरा, लाल मिर्च पाउडर, गरम मसाला पाउडर डाले और अच्छी तरह से मिला ले. नमक डाले और फिर से मिला ले.

अब थोड़ा थोड़ा मिश्रण ले और गोल बॉल बना ले. इनको अपने हाथो के बिच में दबाए और फ्लैट कर ले.

अब एक तवा पर तेल गरम करें। इस पर कटलेट रखें और दोनों तरफ से भूरा सुनहरा होने तक पका ले.

अब एक किचन पेपर पर निकाले ताकि वो अधिक तेल सोख ले. परोसे।

बीटरूट चिकन कटलेट रेसिपी को धनिया पुदीना चटनी और मसाला चाय के साथ शाम के नाश्ते के लिए परोसे।