Jyothi Rajesh
On

Monday, 17 August 2015 08:07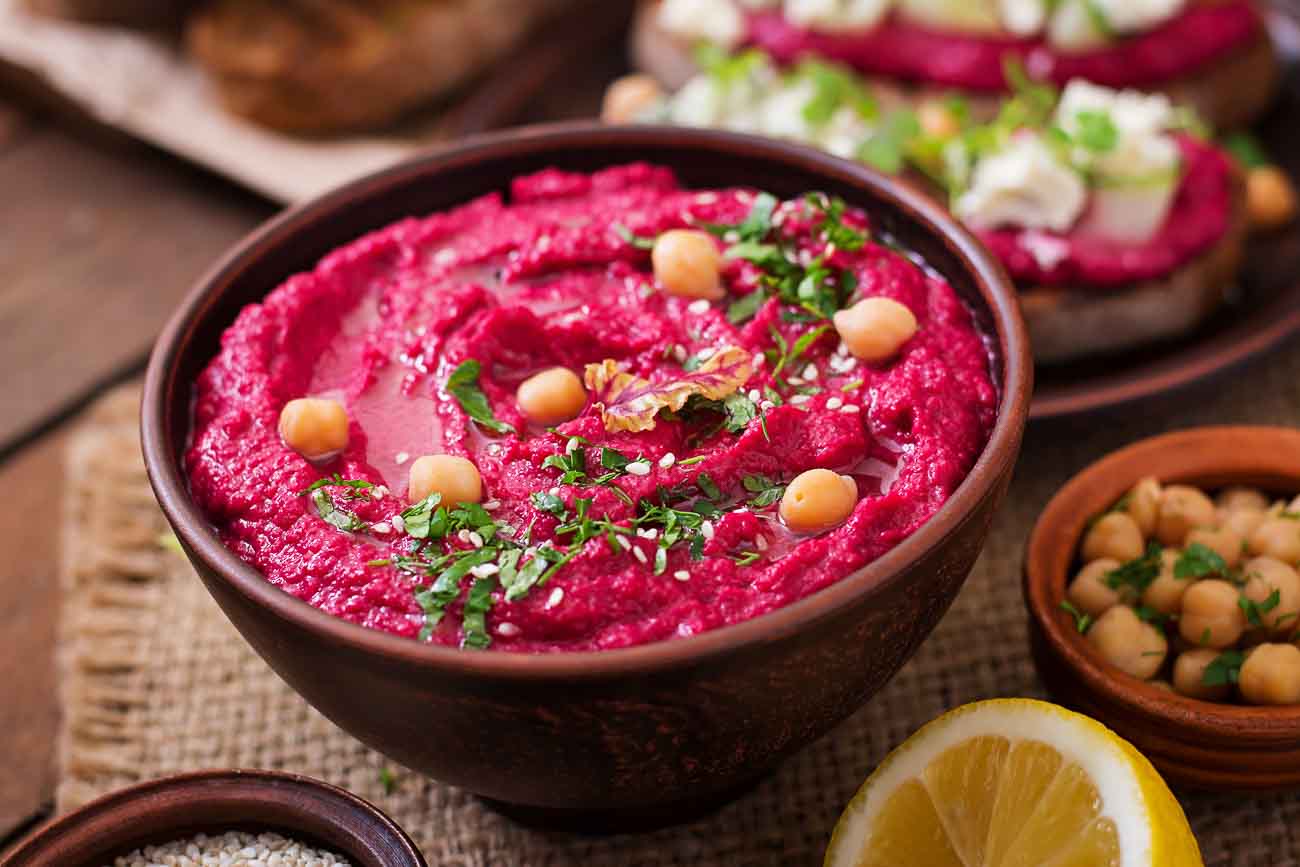 Beetroot Hummus Recipe is a simple and easy dip to make as an accompaniment to crackers or as a sandwich spread over toasted pieces of bread. You can either use raw beets or roast them in the oven for a better depth of flavour. This recipe uses beets roasted in the oven, blended with cooked chickpeas, garlic, pepper powder, lime juice, salt, tahini paste, basil leaves, olive oil and water. It's an easy crowd-pleaser, and nutritious all at once. Serve the Beetroot Hummus with Salad.
Other recipes that you can try are:
Ingredients
4

Beetroots

1 cup

Kabuli Chana (White Chickpeas)

1 tablespoon

Black pepper powder

10 cloves

Garlic

4-5

Basil leaves

Salt

, to taste

Lemon juice

, from one lemon
1 tablespoon

Tahini

1/4 cup

Extra Virgin Olive Oil
How to make Beetroot Hummus Recipe
To begin making the Beetroot Hummus, first soak the chickpeas over night, or at least 6-8 hours till they double in size. Then, pressure cook them with a pinch of salt till they are softened.

Pre-heat the oven at 200 C for 15 minutes. Meanwhile, wash the beetroots thoroughly and peel the skins off them. Chop them into one inch cubes and place them on a baking tray, lined with aluminium foil.

Drizzle about 1 teaspoon of olive oil over the cut beets, sprinkle some salt and toss well till coated.

Place the tray in the oven and roast the beetroots for fifteen minutes. Toss the pieces of beetroot around once in between so they get evenly roasted.

When the beetroots have roasted, take them out of the oven and set them aside to cool completely.

Place the beetroots, chickpeas and the peppercorns, basil, garlic, lemon juice and tahini into a blender add all the ingredients and pulse to break them down.

Drizzle the olive oil little at a time, adding a little water to help blend it easily. This will bring the blended mixture together. Adding the olive oil and water slowly, a little at a time helps in arriving at the right consistency slowly, or you run the risk of getting a watery hummus.

Once you get a creamy, smooth hummus of the consistency you desire, transfer the mixture into a serving bowl.

Sprinkle some herbs and serve.

Serve the Beetroot Hummus with Salad.