Begun Bhaja Recipe (Bengali Style Spiced And Fried Aubergine Slices)

Farrukh Aziz Ansari
On

Tuesday, 24 November 2015 00:58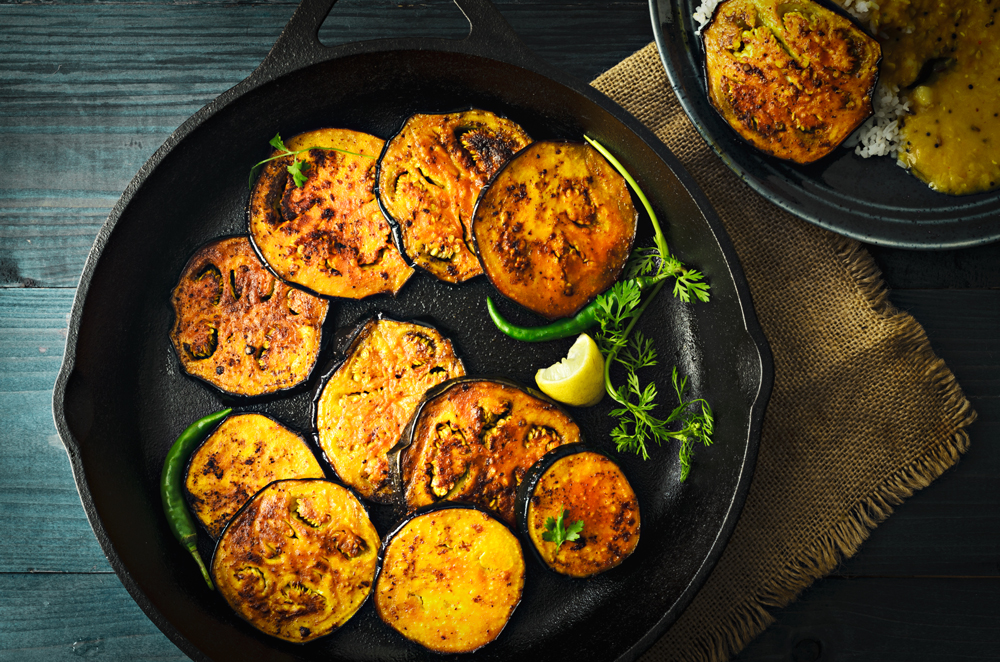 Begun Bhaja is a traditional Bengali style dish of delicately spiced slices of aubergine that are then fried to a crisp and usually served with a simple, homely meal. It is crunchy and spicy, making it a delicious party appetizers or side-dish for your party menu as well. This is one of the easiest and delectable appetizers recipe, which requires no time and very little effort. In keeping with Bengali culinary tradition, the slices of aubergine are usually fried in mustard oil which gives it a pungent hit of flavour, but you can use refined oil if that is what you are used to. This Begun bhaja makes an awesome side dish with for lunch on lazy weekends or a dinner to end a busy day.
Serve the Begun Bhaja along with Bengali Style Cholar Dal and Jeera Rice or with Bhog Khichuri for a comforting Bengali-styled meal.
Other recipes that you can try are:
Ingredients
1

Brinjal (Baingan / Eggplant)

, sliced into discs of 1 cm thickness
1 teaspoon

Red chilli powder

1 teaspoon

Turmeric powder (Haldi)

1 teaspoon

Garam masala powder

1 teaspoon

Amchur (Dry Mango Powder)

Salt

, to taste

Mustard oil

, for shallow frying
How to make Begun Bhaja Recipe (Bengali Style Spiced And Fried Aubergine Slices)
To begin making Begun Bhaja, first make the spice mix. In a bowl, combine the chilli powder, turmeric, salt and lemon juice and mix well.

Slice the washed aubergine into thickish slices of 1 cm thickness. Lay them out in a wide bowl/dish or plate and add the prepared spice mix to it.

Mix the spice mix with the slices of aubergine, rubbing them with your fingers so they are evenly coated with the spice.

Now prepare to fry them. Place a pan/skillet on the heat and add mustard oil to it. It is important to heat mustard oil till it gets smoky as that emanates maximum flavour.

When the oil begins to smoke, reduce the heat to lowest and add the slices to the oil in the pan, arranging them in a single layer.

Fry them on a low-medium heat for 3-4 minutes on one side before you flip them to cook on the other side. Cook them until sufficiently golden on both sides.

Remove the slices individually, with a slitted spoon and serve immediately, when still hot.

Serve the Begun Bhaja along with Bengali Style Cholar Dal and Jeera Rice or with Bhog Khichuri for a comforting Bengali-styled meal.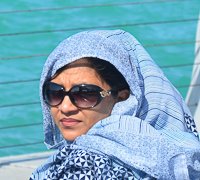 Farrukh is microbiologist by qualification, a Naturopath and homemaker by choice. She is a Recipe Developer, Food Stylist and self-taught Food Photographer and blogs at "Cubes N Juliennes". The journey of food blogging so far has been passionate to the core of it. She puts her best effort in not only creating recipes but also capturing them in drool worthy shots which mesmerize you to drop your jaws. That quite justifies her belief in the axiom "You eat with your eyes first". She keeps herself busy in cooking, styling, clicking and processing all day long. Farrukh's blog "Cubes N Juliennes" has been awarded the prestigious award of "Best Recipe Blog" by the Food Blogger Association of India in 2013 and then a runner up award in 2014.