Bengali Sita Bhog Recipe
Bengali Sita Bhog Recipe is a distinct Bengali dessert recipe made with rice and chena vermicelli and mini jamuns called Nikuti. Make Bengali Sita Bhog Recipe for a special occasion.

Alka Jena
On

Tuesday, 06 October 2015 00:41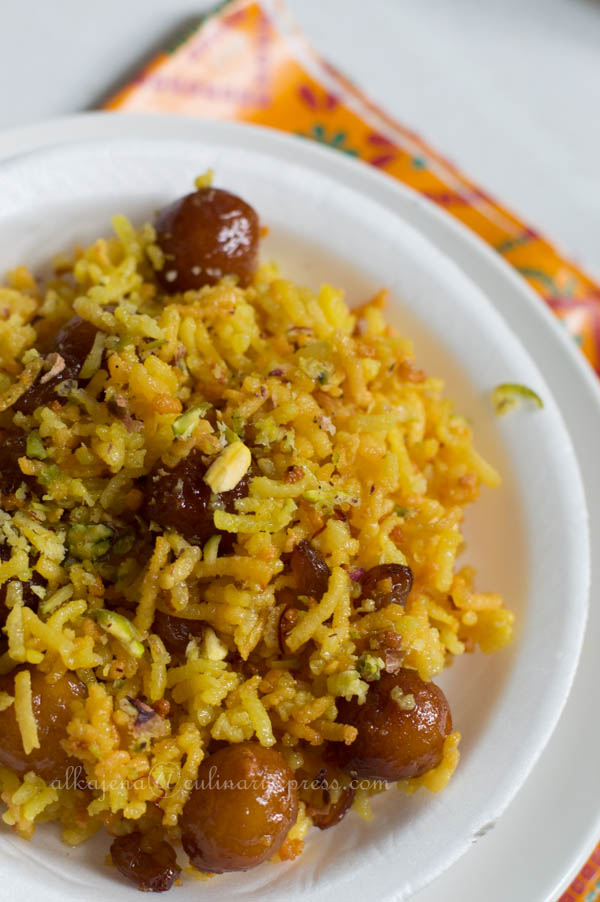 The Bengali Sita Bhog is a delectable rice dish that is sweet and packed with flavors along with mini jamoons in the rice. Bengali Cuisine, like its delectable variants of food, boasts of a rich sweet tradition. The Bengali Sita Bhog sweet is a lesser known of the sweets which has remain hidden from the national limelight but are a rage within its territorial boundaries.
Serve the Bengali Sita Bhog along with Mishti Doi as desserts after a meal of Bengali Luchi and Aloo Parwal Sabzi.
Try some of our other favourite Indian desserts
Ingredients
1 cup

Govind Bhog Rice

1 cup

Paneer (Homemade Cottage Cheese)

, crumbled
1 teaspoon

Cardamom Powder (Elaichi)

1 tablespoons

Raisins

1 tablespoon

Pistachios

Few

Saffron strands

1 cup

Sugar

Ghee

, or oil for frying
Ingredients for Nikuti (jamoons)
1 cup

Milk Powder

1/2 cup

All Purpose Flour (Maida)

1/4 teaspoon

Cooking soda

1 tablespoon

Ghee

2 tablespoons

Curd (Dahi / Yogurt)

1 cup

Sugar

1 teaspoon

Cardamom Powder (Elaichi)
How to make Bengali Sita Bhog Recipe
To begin making the Bengali Sita Bhog, we will first make a rice and chena vermicelli. You can either use a wide holed grater or a sev maker to make the vermicelli. This fried vermicelli will then be soaked in a sugar syrup.

Soak 1 cup of the Govind Bhog rice in water for 1 to 2 hours. After a couple of hours, drain the water and spread the rice over a kitchen towel and allow it to dry.

Once dry place the rice in a dry grinder and grind to a fine powder.

Add the rice powder and chena to a large mixing bowl. Knead both of them together adding little milk at a time to make a soft, firm and smooth dough. Cover and allow the dough to rest for a few minutes till we get the sugar syrup ready.

For the sugar syrup, place the sugar along with 1 cup of water and bring it to a boil. Once the sugar comes to a boil, turn the heat to low and simmer to make a sticky syrup. When you touch the syrup between your fingers, it should feel sticky and slightly stringy.

Once the sugar syrup is ready, add the cardamom powder and the saffron to it and allow it to rest.

We will now deep fry the rice mixture by making it either into oblong shape by running it through a grater or a sev maker. The size of the rice vermicelli is purely your preference.

Heat oil for deep frying. Once the oil is heated, place the rice and chena mixture through a grater and grate it into the hot oil. You will notice small rice size bits drop out into the oil. Deep fry on medium heat till the Bhog turns golden brown in color.

Drain out the excess oil and proceed the same way with the remaining rice mixture. Add the raisins and the fried rice and chena into the sugar syrup. Allow it to soak well in the syrup for about 10 to 15 minutes. You will notice the rice and chena vermicelli starts to puff up and turn soft.

Once it is soaked, spread it on a plate and allow the grains of sugar coated rice to cool.

In the next step we will make the Nikhuti (the jamoon balls).

In a large mixing bowl add milk powder, maida, soda, ghee and yogurt and mix them all together. Add little water at a time and knead to make a firm and smooth dough. Allow the dough to test for about 5 to 10 minutes.

After 10 minutes, shape them into small tiny jamoons (balls).

In the same oil we deep fried the rice vermicelli, heat that oil and add a few jamoons at a time and deep fry until golden brown in color. Once fried, keep them aside.

The next step is to soak these jamoons in a sugar syrup. To make the sugar syrup in another pan add water and sugar and bring it to boil.

Once it comes to a boil, turn the heat to medium and make a light syrup. This syrup does not have to be very sticky. Once the syrup is ready, place the small jamoon balls into the hot syrup and allow it to soak and become soft. These Nikhuti's will puff up a little.

Once soaked drain from the syrup and add it to the rice vermicelli we made.

Transfer it to a serving bowl, garnish it with pistachios.

Serve the Bengali Sita Bhog along with Mishti Doi as desserts after a meal of Bengali Luchi and Aloo Parwal Sabzi.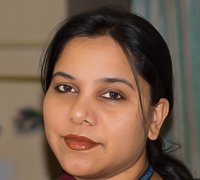 Food Blogger...Recipe Developer...Food Stylist....Food Photographer...Dedicated mother...Working professional…Homemaker.....the list seems endless...... Above all I am a woman and take pride in all the roles I play in my life. Friends call me a Super Mom....Super Woman... because of the multitasking I do every day in order to make a work life balance. I am AlkaJena, an Economist by Profession and a Food Blogger by Passion based at Bhubaneswar, Odisha and loves to share various recipes tried on the comfort of my Kitchen on my Blog culinary xpress. I cook to satisfy my culinary skills and prefer my work to speak for myself.