Bhaat Na Muthia Dhokla Recipe
Bhaat Na Muthia Dhokla Recipe is a healthy gujarati snack that you can have for breakfast or even dinner. Served best along with green chutney.
In association with Preethi Kitchen Appliances


Archana Doshi
On

Sunday, 21 June 2009 14:08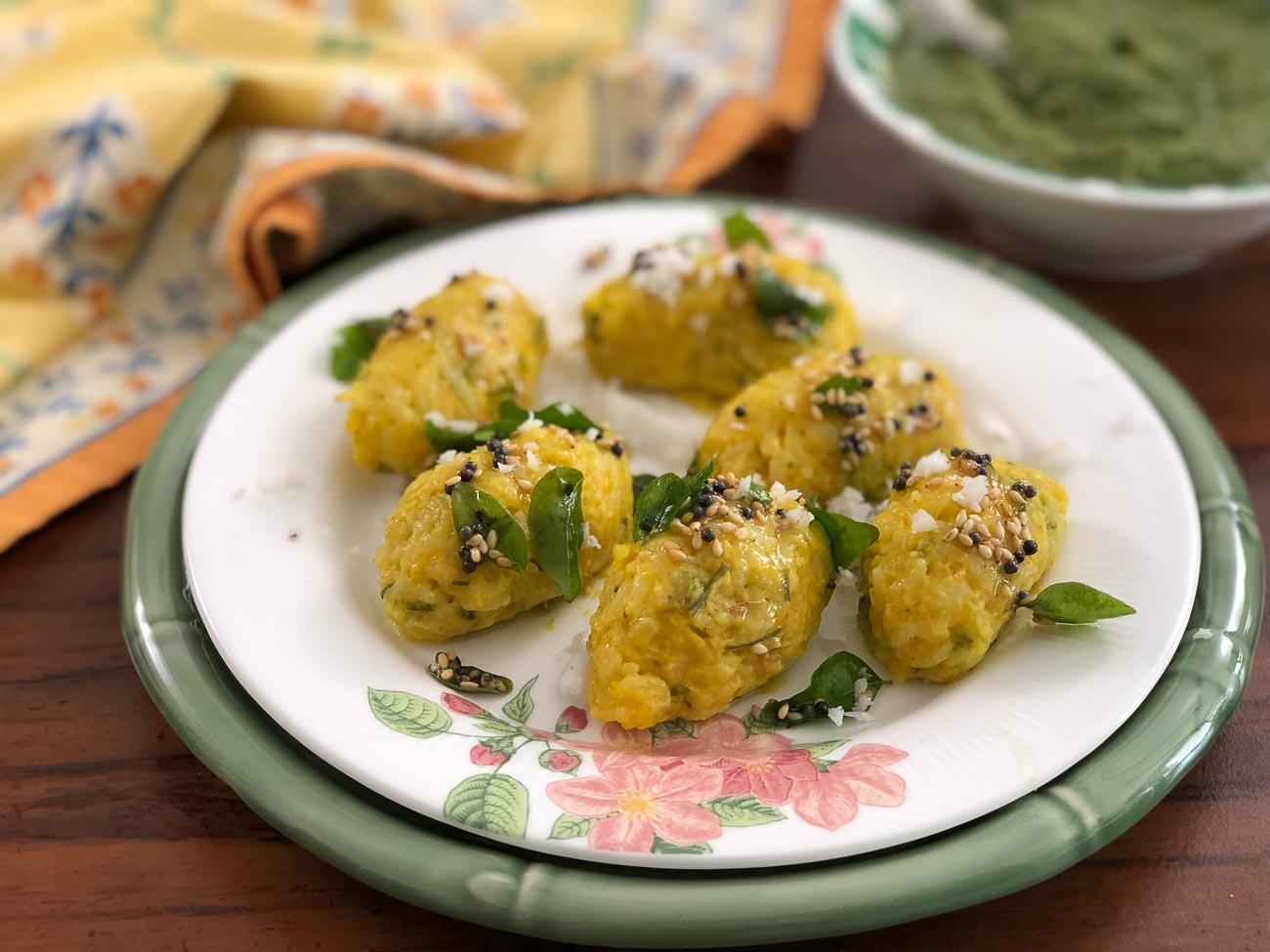 Bhaat na Muthia Dhokla Recipe is a staple dish of every Gujarati kitchen home and every home has ways to invent dishes that can be made from leftover rice. Muthias a common staple in every Gujarati home is made by steaming dumplings of mashed rice combined with vegetables and spices.
Over the years of eating Muthias at many Gujarati family homes; I have tasted a variety of these dumplings each having a unique flavor and texture. Using this knowledge I have crafted a recipe that shows you how to bring out delicious tastes and textures at your own kitchen.
Serve these muthia's along with Dhania Pudina Chutney and a glass of cold Pudina Buttermilk Recipe.
Here are a few more similar recipes that you could also try
*Alternative Vegetables
Apart from bottle gourd, finely chopped cabbage, grated carrots, grated beetroot, finely chopped spinach go very well into the muthias, making it wholesome and nutritious.
Ingredients
Main Ingredients
2 cups

Cooked rice

, (left over rice can be used)
1/2 cup

Gram flour (besan)

1 teaspoon

Ginger

, finely grated
1/2 teaspoon

Turmeric powder (Haldi)

1/4 teaspoon

Asafoetida (hing)

1/2 teaspoon

Red chilli powder

Coriander (Dhania) Leaves

, small bunch, finely chopped
1 cup

Bottle gourd (lauki)

, grated
1 tablespoon

Cooking oil

Salt

, to taste
Ingredients for seasoning
1 teaspoon

Mustard seeds

1 teaspoon

Sesame seeds (Til seeds)

2 tablespoons

Fresh coconut

, grated
6

Curry leaves

, finely chopped
1 tablespoon

Coriander (Dhania) Leaves

, finely chopped
1 teaspoon

Cooking oil

1 teaspoon

Cooking oil
How to make Bhaat Na Muthia Dhokla Recipe
To make the Bhaat Na Muthia Dhokla Recipe, we will first prepare the steamer by filling it with water and grease the steamer plates.

Using a large wide bowl combine all the ingredients for the muthias and mash well using a masher or with your hands. The mixture will look like a firm ball of dough.

Divide the above mixture into 15-20 equal portions and shape them into ovals.

Place the portions of the dumplings 1 inch apart on the greased plates and steam on high heat for 15 minutes. Turn off heat and allow the Muthia to rest for 5 minutes with the steamer lid opened. Transfer the steamed bhaat na muthia portions onto a serving platter.

Next we will make the seasoning for the Bhaat na Muthia. Heat oil in a small pan on medium heat; add the mustard seeds, sesame seeds, curry leaves and allow them to crackle.

Drizzle the seasoning on top of the muthias and garnish with the grated coconut and coriander leaves and serve.

Serve these Bhaat Ka Muthia Dhokla along with Dhania Phudina Ni Chutney and a glass of cold Chaas as a tea time snack or as a quick weeknight dinner.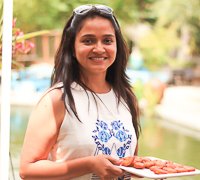 Hi there! This is my chance to talk to you as a founder of Archana's Kitchen. First, we love creating recipes keeping you in mind. At Archana's Kitchen we try to keep recipes simple, smart and seasonal without additives and preservatives. I hope you enjoy cooking recipes from our website where the sole effort is to make cooking simple for you. When you try out one of our recipes, we are longing to hear back from you. Do take your time to come back and share your comments, as your feedback means a lot to us.