Kashmiri Style Bharit Marchavangun Recipe-Stuffed Chillies
Stuffed chillies are delicious and makes a unique starter dish for your house parties. Here we have added a kashmiri touch to the stuffed chillies by stuffing it with walnuts, pomegranate seed powder and cumin which gives in a depth of flavour to the dish. Serve it simply with a green chutney or boorani raita by the side.

Jyothi Rajesh
On

Sunday, 25 September 2016 00:13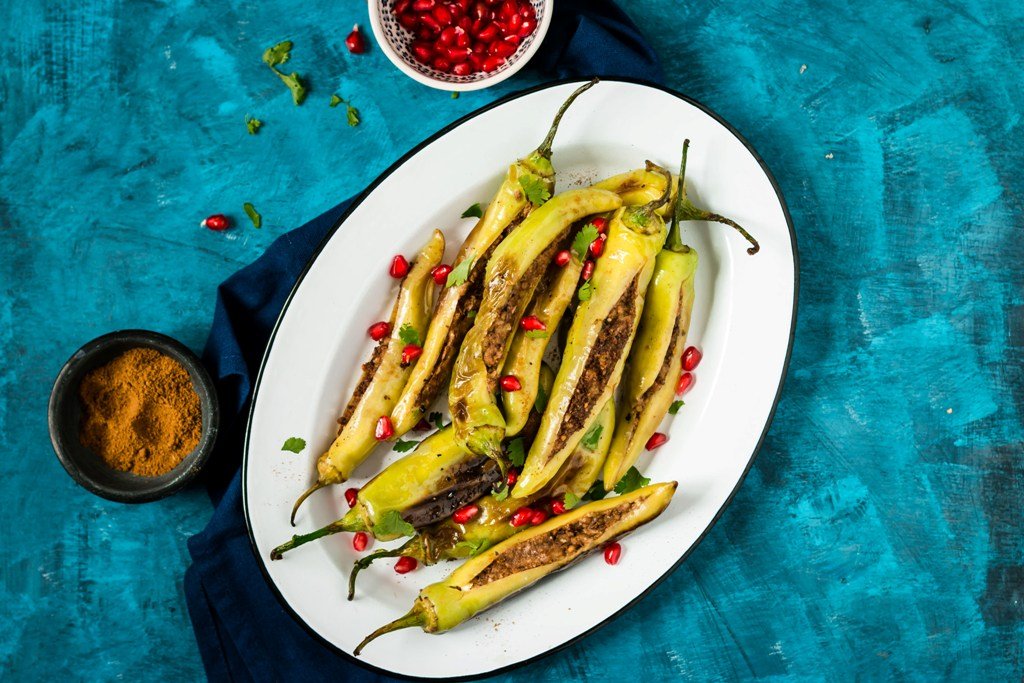 Bharit Marchavangun is a classic Kashmiri dish that makes a show stopping entrée (appetizer) in any party. Stuffed chillies are delicious and makes a unique starter dish. This is a dish that is easy to make, with minimum effort and time consumption. Walnuts, pomegranate seed powder, and cumin gives a depth of flavors and great texture to the dish. I was overwhelmed with the stuffing and the heat in the chillies was perfect with the subtle flavor of the stuffing.
If you don't like heat at all, scoop off the seeds from the chillies.Either ways Bharit Marchavangun/Kashmiri Stuffed Chillies Recipe just tastes amazing by itself as an appetizer or an accompaniment with the main meal of Raita.
If you like this recipe, look at some more similar recipes or stuffed vegetables
Ingredients
10

Badi hari mirch (Large Green Chilli)

, (less spicy bajji variety)
1 cup

Walnuts

1 teaspoon

Cumin seeds (Jeera)

1-1/2 teaspoon

Anardana Powder (Pomegranate Seed Powder)

, powdered
1 teaspoon

Dry ginger powder

Salt

, to taste
1 cup

Vinegar

3 to 4 tablespoon

Cooking oil
How to make Kashmiri Style Bharit Marchavangun Recipe-Stuffed Chillies
To prepare Bharit Marchavangun/Kashmiri Stuffed Chillies Recipe, first lightly dry roast walnuts, cumin seeds separately until fragrant, in a kadai.

Then add the roasted walnuts, cumin seeds, pomegranate seeds powder, ginger powder and salt to taste into a blender and blend into smooth paste with very little water. Keep aside.

Wash and pat dry the chilies. Make a slit in the center leaving the stem part intact. If you do not like heat, scoop out the seeds. I love heat, so left the seeds on. Soak the slit chilies in vinegar for about 30 minutes.

Remove the chilies from vinegar. Do not throw the vinegar away, you can use it in cooking Chinese noodles/fried rice.

Stuff the chilies with the walnut mix stuffing.

Heat oil in a Pan for shallow frying. Place few stuffed chilies a time and fry on low flame until browned and cooked on all sides. Repeat the same procedure for all the stuffed chilies.

Remove from stove and serve Bharit Marchavangun/Kashmiri Stuffed Chillies Recipe immediately as appetizer or side dish, with Raita.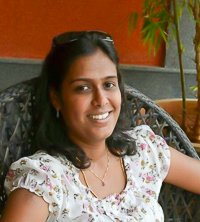 Jyothi Rajesh is an engineer by profession. Food and any thing related to food is her passion. She loves to cook, style and photograph food. She spends half of my week teaching Robotics to children and the rest of my week she get lost in cooking and photography. She cook for two reasons. First, cooking is, in all honesty, a way to show that she cares about people. It gives her great pleasure to make something that someone enjoys! Second, "I love the quest … the quest for great ingredient combinations, for unexpected flavors, for those "wow" recipes."