Bhatura Recipe (Fried Puffed Yogurt Bread)

Archana Doshi
On

Wednesday, 11 June 2008 09:13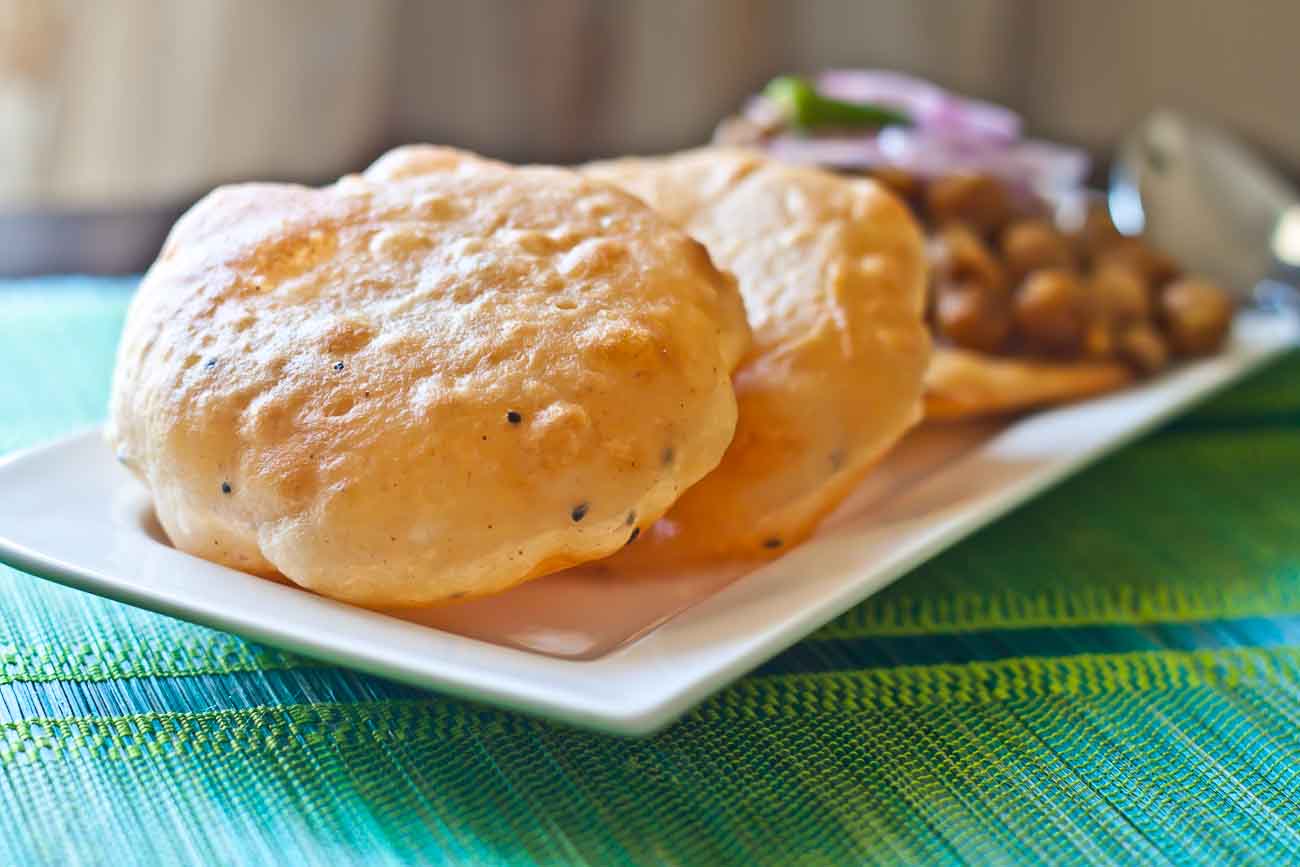 Bhatura is a traditional North Indian Punjabi classic bread savored with Chola Masala - together called as "Chola Bhatura". The Bhatura is a spongy deep fried bread is made my combining flour along with yogurt and yeast that is made to ferment so that it gets that little sour taste from the yogurt which gives that classic favor and yet the softness. The addition of nigella seeds, fennel seeds or ajwain seeds enhances the flavor of this delicious Bhatura.
Yeast is not traditionally added to the batura recipe. The addition of yeast is purely an invention when I used the recipe of Naan to make Bhatura's. They turned out phenomenal, fluffy and very texture full, so pleasing to the palates that they melted in the mouth. It also was not greasy like the tradional batura's that did not contain yeast.
Serve it with any indian gravy vegetable dish or as the classic "Chola Bhatura" and it would be a sumptuous meal for the family.
Take a look at more Indian breads to try to break the monotony of your kitchen
Ingredients
2 cups

All Purpose Flour (Maida)

, (or 1 cup whole wheat flour and 1 cup all purpose flour)
1 cup

Potatoes (Aloo)

, boiled, mashed very fine
1 tablespoon

Sooji (Semolina/ Rava)

1 tablespoon

Oil

1/2 cup

Curd (Dahi / Yogurt)

3 tablespoons

Lukewarm Water

1 tablespoon

Sugar

1 teaspoon

Kalonji (Onion Nigella Seeds)

1-1/2 teaspoons

Active dry yeast

1-1/2 teaspoons

Salt

Oil

, to deep fry
How to make Bhatura Recipe (Fried Puffed Yogurt Bread)
To prepare Bhatura recipe, in a large bowl add the flour and oil. With your hands, blend the oil into the flour until it forms coarse crumbs. You can do this in a stand mixer as well to ease the process of mixing the dough.

Stir water and yeast until yeast is completely dissolved. Now make a well in the center of the flour mixture and add the yogurt, potatoes, semolina, sugar, salt, ajwain seeds, nigella seeds and yeast mixture. Knead into the flour and until the whole dough collects into a mass. Add any additional water if knead to get the dough together. The dough will be sticky.

Wash and wipe your hands clean and oil the palms of your hands with a tablespoon of oil. Now knead the dough with the oiled hands until smooth and shiny adding additional flour if too sticky, for about 10 minutes.

Cover the bowl of dough with a loose fitting lid and allow it to rest for about 1 hour or more until the dough has risen/doubled in volume. At this stage; punch down the dough, knead gently and divide the dough into 16 equal portions.

Preheat oil in a deep frying pan or kadai

With a rolling pin, quickly roll out each dough balls into a 5 inch circles; cover them with a damp cloth and set aside until you are ready to fry them.

When the oil is hot and ready about 190C, gently slip 1 bread into the oil. Fry the dough, turning once until puffed, cooked and lightly browned about 40 to 50 seconds.

Using a slotted spoon drain the excess oils and transfer the fried bhatura's to a paper towel to absorb excess oil. The Bhatura will be light and spongy.

Serve the Bhatura's with a Chola/ Chana Masala and some pickled onions.