Broken Wheat Porridge For Babies And Toddler
A delicious combination of Broken Wheat porridge along with mashed bananas and apples. Serve this porridge to your babies/toddlers who are over the age of 10 months for a wholesome lunch or dinner

Archana's Kitchen
On

Tuesday, 13 March 2018 10:00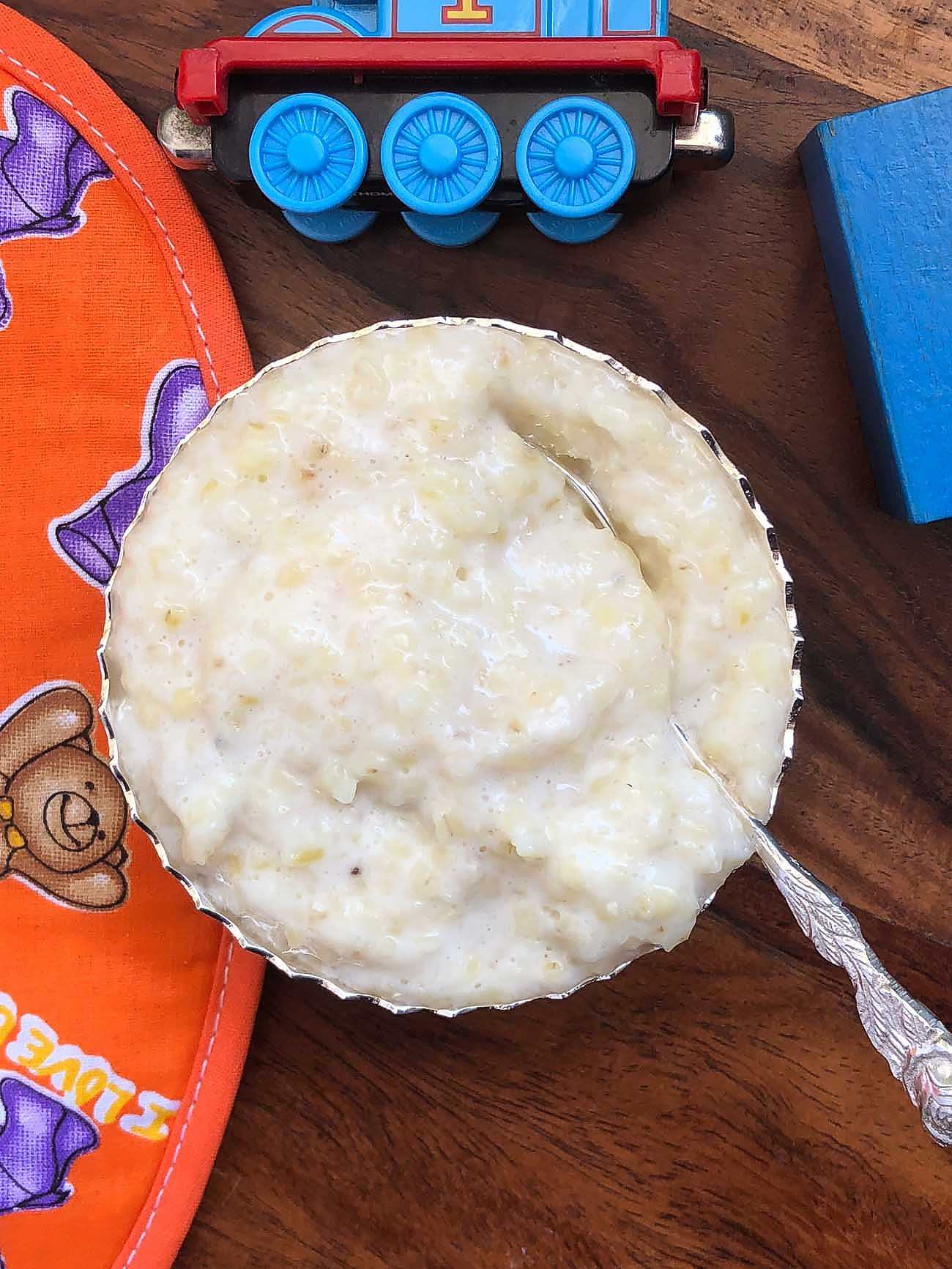 Broken Wheat also known as Dalia is a delicious delicious grain that can be fed to your babies/toddlers who are over 10 months of age. Broken Wheat is easy to digest and the grain by itself comes with a lot of fibre in it.
Broken Wheat is pressure cooked and mixed along with mashed bananas and apples. The bananas act as a sweetening agent thereby not needing to add sugar to you baby's porridge.
Serve Broken Wheat Porridge to your babies /toddler over 10 months for a complete and wholesome lunch or dinner.
If you like this recipe of Broken Wheat Porridge, here are a few more baby food recipes.
Ingredients
1/2 cup

Broken Wheat (Dalia/ Godumai Rava)

1

Ripe Bananas

, yelakki variety
1

Apple
How to make Broken Wheat Porridge For Babies And Toddler
To begin making Broken Wheat Porridge with Apples and Oranges, we have to first pressure cook the broken wheat/ Dalia

In a pressure cooker add 1/2 cup broken wheat or dalia in a pressure cooker along with 1/2 cup water.

Pressure cook for 3 whistles and turn off the heat. Release the pressure naturally.

Meanwhile, we can get the apple and banana ready.

Peel the banana and mash it fine on a plate with the back of a fork, keep aside.

Peel, core and chop the apple into small pieces. Add these apple pieces into a pot container enough water to cover all the apple pieces.

Boil the apples in the water until soft. This will take a good ten minutes, so make sure there is enough water in the pot.

Once the apples are soft, turn off the heat, remove the apples pieces from the pan and mash them with the back of a fork.

You can alternatively, pressure cook the chopped apples for 1 whistle and release the pressure naturally.

In a medium sized bowl, add the cooked broken wheat, mashed bananas, apples and mix well until all ingredients are combined.

Your Broken Wheat Porridge with Bananas and Apples is ready to be served.

Serve Broken Wheat Porridge to your babies and toddler who are over 10 months of age for sumptuous lunch or dinner.