Cabbage Onion Vada Recipe
Cabbage Onion Vada Recipe is a delicious evening snack made healthy by frying in a Kuzhi Paniyaram Pan. Serve with any chutney of your choice and enjoy with a hot cup of chai.

Archana Doshi
On

Thursday, 10 April 2008 14:30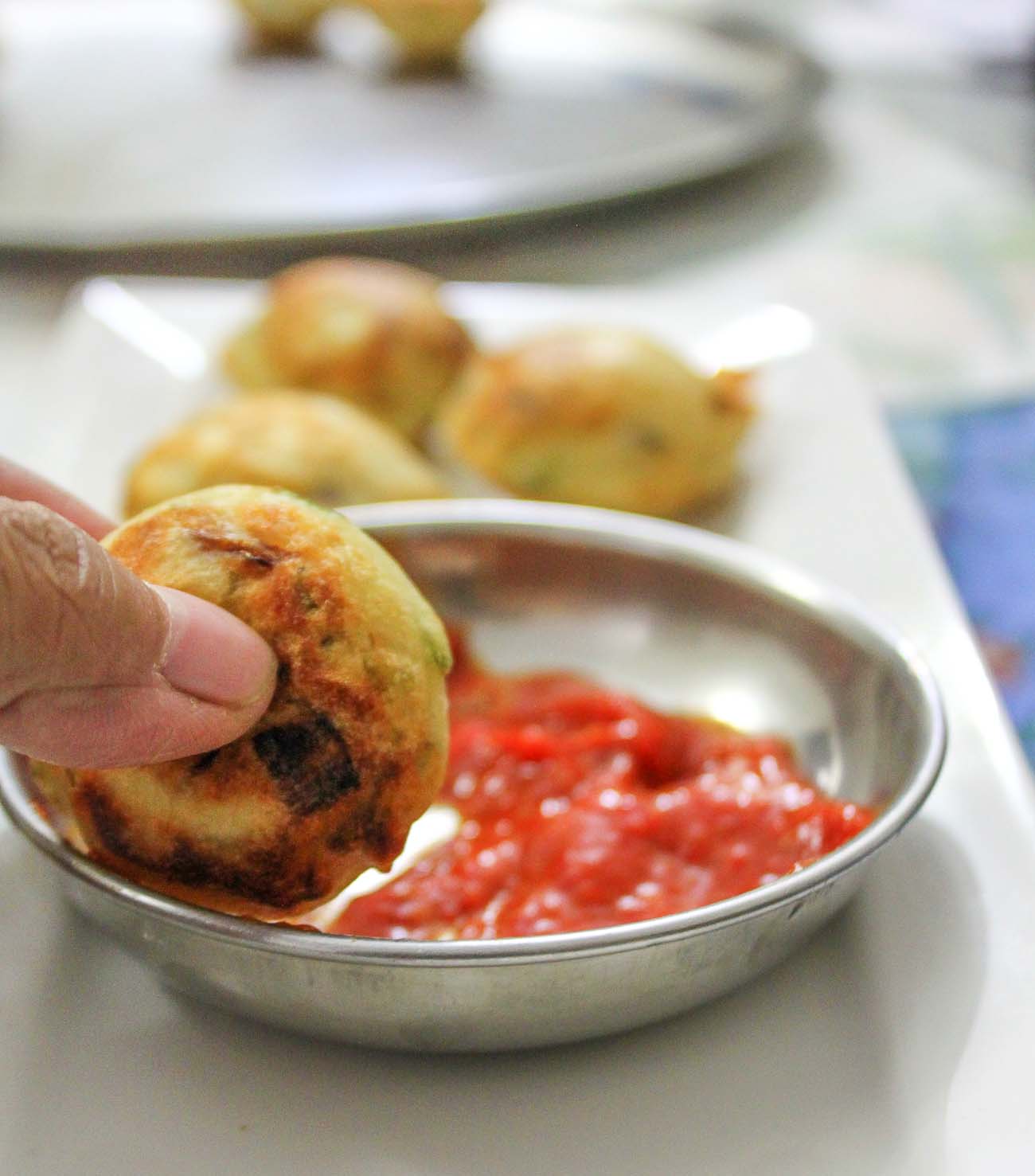 Cabbage Onion Vada is a recipe is made from urad dal, flavored with chopped cabbage, green chillies and onions and fried with a little oil . These vadas are exceptionally tasty and healthy as well. Making them in Kuzhi Paniyaram Pan eliminates the hassles of getting the right shape for a Vada. The vada tastes great in itself without the need for any accompaniments.
Vada's are always a delicacy at every Indian home. Be it simple vada's along with sambar, or be it masala vada's, dahi vada's, or even aloo vada. Serve these Cabbage Onion Vada along with a tea time snack.
With many of us getting conscious about the food we eat and the lifestyles we lead, we are look at alternative healthier options for the deep fried food. Unfortunately as we all know, that the deep fried foods taste and texture can not be replicated by baking. Over the years of experimenting with baking and frying I have come to a middle path of using less oil. The equipment I use to make vada's, koftas and many appetizers like potato balls, cheese balls, tiny tiki's etc is to use the Kuzhi paniyaram Pan. A pan with 7 holes preferably non stick pans use hardly a quarter teaspoon of oil and helps steaming lentil, rice batters and more.
Serve Cabbage Onion Vada along with Masala Chai and Green Chutney for evening snack.
You may also like other vada recipes, try them at home and enjoy.
Note: You could make plain vada's as well incase you want to use them for the dahi vada's. In this case, spoon the vada mixture which has salt into the pan and cook the same way as above. And follow he steps for the dahi vada process.
Ingredients
1 cup

White Urad Dal (Whole)

, soaked for 3 hours
1/2 cup

Cabbage (Patta Gobi/ Muttaikose)

, finely chopped
1/2 cup

Onions

, finely chopped
1 teaspoon

Ginger

, finely chopped
1 teaspoon

Green Chillies

, finely chopped
1/4

Coriander (Dhania) Leaves

, finely chopped

Salt

, to taste
How to make Cabbage Onion Vada Recipe
To begin making the Cabbage Onion Vada, finely grind the soaked urad dal with salt, adding as little water as possible into a thick smooth vada batter.

Add the chopped cabbage, onions, green chillies and coriander leaves and mix into the ground urad dal paste. Check the salt and spice levels to see if your would like to adjust to suit your taste.

Heat the Kuzhi paniyaram Pan and add a drop of oil into each cavity; once the pan is well heated scoop the vada batter using a scoop spoon. Cover the pan and allow it to steam .

You will notice the top part of the vada getting cooked. At this point you could add another drop of oil and then using a tiny flat spoon gently flip the vada so it can get cooked from the other side and crip as well. When you insert the back of the spoon or a knife in the center it should come out clean - this the test to check whether it is has been cooked. Continue the same process with the remaining vada batter and enjoy the healthy version of the vada's

Serve Cabbage Onion Vada along with Masala Chai and Green Chutney for evening snack.