Homemade Pani Puri Recipe -Calcutta Style Puchka Recipe
Try the delicious & authentic Calcutta Style Pani Puri Recipe that you will love to make in your kitchen. Make this for the festival of holi or diwali when you have friends and family over.

Archana Doshi
On

Thursday, 17 January 2008 14:48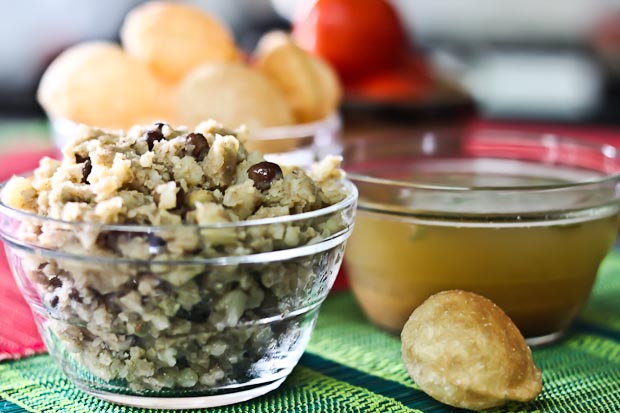 Calcutta Style Puchkas also known as Pani Puri and Golgappa is a simple and delicious recipe to make at home. This recipe is inspired from the streets of Calcutta. These Pani Puri or Puchka as they are called in Calcutta are the best street food you can have in India on a hot summer day, a rainy day, a gloomy day, basically a day you want your mood to be uplifted. It is a spicy, tangy and thirst quenching street food that brings people together from all communities in India on the streets.
I have in this recipe linked how to make homemade Puri for the Pani Puri as well. After years of experimentation, I have arrived at simply the best Puri's you can ever make at home.
If you have never tried Pani Puris or Golgappas or Puchka at home, then it's better you try them on the streets of India to understand its true flavors. As I mentioned this recipe is the Calcutta Style Puchka that you will find on the streets of Calcutta.
If you like Indian Snacks & Street Food, you must try some of our favorites like
Ingredients
20

Homemade Puri

, or store bought puri's
Ingredients for the Pani
2 sprig

Mint Leaves (Pudina)

, finely chopped
3 sprig

Coriander (Dhania) Leaves

, finely chopped
2

Green Chilli

, ground to paste, I use a motor and pestle to make this paste
1/2 teaspoon

Red chilli powder

1 cup

Tamarind Water

1 teaspoon

Cumin powder (Jeera)

, roasted
1 teaspoon

Rock Salt

1 teaspoon

Chaat Masala Powder

Ingredients for the filling
1/2 cup

Kala Chana (Black Chickpeas)

, boiled
2

Potatoes (Aloo)

, boiled and mashed
1/2 teaspoon

Red chilli powder

1 teaspoon

Rock Salt

1 teaspoon

Muri Masala

, (optional – but a must for the Calcutta style, the recipe of which is a trade secret to the street vendors)

Salt

, to taste
How to make Homemade Pani Puri Recipe -Calcutta Style Puchka Recipe
To begin making the Calcutta Style Puchkas Recipe (Pani Puri Recipe) by following the procedure below
Procedure to prepare the Pani for the Pani Puri.
Combine all the ingredients together adding 2 cups of water.

Adjust the salt and seasonings to suit your taste of the pani mixture

Refrigerate the pani mixture until you are ready to serve.
Method for Filling of the Pani Puri / Puchka
Combine all the ingredients for the pani puri in a large bowl.

Stir all the ingredients together for the pani puri filling, check the salt and spices and adjust to suit your taste. Transfer the pani puri filling to a serving dish and keep aside. This can be refrigerated until you are ready to serve.
Serving the Puchka/ Pani Puri's / Golgappa
Tap the Puri at the center lightly to make a half inch hole in it.

Add about 1 teaspoon of the filling into the puri. Dip the filled puri into the spicy tamarind water and serve.

You can optionally add 1/2 a teaspoon of date tamarind chutney and finely chopped onion into each puri before dipping into the spicy tamarind water. Eat immediately.

Do give the Calcutta Style Puchka (Pani Puri /Golgappa) Recipe a try in your kitchen and make it for one of your parties or tea time snack with friends and family

The date tamarind chutney is optional for people who do not like the sweet taste along with the sour taste. Some like the pani to be chilli hot some like it sweet and hot, some like it just sweet. So alter the Pani Puri/ Puchka to your taste and have fun.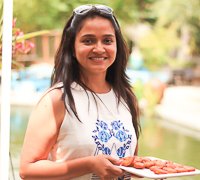 Archana Doshi is the founder of Archana's Kitchen. Archana launched Archana's Kitchen in 2007 as a way to keep track of her and family's recipes, and along the way grew it into one of the most popular cooking websites in the world. Archana is dedicated to helping home cooks be successful in the kitchen. Archana says "I hope you enjoy cooking recipes from my website where the sole effort is to make cooking simple for you. When you try out one of our recipes, we are longing to hear back from you. Do take your time to come back and share your comments, as your feedback means a lot to me"