Canadian Egg Free Butter Tart Recipe (Eggless)

Antara Navin
On

Friday, 19 August 2016 00:45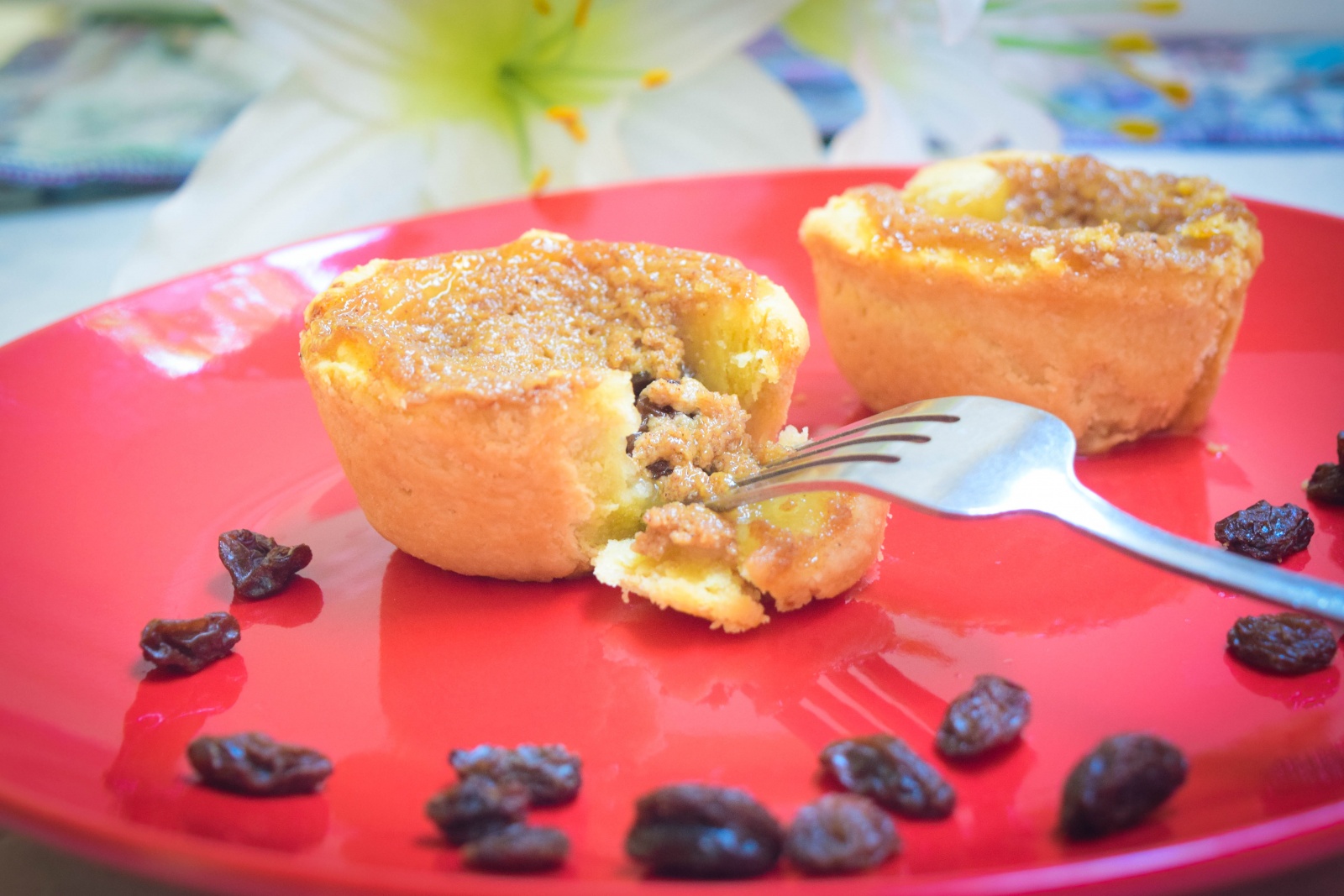 The Canadian Egg Free Butter Tart Recipe are a quick and easy dessert that you can make when you have unexpected guests. These egg free (eggless) butter tarts are flavored with butter, cinnamon, nutmeg, corn syrup and vanilla extract and has a melt in the mouth texture that you must try at your next party.
Serve the Canadian Egg Free Butter Tart along with an Ice cream for a delicious dessert for the party.
If you are looking for pies and tart recipes, then you must try some of our favorites like
Ingredients
Ingredients for pastry dough
2 1/2 cup

All Purpose Flour (Maida)

230 grams

Butter (Salted)

, cut into small pieces
1/2 teaspoon

Salt

For filling
1/2 cups

Sultana Raisins

1/4 cup

Butter (Salted)

, softened
1/4 cup

Brown Sugar (Demerara Sugar)

2 teaspoon

Corn flour

1/2 cup

Hung Curd (Greek Yogurt)

1 teaspoon

Vanilla Extract

1/2 teaspoon

Cinnamon Powder (Dalchini)

1/4 teaspoon

Nutmeg powder
How to make Canadian Egg Free Butter Tart Recipe (Eggless)
To begin making the Canadian Egg Free Butter Tart Recipe (Eggless), preheat oven to 250 C. Grease muffin pans with butter to bake the egg free butter tarts.

Cut the butter into small cubes. Add salt into the flour and then add butter into it. Mix it by hand till the flour blends well with the butter. Add a teaspoon of cold water at a time and knead it into a smooth butter pastry dough.

Wrap the dough with a plastic cling cover and refrigerate it for 30 minutes.

To make the filling, take the raisins in a bowl and soak it with hot water. Keep it soaked for atleast 30 minutes. Drain out the excess water and keep aside.

Combine yogurt, butter and corn flour in a medium size mixing bowl . Stir and mix with a wooden spatula till it forms a homogeneous mixture.

Add sugar, vanilla extract, cinnamon and nutmeg into the butter mixture. Stir and mix well till it forms a smooth creamy mixture. Drain the raisins and add it to the butter and yogurt mixture.

After 30 minutes, take out the pastry dough. Then roll out on a lightly floured surface and cut 4-inch (approximately) circles, fit dough circles into muffin cups and set aside in fridge for another 15 minutes.

Take out the butter pastry shells are chilled and divide the butter, yogurt and raisin mixture equally into all cavities.

Bake the Canadian Egg Free Butter Tart in the preheated oven for 15-20 minutes or until the filling is lightly browned and bubbling and the tart crust is golden. If you love a gooey filling, bake for 15 minutes and if you like a bit firm, then bake completely for 20 minutes.

Once done, remove the Canadian Egg Free Butter Tarts from the oven and allow it to rest for about 10 minutes. Run a butter knife around the outer edges of the butter tart, remove it from the pan and allow it to cool completely on wire racks and serve.

Serve the Canadian Egg Free Butter Tart along with a ice cream for a delicious dessert for the party.