Caramelized Coconut Cake Recipe
Caramelized Coconut Cake Recipe is a deliciously warm and dense cake with fresh coconut caramelized and adding into the cake batter. It is a perfect cake for your evening tea.

Navneet Kaur
On

Tuesday, 20 March 2018 10:00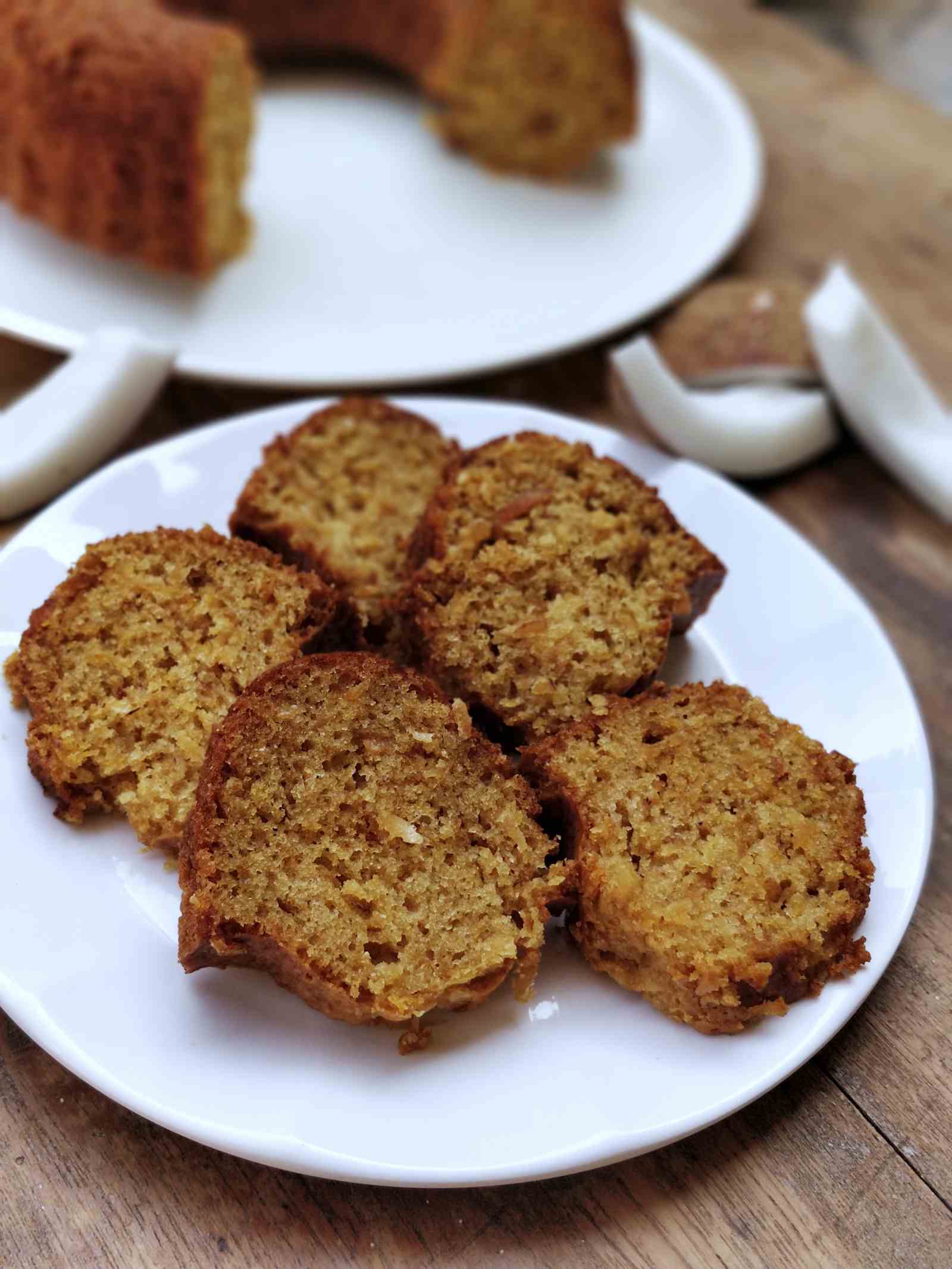 Caramelized Coconut Cake Recipe is a delicious tea cake, made with fresh coconut dunked in freshly made caramel that is incorporated into the cake batter giving it a distinct colour and richness to the cake.
The addition of coconut milk in the cake batter enhances the flavour of the cake, taking it to yet another level. The result is super soft and moist cake which bursts with coconut flavour.
Serve Caramelized Coconut Cake at tea time along with a cup of hot Punjabi Style Espresso Coffee and some Kucho Nimkis to much on the side.

If you like this recipe, here are a few more Cake recipes that you can make for birthday or any other special occasions:
Ingredients
1/2 cup

Whole Wheat Flour

1/2 cup

All Purpose Flour (Maida)

1 teaspoon

Baking powder

1/4 teaspoon

Baking soda

1 cup

Sugar

, powdered ( divided into two equal portions)
1/2 cup

Coconut milk

, at room temperature
1/3 cup

Cooking oil

2

Whole Eggs

, at room temperature
1 cup

Fresh coconut

, grated
1/2 teaspoon

Vanilla Extract

1/4 teaspoon

Salt

2 tablespoons

Water

1 tablespoon

Butter
How to make Caramelized Coconut Cake Recipe
To begin making Caramelized Coconut Cake, in a pan, combine 1/2 cup of sugar along with 2 tablespoons of water and heat it on medium-low flame.

Do not mix or touch the sugar-water sugar, once the sugar gets caramelized and reaches a deep brown colour, reduce the heat to lowest and add butter.

Whisk vigorously using a hand-whisk and then add the grated coconut. Mix well for about 30 seconds and then remove from heat. Keep aside to cool down.

Preheat the oven at 180°C and grease your baking pan with soft butter and dust it with flour.

In a mixing bowl, combine the whole wheat flour, all purpose flour, baking powder, baking soda, and salt. Sift through a fine sieve and keep aside.

In a separate bowl, add eggs and beat using an electric beater for 15 seconds. Now add the remaining 1/2 cup sugar and beat till the mixture becomes pale and fluffy. This will take about 2-3 minutes.

Now add oil, coconut milk, and vanilla extract to the egg mixture and beat till everything is well incorporated.

Next, add the caramelized coconut and beat at lowest speed till well mixed. You don't have to completely cool the caramelized coconut before adding it to the batter. Lukewarm is fine.

Now, add the sifted flour mixture and gently fold in with the help of a spatula. Do not over mix.

Pour the prepared batter in the greased pan and bake at 180°C for 30-35 minutes or until a toothpick inserted comes out clean.

Serve Caramelized Coconut Cake at tea time along with a cup of hot Punjabi Style Espresso Coffee and some Kucho Nimkis to much on the side.
1. While caramelizing the sugar, keep a close eye on it once the sugar starts changing colour because it can burn quickly.
2. Baking times may vary depending on the ovens and what mould you are using. The best way to check if the cake is done is to insert a toothpick or a knife and if it comes out clean then the cake is done.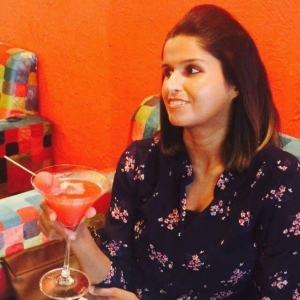 I have worked with Infosys for a year and a half, but due to some health issues, I had to resign from the job. After that I found solace in baking. Baking is therapeutic for me. In simple words, it makes me happy. As a kid, I always used to binge on the cakes which my mother used to bake on weekends. So my mother is the inspiration behind my love for baking. The best part is the appreciation you get when you cook something with so much love & passion. It's like instant reward. But the thing that really makes a cook happy is when someone gets inspired by you. And thats what I want to achieve. That's the reason I would like to share my recipes on this platform. You never know... who you might inspire!!