Cardamom Macaroons Recipe
The sweetness of chocolate & mild flavours of cardamom craetes a delightful treat!

Rekha Vengalil
On

Sunday, 26 March 2017 00:12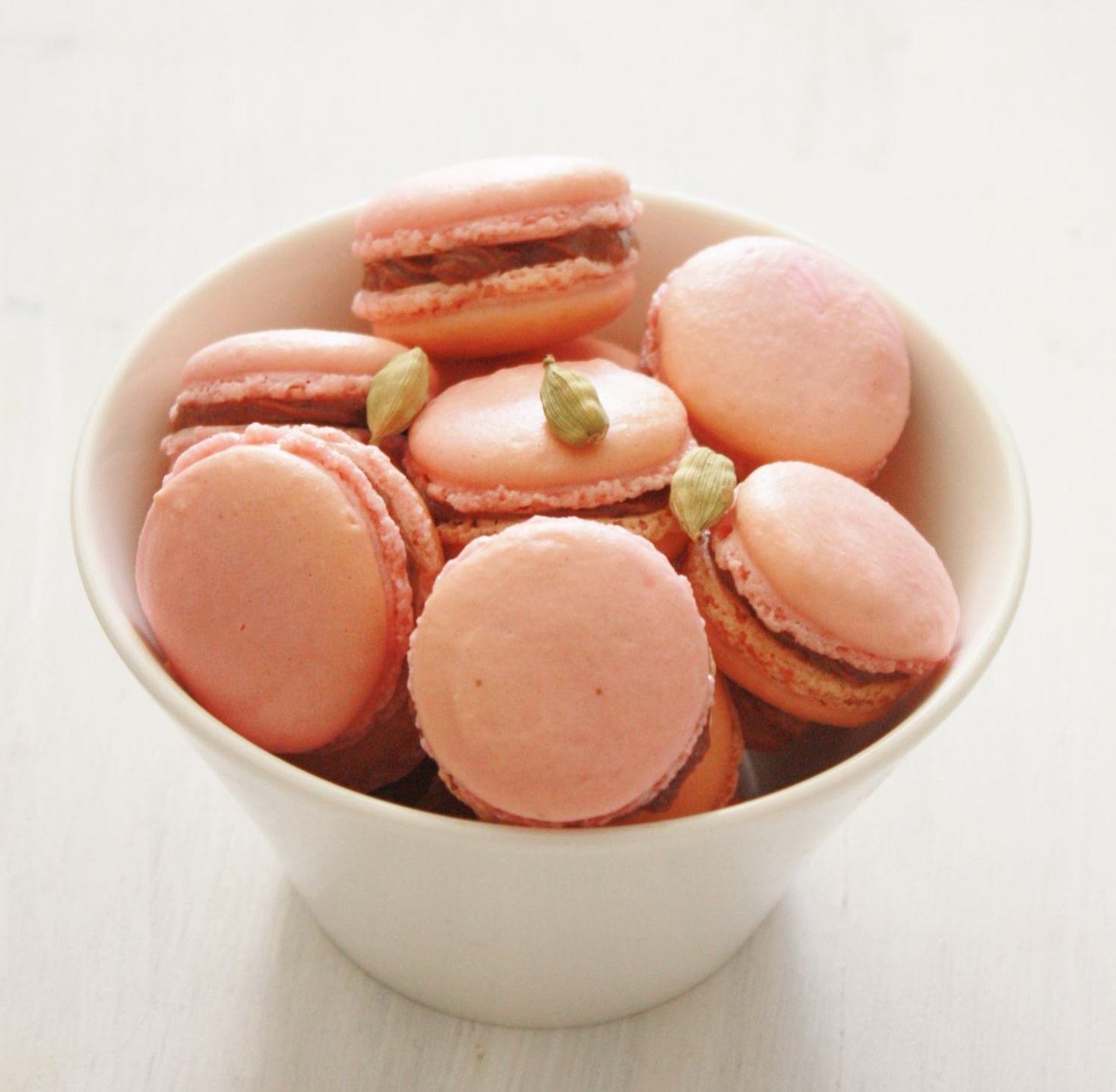 The sweetness of the chocolate ganache filling and the mild flavours of cardamom blended in perfect harmony to create a delightful treat!
Serve Cardamom Macaroons along with hot Masala Chai as a tea time snack.
If you like this recipe, you can also try other Macaroon recipe such as
Ingredients
For macaroons
1 cup

Confectioners sugar

3/4 cup

Almond Meal (Badam Powder)

2

Egg whites

, aged for 2-3 days at room temperature
1/4 cup

Sugar

, superfine
1/4 teaspoon

Cardamom Powder (Elaichi)

Food Color

, few drops of your choice
For the chocolate ganache
70 grams

Chocolate Bar

, semi sweet
5 tablespoons

Double Cream

1 tablespoon

Butter (Unsalted)

, at room temperature
1/4 teaspoon

Vanilla Extract
How to make Cardamom Macaroons Recipe
To begin making the Cardamom Macaroons recipe, in a food processor, process the almond flour, cardamom powder and icing sugar.

Sift the mixture in sieve twice discarding any almond lumps that are too big to pass through the sieve.

Whisk the egg whites in clean dry bowl (no trace of water please) till soft peaks are formed. Add the caster sugar, and beat on a low speed. Once combined increase the speed to high and whisk till glossy and stiff peaks are formed (For me, it took 5 minutes on stand mixer on a high speed).

Add the food colour and beat for 25-30 seconds. Please make sure not to over beat the egg whites.

Sift the flour mixture over the whites and fold gently using a flexible spatula. You need a smooth and shinny mix.

Do not make the batter too runny or the macaroons won't rise as they should. When you lift the batter up and let it drop down, it should slowly disappear into itself without leaving a peak.

Transfer the batter to a pastry bag fitted with a 1/2-inch plain round tip. On a parchment-lined baking sheet or Macaron mat and pipe the 3/4 inch rounds leaving 1-2 inch gap between each piping.

Drag the pastry tip to the side of rounds rather than forming peaks. Tap bottom of each sheet on work surface to release trapped air.

Allow the piped macarons to stand on a room temperature for 30-45 minutes.

The stand time varies with temperature at different places. What you need is the piped macarons to form a very thin, smooth crust, when you tap it lightly with your finger, the batter will not stick to your finger.

Pre-heat the oven to 375 F. Reduce oven temperature to 325 degrees. Bake 1 sheet at a time, rotating halfway through, until macarons are crisp and firm, about 10 minutes.

After each batch, increase oven temperature to 375 degrees, heat for 5 minutes, then reduce to 325 degrees.

Let macarons cool on sheets for 2 to 3 minutes, and then transfer to a wire rack. If macarons stick, spray water underneath parchment on hot sheet. The steam will help release macarons.

When fully cooled, Sandwich 2 same size macarons with the filling of your choice.

The next step is to make the chocolate ganache. Heat cream in saucepan over medium-low heat until it comes to a boil.

Turn off the heat and add the chocolate and use a spatula or wooden spoon stir in a circular motion from the centre of the bowl until the chocolate and cream comes together into a smooth emulsion.

Add the butter and essence and stir will. Let it cool at room temperature and the in fridge until firm enough to pipe.

Serve Cardamom Macaroons along with hot Masala Chai as a tea time snack.