Cauliflower Curry With Bell Peppers And Carrots In Spiced Milk Gravy

Archana Doshi
On

Friday, 26 April 2013 19:28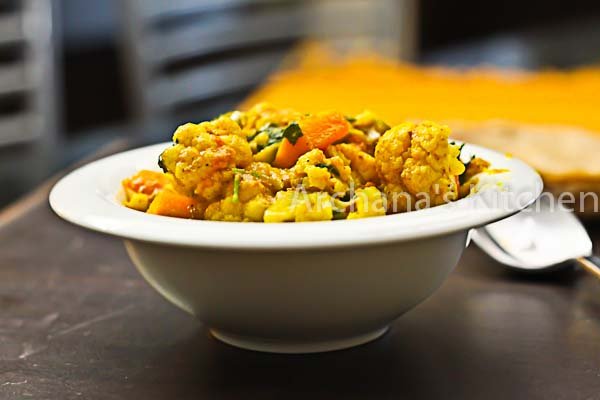 Cauliflower Curry with Bell Peppers and Carrots is simmered in a in spiced milk gravy is simple and quick to make for those busy weeknight dinners. Spices like saffron (optional) and cardamom along with cumin with the crunchy florets make it delicious. Serve itCauliflower Curry with Bell Peppers and Carrots in spiced milk gravy along with plain parathas or phulkas or even a pita bread toasted with butter.
If you like this recipe, take a look at more gravy recipes which might interest you
Ingredients
2 cups

Cauliflower (gobi)

, steamed florets
1 cup

Carrots (Gajjar)

, diced and steamed
1 cup

Green Bell Pepper (Capsicum)

, diced
1

Onion

, cut
1 cup

Homemade tomato puree

1/2 teaspoon

Cumin seeds (Jeera)

1/2 teaspoon

Turmeric powder (Haldi)

1/2 teaspoon

Cumin powder (Jeera)

1/2 teaspoon

Garam masala powder

1/2 teaspoon

Red chilli powder

1 cup

Milk

, mixed with 1 teaspoon corn flour
4

Cardamom (Elaichi) Pods/Seeds

, whole

Salt

, to taste
1 teaspoon

Cooking oil

Coriander (Dhania) Leaves

, small bunch, chopped
How to make Cauliflower Curry With Bell Peppers And Carrots In Spiced Milk Gravy
To prepare Cauliflower Curry with Bell Peppers and Carrots in Spiced Milk Gravy, heat oil in a heavy bottomed pan; add in the cumin seeds and allow it to crackle. Once it does, add in the bell peppers and onions, saute until tender.

Once tender, stir in the cardamom pods, tomato puree, turmeric powder, cumin powder, garam masala powder, red chilli powder. Saute until the tomatoes starts to bubble. Stir in the milk mixture and the steamed vegetables. Turn the heat to low, cover the pan and simmer for a about 5 minutes.

Turn off the heat, stir in the chopped coriander leaves and serve Cauliflower Curry with Bell Peppers and Carrots in Spiced Milk Gravy hot with phulkas.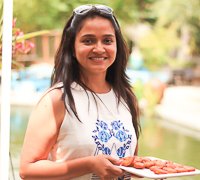 Archana Doshi is the founder of Archana's Kitchen. Archana launched Archana's Kitchen in 2007 as a way to keep track of her and family's recipes, and along the way grew it into one of the most popular cooking websites in the world. Archana is dedicated to helping home cooks be successful in the kitchen. Archana says "I hope you enjoy cooking recipes from my website where the sole effort is to make cooking simple for you. When you try out one of our recipes, we are longing to hear back from you. Do take your time to come back and share your comments, as your feedback means a lot to me"