Chap Badami Recipe (Lamb Ribs Cooked In Almond Paste)
Lamb chops cooked in delicious and rich gravy is best to serve during special occasions.

jyothi varne
On

Tuesday, 31 January 2017 00:21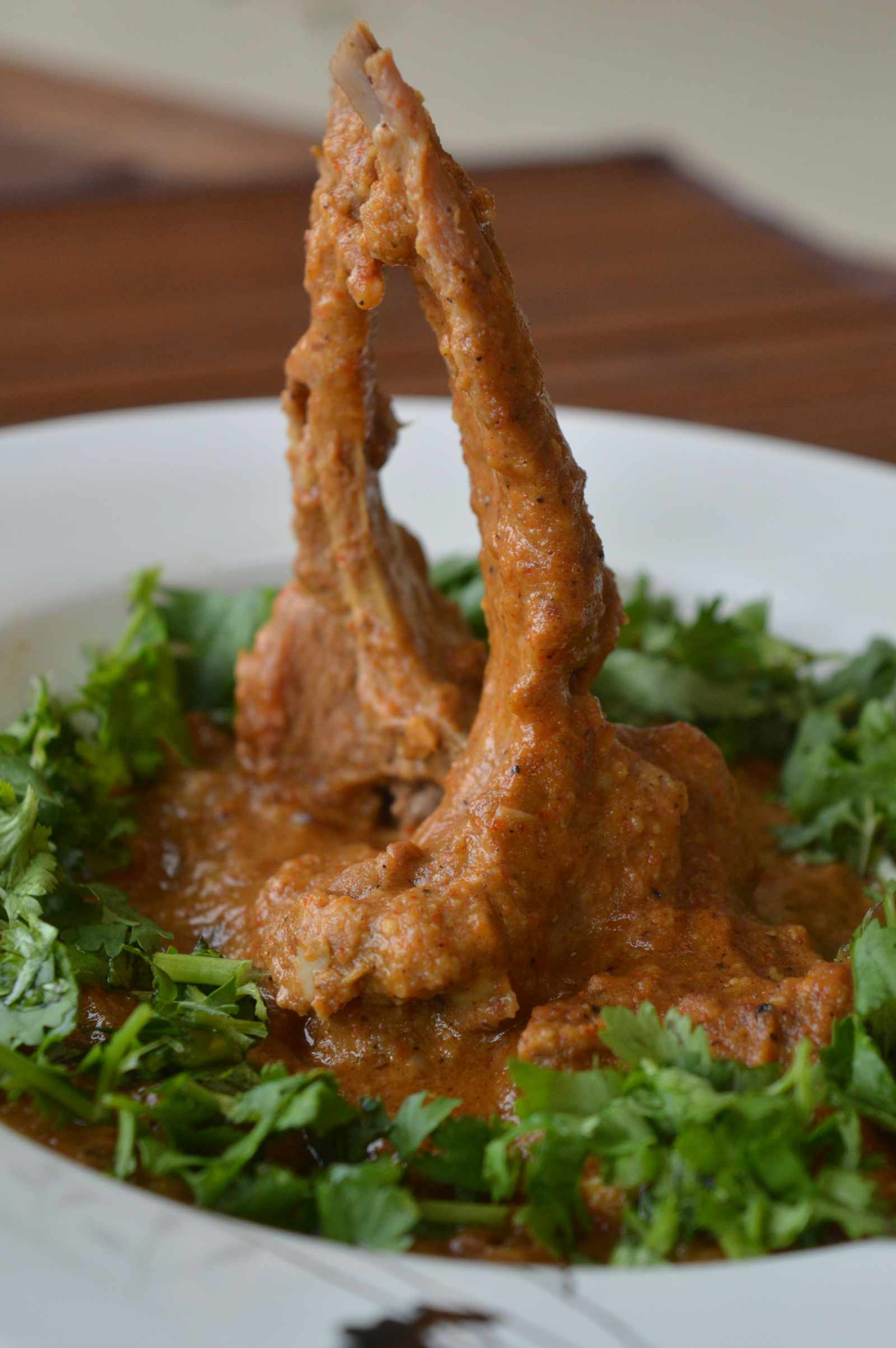 Now don't get scared by the huge list of ingredients this chaamp requires, trust me they are all part of anyone's kitchen and nothing fancy about it. But yes, this is an Awadh dish (as the book mentions & I ain't no expert) hence the elaborate affair in how its done. The twice cooked lamb, with 2 hours of marination in multiple spices and almond paste. Truly makes this dish Royale and finger licking good with a mellowed yet lingering rich taste. So what are you waiting for, cook up this Royal affair right now!
Serve Chap Badami along with Tawa Parathas or Steamed rice for a weekend meal.
If you like this recipe, you can also try other Lamb Recipes such as
Ingredients
12

Lamb

, chops, trimmed
For the marinade
4 tablespoons

White vinegar

1/2 cup

Curd (Dahi / Yogurt)

, whisked
2 teaspoon

Raw papaya

, paste (this makes the meat tender)
1/2 teaspoon

Red Chilli powder

1/2 teaspoon

Cardamom (Elaichi) Pods/Seeds

, ground
1/2 teaspoon

Cloves (Laung)

, ground
1 teaspoon

Whole Black Peppercorns

, ground

Nutmeg

, a pinch
For the gravy

Ghee

, as required, or unsalted butter or oil (Ghee is preferred)
1 cup

Whole Almonds (Badam)

5

Cardamom (Elaichi) Pods/Seeds

3

Cloves (Laung)

1 inch

Cinnamon Stick (Dalchini)

2

Bay leaves (tej patta)

4 teaspoon

Garlic

, freshly ground
2 teaspoon

Ginger

, freshly ground
1/2 cup

Onion

, fried and paste
1 tablespoon

Red Chilli powder

, (add more/less based on the spice level desired)

Kewra essence

, a drop

Salt

, to taste

Coriander (Dhania) Leaves

, as required and finely chopped
How to make Chap Badami Recipe (Lamb Ribs Cooked In Almond Paste)
To begin making the Chap Badami recipe, for the marinade. In a deep bowl add in all the spice powders (under marinade) plus vinegar and rub the mixture into the meat.

Next add the papaya & whisked curd, mix well. Set aside for at least 2hrs or more in a refrigerator

For the gravy masala : In a small wok/kadai - heat 1tbsp ghee/butter (not oil) and fry the almonds for 3-4mins on low flame.Strain the almonds off excess ghee, cool them and grind to a fine paste by adding just about 200ml of water. Set aside.

In the same pan, with left over ghee/melted butter, fry the chopped onions until golden brown. Once cool, blend it into a fine paste & set aside. (you should have about 1 cup)

Heat a nice big chunk of ghee/butter in a grill girdle (or you can bake the ribs in an OTG @ 140c for 15-20mins). I used a grill girdle, since it gives me more control in evenly browning the pieces and checking if the meat is well done with full freedom - which an oven lacks, since you cant keep opening it every now & then .

Place the meat pieces on a well heated grill girdle. Ensure you spread the marinade liquid over the ribs and don't throw it away.

Cook until you notice the outer layer getting caramelised and the meat is well done. Keep adding additional butter/brush the meat pieces with butter if you notice them sticking to the pan.Once done - Set the pieces aside and collect the leftover melted butter/ghee marinade mixture in a small bowl (which will pretty much be like a buttery brown sauce)

In a deep, non stick pan melt 2 tablespoons butter/ghee

Add in the whole spices mentioned under Sauce Ingredients - let them splutter and induce their fragrance into the butter/ghee

Add in the fried onion paste, ginger paste and garlic paste.

Cook this onion/ginger/garlic mixture until all the water evaporates, it should turn slightly brown and oil starts to separate.

Next add in the ground almond paste - turn down the flame to medium.

Ensure that you are constantly stirring to avoid any sticking/burning at the bottom of the pan. Cook until all the water evaporates - leaving a thick consistency behind. Be careful not to burn or overly brown the sauce base.

Add in the Red chilli powder basis the spice levels desired and stir well.

Add one cup of water and bring the mixture to a boil. Once it starts boiling add the marinade -ghee sauce mixture (collected after grilling the ribs) and stir

Once the mixture starts boiling, add the grilled ribs and cook on a low flame for 10-15mins with a closed lid on, until the sauce thickens. Add the meeta attar/kewra essence. Do not stir too much, since the meat will fall off the ribs.

Serve Chap Badami along with Tawa Parathas or Steamed rice for a weekend meal.