Chatpati Chana Dal Recipe (Chaat)

Shruti J
On

Tuesday, 08 October 2013 11:06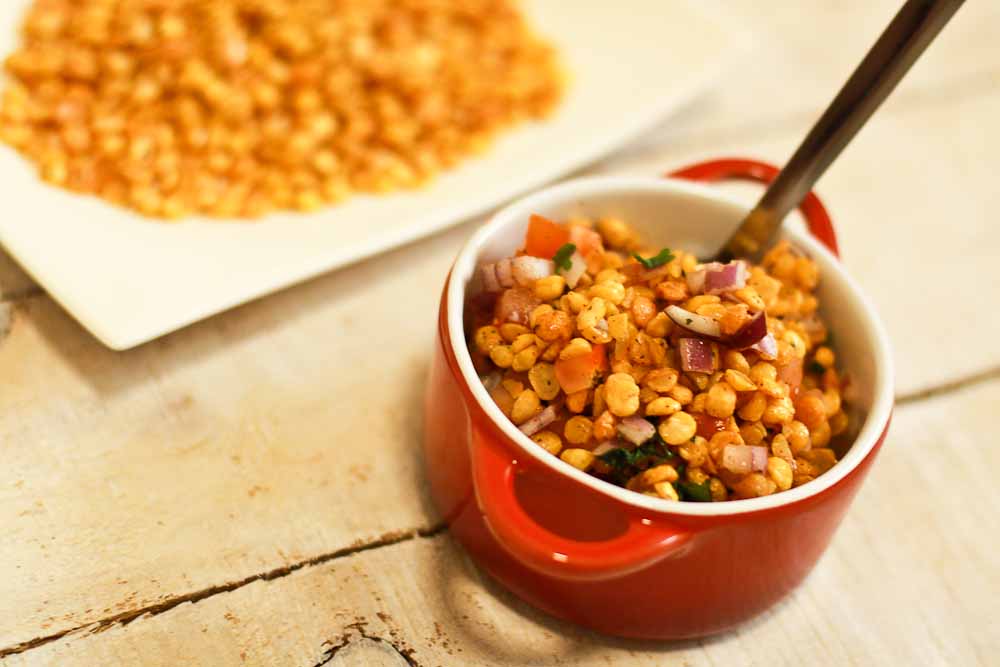 Chatpati Chana Dal is a spicy crunchy tea time snack that can be prepared in a matter of minutes. In the traditional recipe the chana dal is deep fried, but in this recipe we roasted the dal in a an oven. But you can also use an air fryer to make it healthy. Top the roasted or fried chana dal with onions, green chillies and chaat masala to make a delicious tea time snack with masala chai.
If you like this recipe, here are a few more snack recipes to try
Ingredients
1 cup

Chana dal (Bengal Gram Dal)

, washed and soaked overnight
1

Green Chilli

, finely chopped
1

Onion

, finely chopped
1/2

Tomato

, finely chopped
1 teaspoon

Black Salt (Kala Namak)

, or to taste
1/2 teaspoon

Red chilli powder

1/4 teaspoon

Chaat Masala Powder

1/2

Lemon

, juice extracted

Coriander (Dhania) Leaves

, small bunch, chopped

Cooking oil

, for deep frying
How to make Chatpati Chana Dal Recipe (Chaat)
To prepare Chatpati Chana Dal Recipe (Chaat), take the washed and soaked channa dal, drain the excess water and spread it on a kitchen towel to dry completely.

Once dry, place the chana in a small bowl and add in the red chilli powder and black salt to it. Keep this aside for a few minutes.

Preheat the oven at 160 C. Spread the chana dal on a baking sheet and place it in the oven to roast until it is crisp and golden browned. Do make sure to keep stirring it occasionally as it's roasting in the oven. This takes about 30 to 40 minutes depending on the oven you have.

Once roasted, remove from the oven and allow it to cool. Place the chana dal in a large mixing bowl, combine it with the remaining ingredients, adjust the salt and spice levels according to taste.

Serve the Chatpati Chana Dal along with a hot cup of masala chai.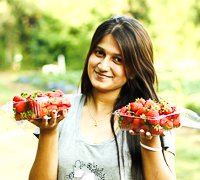 Shruti is no chef, but she loves adapting recipes and taking the recipe to a new level. She is a big-time food lover, but a break in professional career made her dig into the culinary world much more than before! She enjoyed a migration from "Food Lover" to "Food Blogger". Visit http://myownfoodcourt.blogspot.com for sights & and smells of Indian and World dishes.