Cheese and Bacon Pinwheels Recipe
Pinwheels rolled in with cheese spread,bacon bits, cheddar cheese, and green onions which is sprinkled generously to form a great appetizer.

Jyothi Rajesh
On

Friday, 22 July 2016 00:14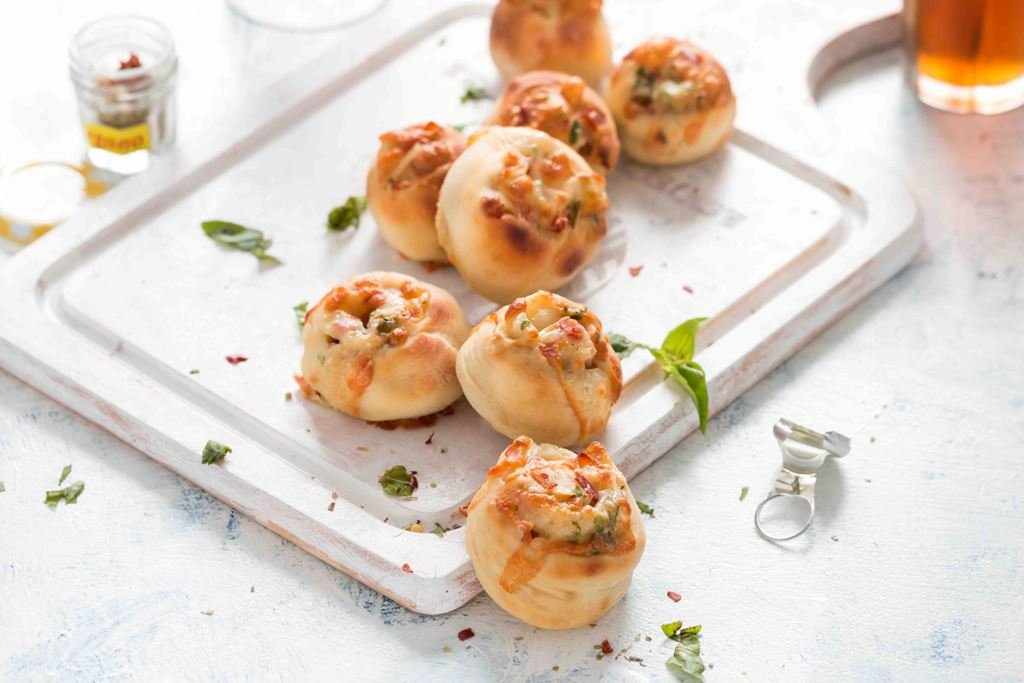 To perk up any appetizer all you need is some cheese. And imagine the taste of bacon and cheese together! This cheesy appetizer- Cheese and Bacon Pinwheels Recipe is easy to make and is a crowd pleasure in any party. Kids will scarf it down all by themselves. Pinwheels can have any spread and any filling. This version of Cheese and Bacon Pinwheels recipe has cream cheese spread with bacon bits, cheddar cheese, and green onions sprinkled generously on the filling layer. Rolled into wheels and baked to perfection, these cheese pinwheels are sure to win your heart.
You can serve Cheese and Bacon Pinwheels Recipe with crunchy tortillas and Mexican salsa to make it a complete meal.
If you like this recipe, have a look at our other appetizer recipe ideas
Ingredients
Ingredients For The Base
1-1/2 cups

Lukewarm Water

1 teaspoon

Active dry yeast

, or instant yeast
2 cups

All Purpose Flour (Maida)

1 teaspoon

Salt

1 tablespoon

Sugar

1/4 cup

Extra Virgin Olive Oil

Ingredients For Filling
1/2 cup

Britannia Cream Cheese

1 cup

Cheddar cheese

, grated
1 cup

Bacon strips

, finely chopped
1/2 cup

Spring Onion Greens

2 teaspoon

Dried oregano

1 teaspoon

Red Chilli flakes
How to make Cheese and Bacon Pinwheels Recipe
To prepare Cheese and Bacon Pinwheels Recipe, get prep with all the mentioned ingredients. Add yeast, sugar in a bowl and pour lukewarm water and let it sit for 5 minutes until the yeast starts bubbling. If the yeast doesn't react discard it and start another batch.

In another bowl, add flour, salt, and mix with your fingers, make a well in the center, and pour in the yeast mixture. Mix well. Knead in the same bowl for about 5-10 minutes.

Clean thoroughly counter surface, dust with flour, transfer the dough to the counter and start kneading. Knead until smooth, soft and shiny dough.

Place the dough in the bowl used for kneading, and cover it with a damp cloth. Set it aside for 1 – 1.5 hours, for the dough to prove. After 1-1.5 hour's dough would have risen and it would be double the size.

Once the dough is proven, knock down the dough (punch it with your fist), this is done to release all the air that would have collected. Gently knead for another 2 minutes and dough is ready to use.

Meanwhile, pre-heat the oven to 180 degrees Celsius.

Make equal small portions of the dough. Take a portion and flatten the base to long rectangular shape, of about 9 inches long.

Spread a tablespoon or more of cream cheese on the base. Sprinkle a handful of cheddar cheese, bacon bits, and green onions. Spread all over.

Sprinkle oregano and red chilli flakes. Cut lengthwise into long rectangular thin strips of about 1-inch wide and 8-9 inches long.

Roll each rectangle strip carefully making sure no filling falls out. Press the edges to seal it.

Place these pinwheels on greased baking sheet. Bake in preheated oven at 180-degree centigrade for about 15 to 18 minutes or until golden brown.

Immediately remove from baking tray and serve Cheese and Bacon Pinwheels warm for an appetizer, with crunchy tortillas and Mexican salsa.