Chenna Recipe (Homemade Cottage Cheese | A High Protein Snack)
Homemade snack with milk that can also be used in many other recipes as well

Archana Doshi
On

Tuesday, 03 June 2014 10:10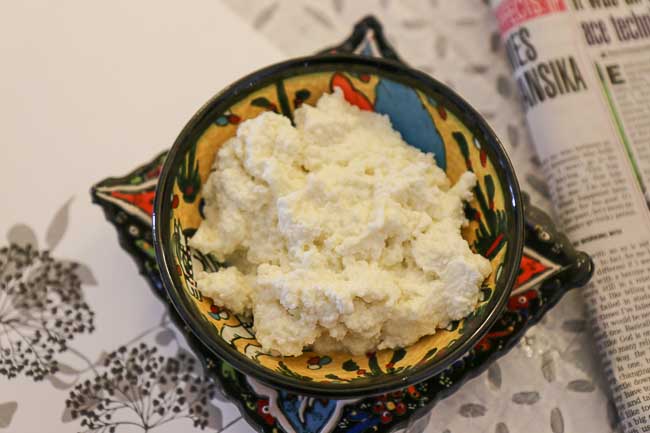 Chenna is a high protein homemade cottage cheese that is made from curdling the milk with lemon juice. Most often chenna is used in making sweets or paneer, but at home its a staple breakfast protein that we have every single morning. Each member of the family gets a large tablespoon for breakfast.
Chenna /Cottage cheese is naturally rich in protein, but you can add other ingredients to increase the overall protein content. You get nearly 13 grams of protein in every 1/2-cup, serving of cottage cheese you eat. Adding nuts, protein powder or granola to your cottage cheese can add as much as 50 percent more protein.
Here are recipes you can make with Chenna Recipe (Homemade Cottage Cheese | A High Protein Snack)
Ingredients
1.5 liter

Milk

1

Lemon

, juiced
How to make Chenna Recipe (Homemade Cottage Cheese | A High Protein Snack)
To make Chenna Recipe (Homemade Cottage Cheese | A High Protein Snack), pour the milk into a heavy bottomed pan and turn the heat to high and wait for the milk to come to a boil.

When the milk begins to boil add in the freshly squeezed lemon juice. You will notice that the milk begins to curdle separating the milk into cheese and whey. This cottage cheese is also called the chenna. Turn off the heat and allow the cheese to rest in the whey for about a minute.

Now that that chenna is rested for a couple of minutes , we will separate the whey and the chenna using a thin sieve strainer.

Once most of the water is drained, transfer the chenna/ cottage cheese into a bowl. You can season it with salt or sugar and serve it for breakfast.

At home, I season the Chenna / Cottage Cheese with a little sugar or honey. You can even top some granola, almonds and raisins to make a wholesome breakfast.

My boys at home love the Chenna just with plain sugar and some bananas.

I hope you get to make this delicious homemade Chenna / Cottage Cheese at home. Its a fantastic natural wholesome protein supplement for growing children.

If you like this Chenna Recipe (Homemade Cottage Cheese | A High Protein Snack), please do take some time to comment below. I would love to hear from you!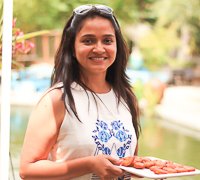 Archana Doshi is the founder of Archana's Kitchen. Archana launched Archana's Kitchen in 2007 as a way to keep track of her and family's recipes, and along the way grew it into one of the most popular cooking websites in the world. Archana is dedicated to helping home cooks be successful in the kitchen. Archana says "I hope you enjoy cooking recipes from my website where the sole effort is to make cooking simple for you. When you try out one of our recipes, we are longing to hear back from you. Do take your time to come back and share your comments, as your feedback means a lot to me"