Chenna Poda Recipe
Chenna Poda Recipe is a popular dessert from Orissa. It is a baked paneer dish where chenna/ paneer is mixed with sugar, cashew nuts and raisins and is baked for several hours. Serve this delicious desert at the end of a weekend meal.

Shaheen Ali
On

Wednesday, 09 March 2016 00:20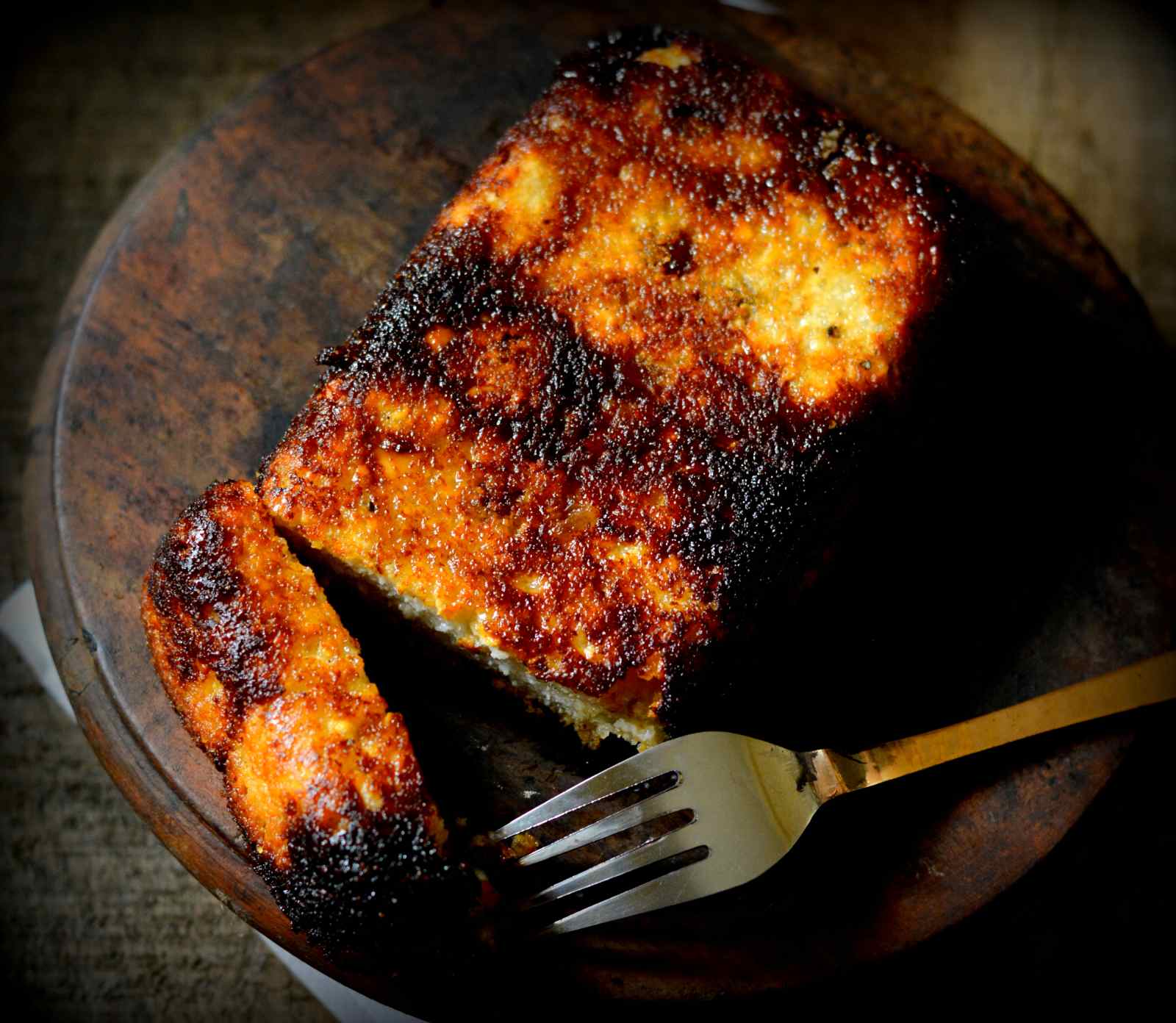 Chenna Poda is a cheese dessert from the state of Odisha in the Eastern India which means Roasted Cheese in Odia. It is made of well-kneaded homemade fresh cheese chenna, sugar, cashew nuts and raisins and is baked for several hours until it turns brown. Chenna Poda is the only well known Indian dessert whose flavour is predominantly derived from the caramelization of sugar. It is a soft and pillowy dessert loaded with the goodness of chenna, which is a rich source of protein too.
Serve Chenna Poda with Masala Chai and Whole Moong Dal Vada as a evening snack. Or serve it along with your party meal of Mumbai Style Tawa Pulao , Cauliflower and Vegetable Curry and Carrot Cucumber Tomato Salad with Lemon and Coriander.
If you like this recipe, you can also try our other Indian Dessert Recipes
Ingredients
250 grams

Paneer (Homemade Cottage Cheese)

4 tablespoons

Sugar

, powdered
1-1/2 tablespoons

Ghee

4 tablespoons

Milk

2 tablespoons

Sooji (Semolina/ Rava)

1/2 teaspoon

Cardamom Powder (Elaichi)

Cashew nuts

, few broken

Sultana Raisins

, as required
For caramelising
1 tablespoon

Ghee

2-3 tablespoons

Sugar
How to make Chenna Poda Recipe
To begin making Chenna Poda, firstly take fresh paneer or homemade chenna and mash it well with your hands.

Add powdered sugar and cardamom powder and mix all together properly.

Add sooji/rawa, ghee and milk and mix it properly till everything incorporates well.

In a separate pan fry the broken pieces of cashews and few raisins and add it to the chenna mix as well.

In a baking pan or a tin, add 1 tablespoon of ghee and spread all over the base.

Add sugar and hold the pan or baking tray firmly on the gas top and heat the pan base till the sugar starts to caramelize.

Turn off the gas and transfer the chenna mix over the caramelized sugar evenly.

Tap the pan to settle the mix well and bake the chenna in a pre-heated oven at 180 degree C for 40-45 mins or till the toothpick inserted comes out clean.

Take out the baked chenna poda and cool it on a wire wrack for 2 hours approximately.

Hold the pan upside down on a serving tray and remove the chenna poda carefully.

Cut into slices and serve!

Serve Chenna Poda with Masala Chai and Whole Moong Dal Vada.