Chettinad Vegetable Pulao Recipe
Chettinad Vegetable Pulao, a simple Pulao which has flavours from the Chettinad cuisine of South India. A unique blend of spices makes this pulao delicious. A Must try recipe you can serve it for lunch or you can also pack it for your Lunch Box.

Archana Doshi
On

Saturday, 09 July 2016 08:38
Chettinad Vegetable Pulao is a classic South Indian way of making rice. The spices are a unique blend of saunf (fennel seeds), black pepper corns with the addition of baby onions, ginger and garlic which add to the taste.
This Pulao is made with Silver Range of Kohinoor Super Basmati rice, which is aged & matured naturally for 24 months for its soft shiny look & sweet taste. Kohinoor Super Basmati rice is a 100% pure & original Pusa basmati variety which gives whitish slender rice with a buttery flavour and subtle aroma, thus making this the perfect rice for the special dish, the Chettinad Vegetable Pulao.
Serve the Chettinad Vegetable Pulao along with Tomato Onion Raita and Vegetable Kurma for lunch or dinner.
If you like this recipe, here are more Pulao Recipes that you can try in your kitchen:
Ingredients
1 cup

Basmati rice

, washed well in water
12

Pearl onions (Sambar Onions)

, finely chopped
2 cloves

Garlic

, grated
1 inch

Ginger

, grated
2

Green Chillies

, slit
1

Bay leaves (tej patta)

, torn into half
1 teaspoon

Red chilli powder

1 teaspoon

Turmeric powder (Haldi)

1

Carrot (Gajjar)

, diced
12

Green beans (French Beans)

, chopped
2

Potatoes (Aloo)

, peeled and diced

Ghee

, for cooking
Ingredients for Spice powder
2

Cloves (Laung)

1 inch

Cinnamon Stick (Dalchini)

1 teaspoon

Whole Black Peppercorns

1 teaspoon

Fennel seeds (Saunf)

1 teaspoon

Coriander (Dhania) Seeds

To garnish
1/4 cup

Green peas (Matar)

, steamed
1/4 cup

Mint Leaves (Pudina)

, finely chopped
How to make Chettinad Vegetable Pulao Recipe
To begin making the Chettinad Vegetable Pulao, first prep all the ingredient like chop the vegetables and get all the ingredients measured and keep it handy. Soak the Kohinoor Super Basmati Rice for 30 minutes.

The first step is to roast and grind all the ingredients for spice powder. Heat a small skillet over medium heat. Add the whole spices including cloves, cinnamon stick, whole black peppercorns, fennel seeds, coriander seeds and roast for two to three minutes until you smell the aromas and the spices are get a roasted colour.

Once done, allow the spice to cool and then blend into a fine spice powder using a blender. Keep aside.The next step is the make the Chettinad pulao in one single pot.

Heat 2 tablespoons of ghee in a large saucepan over medium heat. Add the ginger garlic, onion and green chilies. Saute until the onions soften.

Once the onions soften, add carrot, green beans, potatoes, bay leaf, turmeric powder, red chili powder and freshly ground spice powder. Stir well to combine.

Add the washed Kohinoor Super Basmati rice, salt and 2 cups of water. Bring the rice to a roaring boil. Once it comes to a roaring boil, turn the heat to low, cover the pan and cook the rice until all the water is absorbed and turn off the heat.

Allow the Chettinad vegetable pulao to rest for 10 minutes. After 10 minutes stir in the mint leaves and the green peas and serve.

Serve the Chettinad Vegetable Pulao along with Tomato Onion Raita and Vegetable Kurma for lunch or dinner.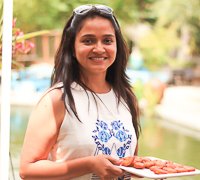 Archana Doshi is the founder of Archana's Kitchen. Archana launched Archana's Kitchen in 2007 as a way to keep track of her and family's recipes, and along the way grew it into one of the most popular cooking websites in the world. Archana is dedicated to helping home cooks be successful in the kitchen. Archana says "I hope you enjoy cooking recipes from my website where the sole effort is to make cooking simple for you. When you try out one of our recipes, we are longing to hear back from you. Do take your time to come back and share your comments, as your feedback means a lot to me"