Chicken Parmigiana Recipe
Chicken Parmigiana Recipe is an Chicken appetizer where chicken is crumb fried and served with tangy tomato sauce and topped with melted cheese and freshly chopped parsley. Absolutely delicious.

Archana's Kitchen
On

Thursday, 02 November 2017 09:00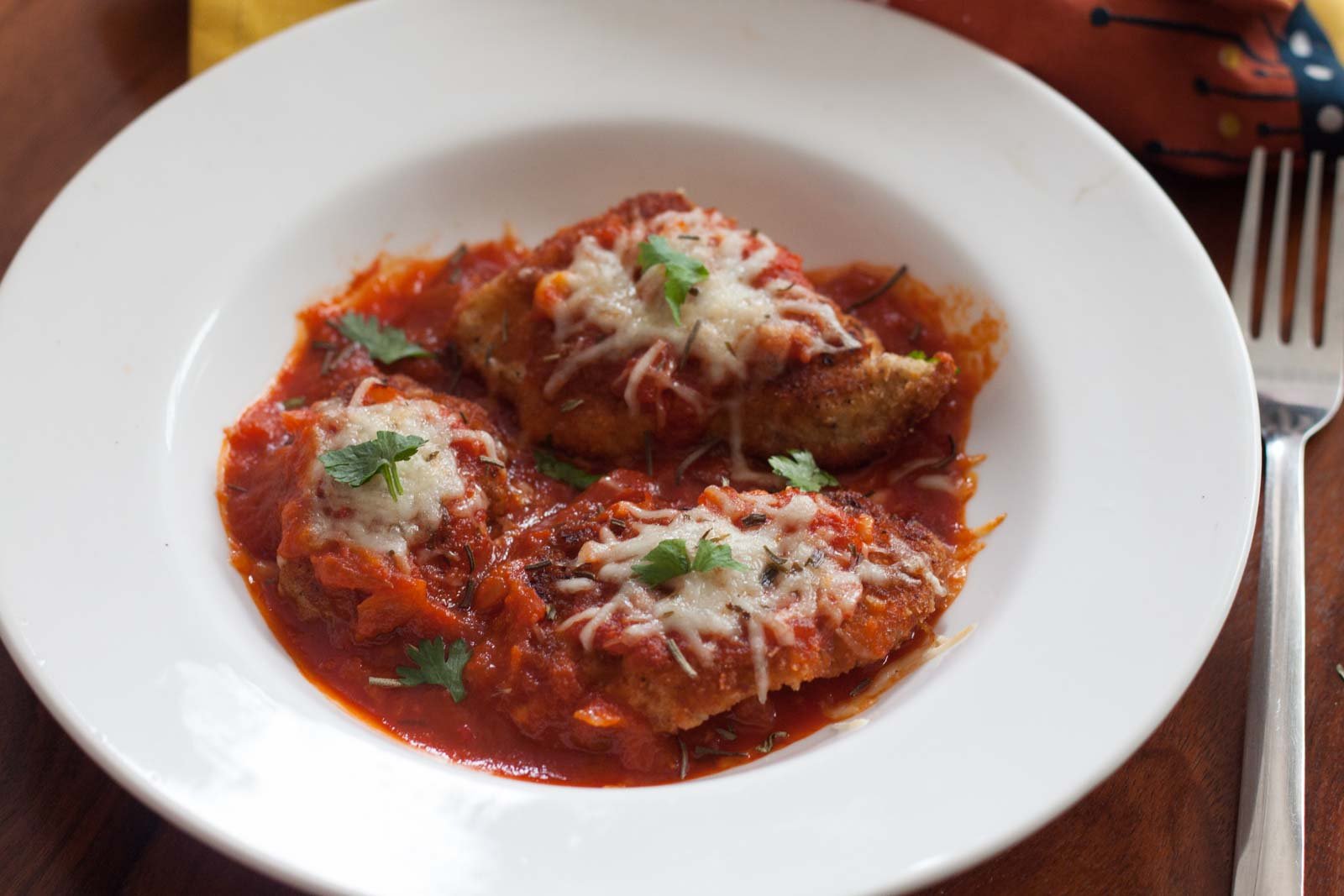 Chicken Parmigiana Recipe is a popular Italian-/american dish and it gets it's name from the cheese being used in this dish to create a rich a wonderful flavor.
Parmigiana cheese is also known as Parmesan cheese. This dish essentially is of crusted chicken breast that is served over a bed of tangy and flavor packed tomato sauce and then topped it parmesan cheese or provolone cheese on top and baked till the cheese melts. It makes it a complete one dish meal.
Serve the Chicken Parmigiana Recipe along with Bruschetta with Olives & Raisins and Macaroni Minestrone Soup Pot Recipe. Complete this Italian meal on a sweet note with Tiramisu Recipe
If you are looking for more Chicken recipes here are some :
Ingredients
1

Chicken breasts

, cut diagonally thin
1/2 cup

Whole Wheat Bread crumbs

4 tablespoon

All Purpose Flour (Maida)

1 teaspoon

Salt and Pepper

1

Whole Egg

1/8 cup

Parmesan cheese

, grated 
1/3 cup

Mozzarella cheese

, grated
For the sauce
2 cups

Homemade tomato puree

1

Onion

, chopped
4 cloves

Garlic

, chopped
1 teaspoon

Sugar

1 teaspoon

Red Chilli powder

1 teaspoon

Red Chilli flakes

1 teaspoon

Rosemary

1 teaspoon

Tabasco Original - Hot Sauce

Salt

, to taste

Oil
How to make Chicken Parmigiana Recipe
To begin making the Chicken Parmigiana Recipe, thoroughly wash and clean the chicken and cut them into 2 inch cubes.
To make the sauce
Heat a sauce pan with oil on medium flame, add garlic and fry until it turns brown.

Next add onions and saute them till they begin to sweat. Add the tomato puree into the pan along with

sugar, red chilli powder, red chilli flakes, rosemary, tobacco sauce and salt.

Mix well, cover it with the lid and cook it over a low heat for about 6-8 minutes.Keep it aside to cool down.

Preheat an oven to 180 degree celsius.

In a mixing bowl, combine all purpose flour with salt and pepper .

Break an egg in a separate bowl and whisk it.

Flatten the chicken pieces with the help of a meat tenderiser hammer and dust it well over the flour mixture first.

Dip it inside the egg and coat it well with bread crumbs on either side.

Heat a tawa with little oil on medium-low flame, place the crumbed chicken pieces and shallow fry. Fry on either side till golden brown.

In a mixing bowl combine, both the varieties of cheese- mozzarella and parmesan and set aside.

Do the same for the rest of the chicken pieces. Now place all the chicken pieces onto a baking tray, pour over the tomato sauce and and sprinkle cheese and bake till the cheese melts. Serve by sprinkling some parsley on top.

Serve the Chicken Parmigiana Recipe along with Bruschetta with Olives & Raisins and Macaroni Minestrone Soup Pot Recipe. Complete this Italian meal on a sweet note with Tiramisu Recipe