Chicken Yakisoba Recipe - Japanese Noodles
Chicken Yakisoba Recipe is a Japanese style stir fried noodles tossed in a lot of vegetables and chicken in a tangy sauce. These noodles make a great weekend treat for your family with a piping hot bowl of soup and some stir fry veggies by the side.

Archana's Kitchen
On

Friday, 14 December 2018 09:00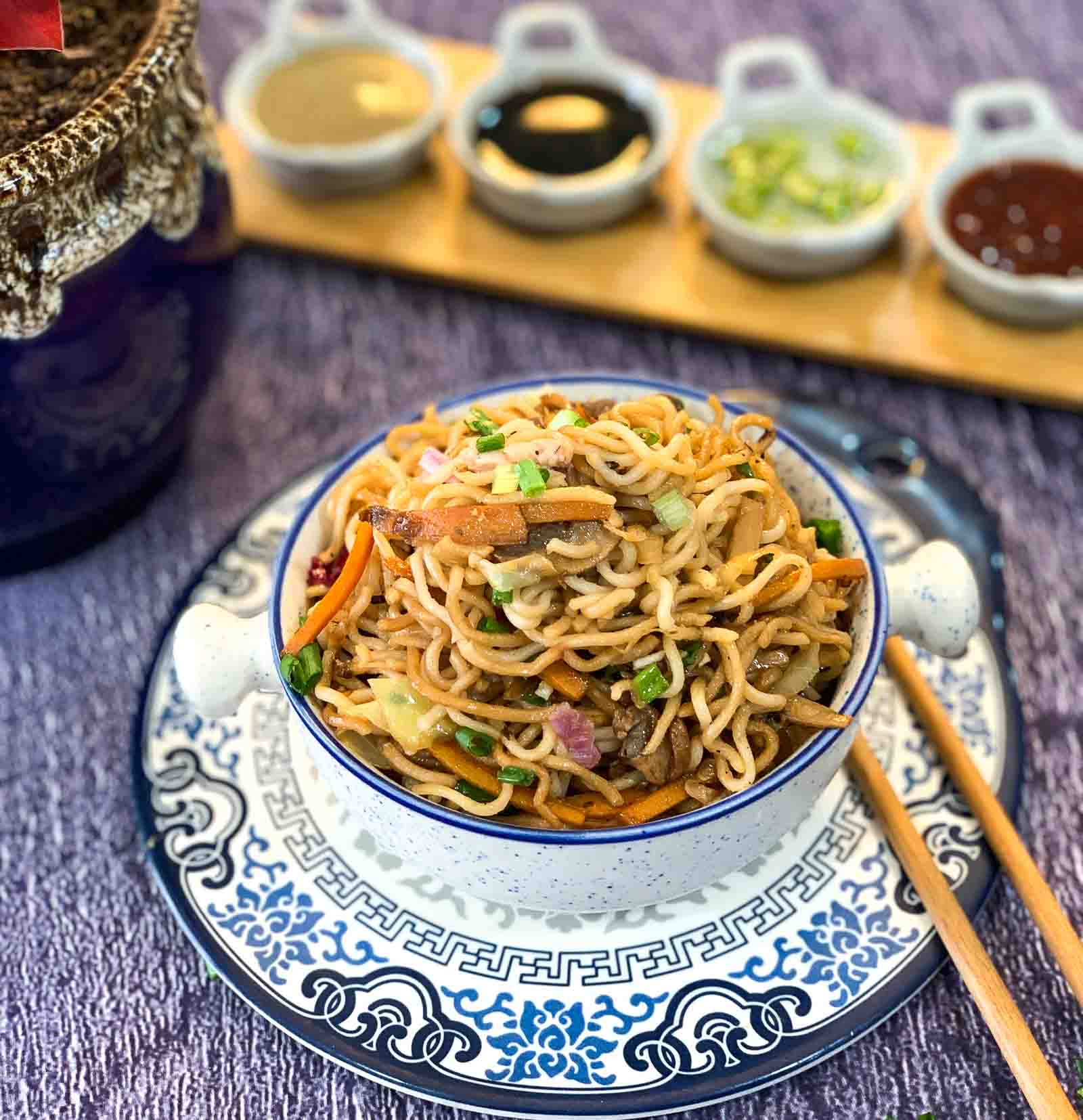 Chicken Yakisoba Recipe are Japanese style noodles made using the Yakisoba variety of noodles.
Tossed in vegetables like carrots, cabbage, mushrooms, and some onions tossed in a lovely sauce made with soy sauce, brown sugar, and vinegar. Not to forget the addition of the chicken strips that bring in that bit of protein into the dish. Serve it at your dinner parties or make it for your weekend dinners for the family.
Serve Chicken Yakisoba Recipe along with Teriyaki Chicken Recipe and a dessert of Japanese Cotton Cheesecake (Fusion Recipe).
Try our other Noodle Recipes:
Ingredients
For the Chicken
150 grams

Chicken breasts

, cut into small strips

Salt

, to taste
1 tablespoon

Corn flour

1 teaspoon

Black pepper powder

For the Yakisoba Noodles
1 teaspoon

Oil

200 grams

Yakisoba noodles

, optionally use Maggi Noodles
1 tablespoon

Oil

1

Onion

, thinly sliced
1

Carrot (Gajjar)

, cut into juliennes
1/4 cup

Cabbage (Patta Gobi/ Muttaikose)

1/4 cup

Spring Onion Greens

1 cup

Button mushrooms

, cut into quarters
For the Yakisoba sauce
1 tablespoon

Soy sauce

1 tablespoon

Red Wine Vinaigrette

1 teaspoon

Brown Sugar (Demerara Sugar)

1 teaspoon

Worcestershire sauce

1

Green Chilli

, finely chopped
How to make Chicken Yakisoba Recipe - Japanese Noodles
To begin making the Chicken Yakisoba Recipe, we will first boil the yakisoba noodles.

Note: If you are unable to find yakisoba noodles, you can use the noodles, from the maggi noodles pack without the maggi masala.
To cook the Yakisoba Noodles
Heat a saucepan with water and bring it to a boil. To the water, add a teaspoon of oil and salt.

Once the water comes to a rolling boil, reduce the flame and add the noodles.

Cook for about 4-6 minutes on medium flame, we want the noodles to be just about cooked. Make sure it is not over cooked.

Turn off the flame, and transfer the noodles into a sieve, draining off all the water.

Run cold water over the yakisoba noodles to cut the cooking process.

Drizzle a little oil over the noodles and ruffle the noodles, ensuring they do not stick to each other. Keep it aside.
To make the Chicken
Heat a shallow frying pan with oil on medium heat.

In a mixing bowl, add the chicken strips, salt and cornflour. Give it a good mix, to ensure it is evenly coated.

Put these chicken strips into the pan and cook, stirring occasionally.

The chicken will take close to 5 minutes to cook. Once the chicken is cooked, turn off the flame, sprinkle some pepper powder, mix.

Transfer to a bowl, and set aside.
To make the Yakisoba sauce
In a mixing bowl, combine the soy sauce, red wine vinegar, brown sugar worcestershire sauce and green chillies. Set aside.
Finally to make the Chicken Yakisoba Noodles
In a wok, heat oil on medium flame, into the hot oil, add onions and saute until they turn transparent. This will take about 2-3 minutes.

Next add the carrots, cabbage, and mushrooms, stir fry on high heat for a good 3-4 minutes.

The mushrooms need to be cooked, and the other veggies need to be just about crunchy.

At this stage, add the freshly made yakisoba sauce.

Add in the yakisoba noodles and toss until well combined. Check the salt and seasonings and adjust to taste.

Transfer the Chicken Yakisoba / Japanese Noodles into a serving bowl.

Serve Chicken Yakisoba Recipe along with Teriyaki Chicken Recipe and a dessert of Japanese Cotton Cheesecake (Fusion Recipe).