Chilled Spinach And Cucumber Soup Recipe

Praerna Kartha
On

Sunday, 14 June 2015 00:35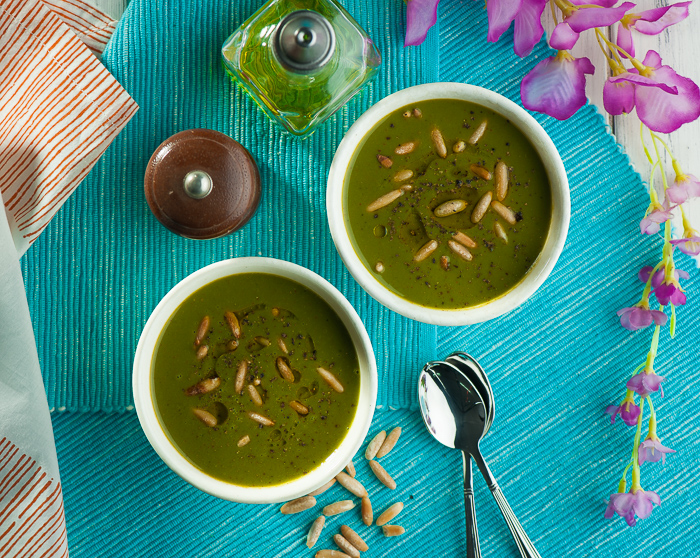 Chilled Spinach and Cucumber Soup is a refreshing and healthy soup, perfect for the summer season. It's quick to prepare with minimal cooking time and is a great way to consume vegetables. Chilled Spinach and Cucumber Soup makes a great weekday lunch by itself or can even be served as an elegant first course meal.
Did you know: Even though spinach is known mostly for its iron content, it is actually a super food in a low calorie package. Most of its calories are derived from the protein content. Apart from iron, it is also a rich source of fibre, calcium, potassium, magnesium, vitamin A, vitamin K, phosphorus and folate. Research says that possible some of the greatest health benefits of spinach are diabetes management, lowering of cholesterol and cancer prevention, among many others. Know more
On a winter night, here are more soups that are must try
Ingredients
Spinach Leaves (Palak)

, a bunch
1

Cucumber

, peeled and chopped
1

Carrot (Gajjar)

, peeled and chopped
1 clove

Garlic

1/2 inch

Ginger

, chopped
1

Green Chilli

1

Onion

, chopped
1/4 teaspoon

Paprika powder

2 tablespoon

Curd (Dahi / Yogurt)

1 tablespoon

Balsamic Vinegar

Ingredients to garnish the soup
1 teaspoon

Extra Virgin Olive Oil

2 tablespoons

Pine nuts

, peeled
How to make Chilled Spinach And Cucumber Soup Recipe
To prepare the Chilled Spinach and Cucumber Soup, first clean and wash the spinach leaves. Roughly chop them and keep aside.

Bring 2 cups of water and some salt to a boil in a saucepan. Keep a bowl of iced water ready on the side. Blanch the spinach leaves by adding it to the boiling water for 2 minutes.

Drain it and plunge it into the bowl of iced water for another 2 minutes to stop it from cooking.

Add the remaining chopped vegetables in the blender. Drain the spinach in a colander, reserving a little of the iced water to use while blending the vegetables.

Add the drained spinach leaves and about 1/2 cup of the iced water to the blender and blend until smooth.

Once smooth, add the yogurt, the balsamic vinegar, paprika, pepper and blend once again. Taste and season with salt and pepper accordingly. Adjust the consistency of the soup by adding little water.

Transfer to a bowl/container and cover with cling film before placing in the refrigerator to chill for an hour.

While the soup is chilling, dry roast some pine nuts in a skillet over low heat until they are lightly browned, about 4-5 minutes.

Serve Chilled Spinach and Cucumber Soup sprinkle with toasted pine nuts and olive oil.