Chilli Paneer Momo Recipe
A delicious dumpling recipe, Chilli Paneer Momos, have a spicy filling of the classic chilli paneer filled inside it . Soft cubes of paneer is cooked along with capsicum and onions and coated in spicy sauce, which is then wrapped in a thin sheet to hold it all together.

Archana's Kitchen
On

Friday, 25 May 2018 10:00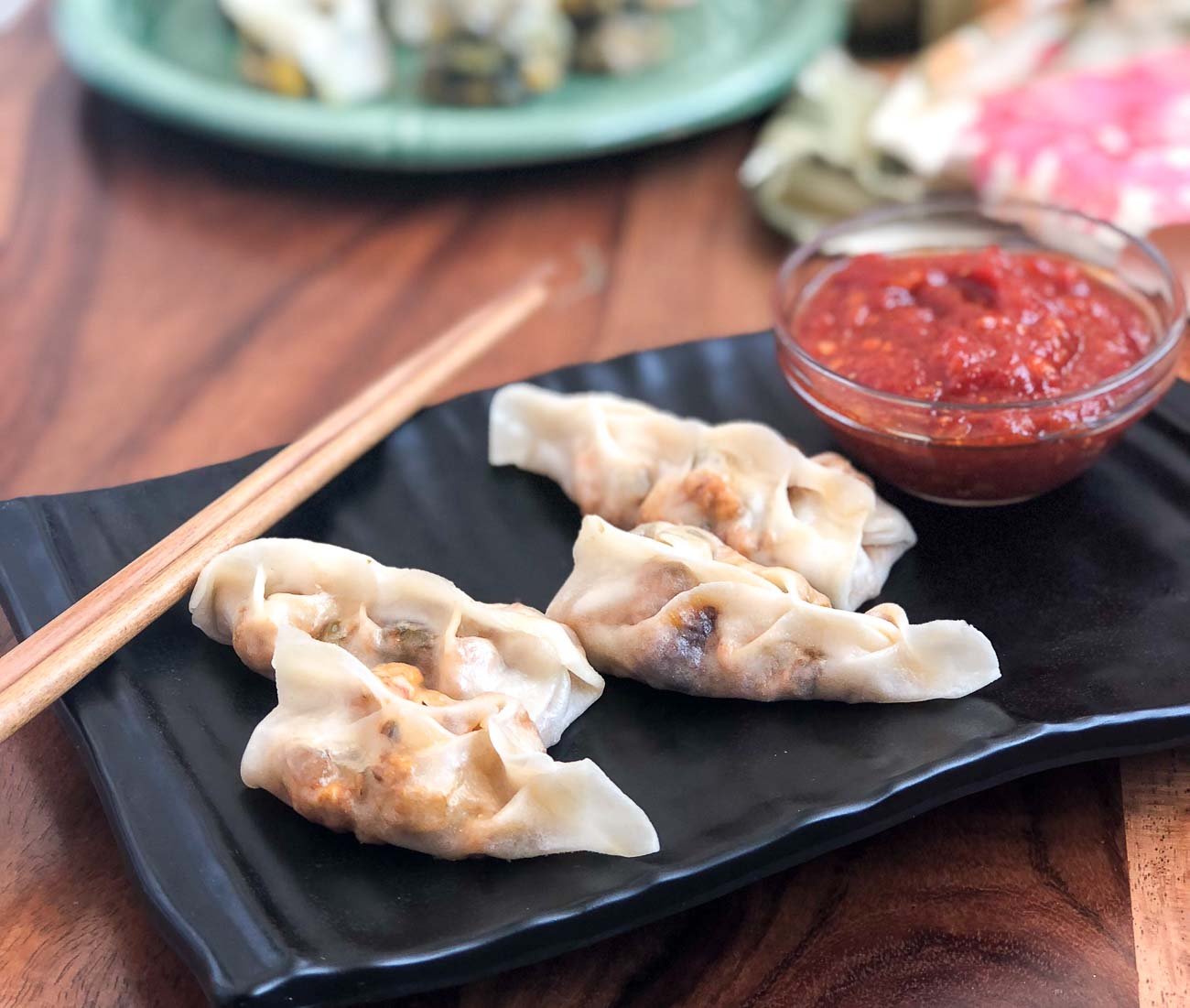 Ingredients
For Momo Dough
1 cup

All Purpose Flour (Maida)

Water

, to knead 
For the Chilli Paneer filling
250 grams

Paneer (Homemade Cottage Cheese)

, finely chopped into bits 
1/4 cup

Green Bell Pepper (Capsicum)

, finely minced

Spring Onion (Bulb & Greens)

, finely minced
1 teaspoon

Garlic

, finely minced
2 teaspoons

Ginger

, finely minced
2

Green Chillies

, finely minced
1/2 tablespoon

Soy sauce

1 tablespoon

Tomato Ketchup

1 teaspoon

Oil

Salt

, to taste
How to make Chilli Paneer Momo Recipe
To begin making the Chilli Paneer Momo Recipe, first let's make the dough.
For the Momo dough
In a mixing bowl, add maida, salt and add water slowly and knead to form a medium stiff dough. The dough should be non sticky, smooth and firm.

Keep the momo dough covered for 2 hours before making the filling.
For the Chilli Paneer filling
To begin making the filling for the Chilli Paneer Momos, we will first make the base sauce by mixing the soya sauce, ketchup, chilli sauce and salt and mix well.

Heat oil in a wok on high heat; add garlic, ginger, green chillies, spring onions bulbs and stir fry for about 30 seconds. Add in the capsicum on medium heat.

Once the capsicum is tender, stir in the sauce mixture to the wok and cook for a few minutes until the sauce thickens.

At this stage, add the paneer cubes, turn the heat to high and continue to cook for a few minutes until well combined with the sauce.

Garnish with spring onion leaves, transfer the chilli paneer to a bowl and set aside to cool.
To make the Chilli Paneer Momos
Take a bamboo dim sum maker, or the regular idli steamer and fill it with water and pre heat it over a medium heat.

Divide the momo dough into equal portions, of lemon sized balls.

Take each ball and start rolling it out on a surface. Roll out the dough as thin so that the outer layer of the momo is thin and delicate.

In every flatten dough leaf, add 1 tablespoon of the Paneer Chilli filling and fold the edges to semi circles and start pleating to give nice characteristic pleats.

Do the same with all the rest of the dough and filling. Keep the completed Paneer Chilli momos under a moist cloth to prevent drying.

Grease the steamer plate with oil or place butter paper before placing Paneer Chilli momos to from prevent them from sticking.

If using traditional steamer it has own boiler or if using bamboo steamer then boil water in a shallow pan and when water start boiling put momo filled bamboo steamer on it.

Steam the Paneer Chilli momos for 10 - 15 minutes. Once done, remove from the the steamer, place on a serving platter and serve hot.

Serve Chilli Paneer Momos Recipe as an appetizer along with a meal of Sesame Noodles Recipe With Napa Cabbage or Spicy And Delicious Chicken Teriyaki Noodle Recipe and Indo Chinese Mixed Vegetable Recipe In Szechuan sauce. Complete this meal with a dessert of Tender Coconut Ice Cream Recipe

If you are serving Chilli Paneer Momos Recipe as a snack, serve it along with Peanut Chilli Dipping Sauce Recipe or Homemade Red Chilli Garlic Sauce Recipe.