Sichuan Eggplant in Spicy Chilli Garlic Sauce Recipe

Archana Doshi
On

Sunday, 15 March 2015 00:16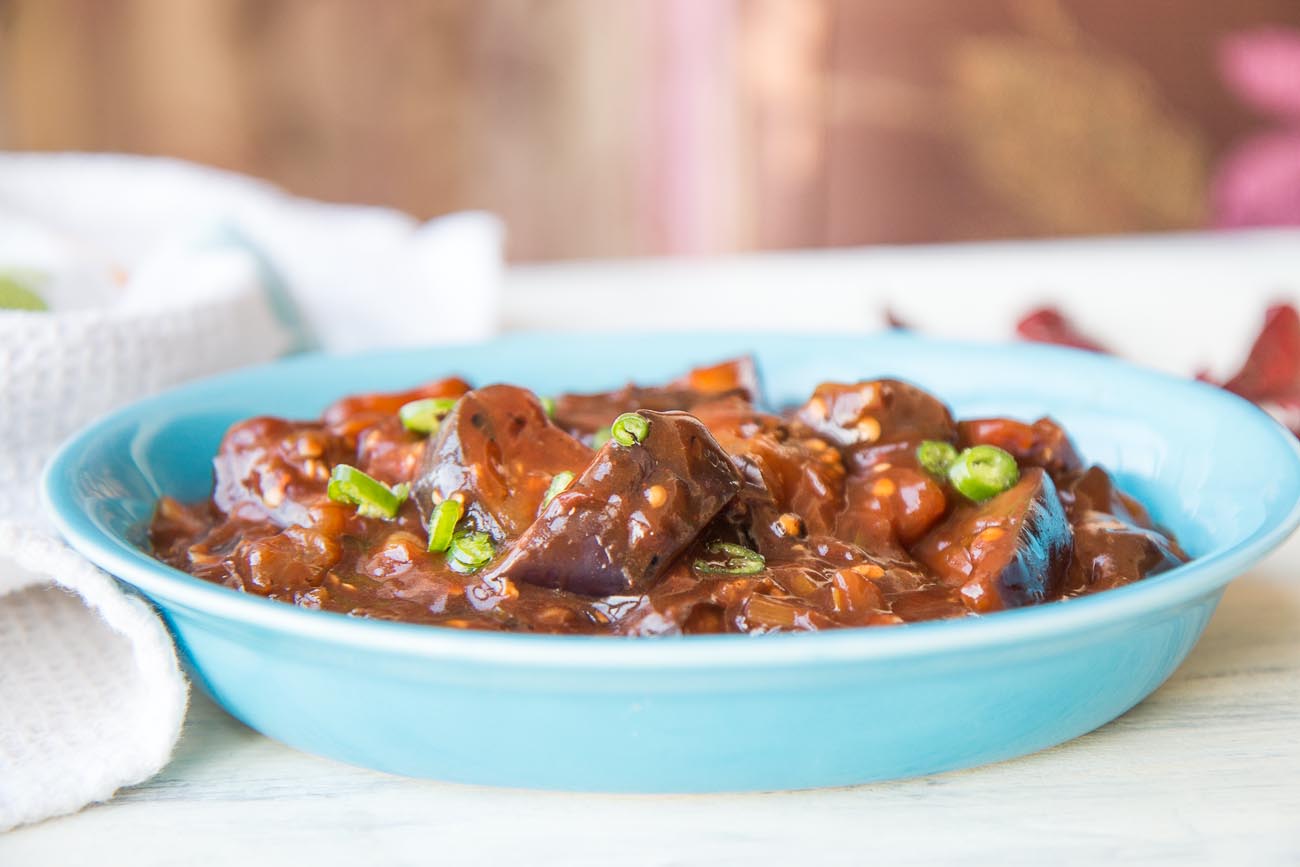 The Sichuan Eggplant in Spicy Chilli Garlic Sauce Recipe is one dish that is extremely quick to make that can be served along with an Chinese Vegetable Fried Rice or Vegetable Hakka Noodles. The eggplants, when roasted absorbs the spices from Sichuan sauce along with ginger and garlic making it flavorful and delicious.
Serve the Sichuan Eggplant in Spicy Chilli Garlic Sauce Recipe along with Dan Dan noodles to enjoy your meal.
If you are looking for more Eggplant recipes here are some:
How to make Sichuan Eggplant in Spicy Chilli Garlic Sauce Recipe
To begin making the Eggplant in Chilli Garlic Sauce Recipe, we will first get all the ingredient ready.

Our first step is to roast the eggplant until they are soft. To do this, into a wok, heat 2 teaspoons of oil on medium heat. Add the cut ginger, garlic, spring onions and eggplants, sprinkle salt and stir fry for a couple of minutes. After a couple of minutes, turn the heat to low, cover the pan and simmer until the eggplants are tender and roasted.

Once you notice that the eggplants are almost ready, we will get our sauce ready.

To make the sauce, into a bowl, add the corn flour and 3/4 cup of water and whisk well to combine. Add the remaining sauces to the corn flour mixture and whisk well with a fork, until the mixture get a rich color. Keep aside.

Note: the above sauce mixture has a lot of sauce, so check the salt and adjust to suit your taste.

Note: You will know the eggplant is cooked through when you press it with a spoon it almost gets mashed

Once the eggplant is cooked through, add the sauce to the eggplant and turn the heat to medium heat. Keep stirring gently, until the sauce thickens. After the sauce thicks, adjust the consistency of the sauce, by adding water is required. Once again check the salt and spice levels and adjust it to suit your taste.

Simmer for another couple of minutes and turn off the heat.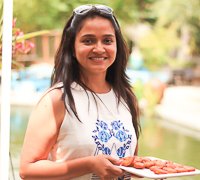 Archana Doshi is the founder of Archana's Kitchen. Archana launched Archana's Kitchen in 2007 as a way to keep track of her and family's recipes, and along the way grew it into one of the most popular cooking websites in the world. Archana is dedicated to helping home cooks be successful in the kitchen. Archana says "I hope you enjoy cooking recipes from my website where the sole effort is to make cooking simple for you. When you try out one of our recipes, we are longing to hear back from you. Do take your time to come back and share your comments, as your feedback means a lot to me"