Chocolate Cherry Cake Recipe

Akansha Bansal
On

Monday, 13 June 2016 00:51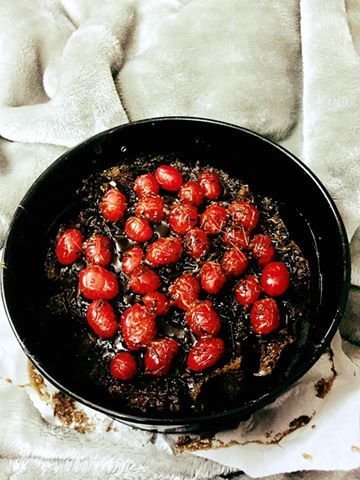 Chocolate Cherry Cake Recipe is from Scratch and has a new twist to the normal black forest cake we usually prepare. .Traditionally in a black forest cake, people do a buttercream frosting along with cherry brandy on each of the layers but here we will give a twist.I will be glazing the cake with chocolate ganache and for the top, we will cover it with cherries and salted caramel to balance the sweetness in the chocolate.
Perfect for the Holiday Season or for a Casual Weekend at Home.Serve the Chocolate Cherry Cake with some espresso or latte as an evening Tea Time Snack.
Here are few more chocolate recipes which you can try.
Ingredients
2

Whole Eggs

200 grams

All Purpose Flour (Maida)

50 grams

Butter (Salted)

3 tablespoon

Cocoa Powder

80 ml

Milk

1/2 cup

Heavy whipping cream

200 grams

Sugar

1 cup

Chocolate chips

1 cup

Fresh Cherries

1 teaspoon

Baking powder

1 teaspoon

Vanilla Extract

Salt

, to taste
How to make Chocolate Cherry Cake Recipe
To begin with the Chocolate Cherry Cake From Scratch recipe first, Cream together the butter(must be at room temperature) and granulated sugar, you can use a whisk or do this in a standing mixture.

Now add eggs and milk to this mix and keep mixing till it looks all combined and become smooth.

Now in another bowl mix flour,baking powder,salt,cocoa powder making sure there are no lumps in the dry mix.

To this dry mixture add the wet chocolate mixture and mix it slowly so that they combine well. DON'T over-mix else you will end up with a dense cake.

Now take a cake pan lined with parchment paper and pour in the mix which should be of flowy consistency.

Put the cake pan in the oven and bake at 350C for 15min, keep checking at regular intervals if this is your first time baking.

Now for the chocolate ganache, in a heavy bottom pan boil the heavy cream and add the chocolate chips and leave it for 3 minutes.

Now whisk the cream thoroughly so that it becomes a smooth flowy paste and put it in the fridge for a smooth buttery texture

For the caramel, add sugar in a pan with a teaspoon of butter and keep whisking it till it melts completely and turns into golden syrup, do this on low heat to avoid burning the caramel.

Check the cake by inserting a toothpick, if it comes out clean it means the cake is cooked completely.

Slice the cake into layers if you wish you and cover the entire cake in ganache , top it with cherries.

Finally add golden strings of caramel by slowing drizzling in the caramel to the cherries and generously coating it.You can add confectionary/icing sugar also if you wish.

Your chocolate Cherry Cake From the Scratch is ready to be served with some espresso. Perfect for the Holiday Season or for a Casual Weekend at Home as an evening Tea Time Snack.