Chocolate Chip & Raisin Rolls Recipe

Madhuli Ajay
On

Wednesday, 07 October 2015 00:51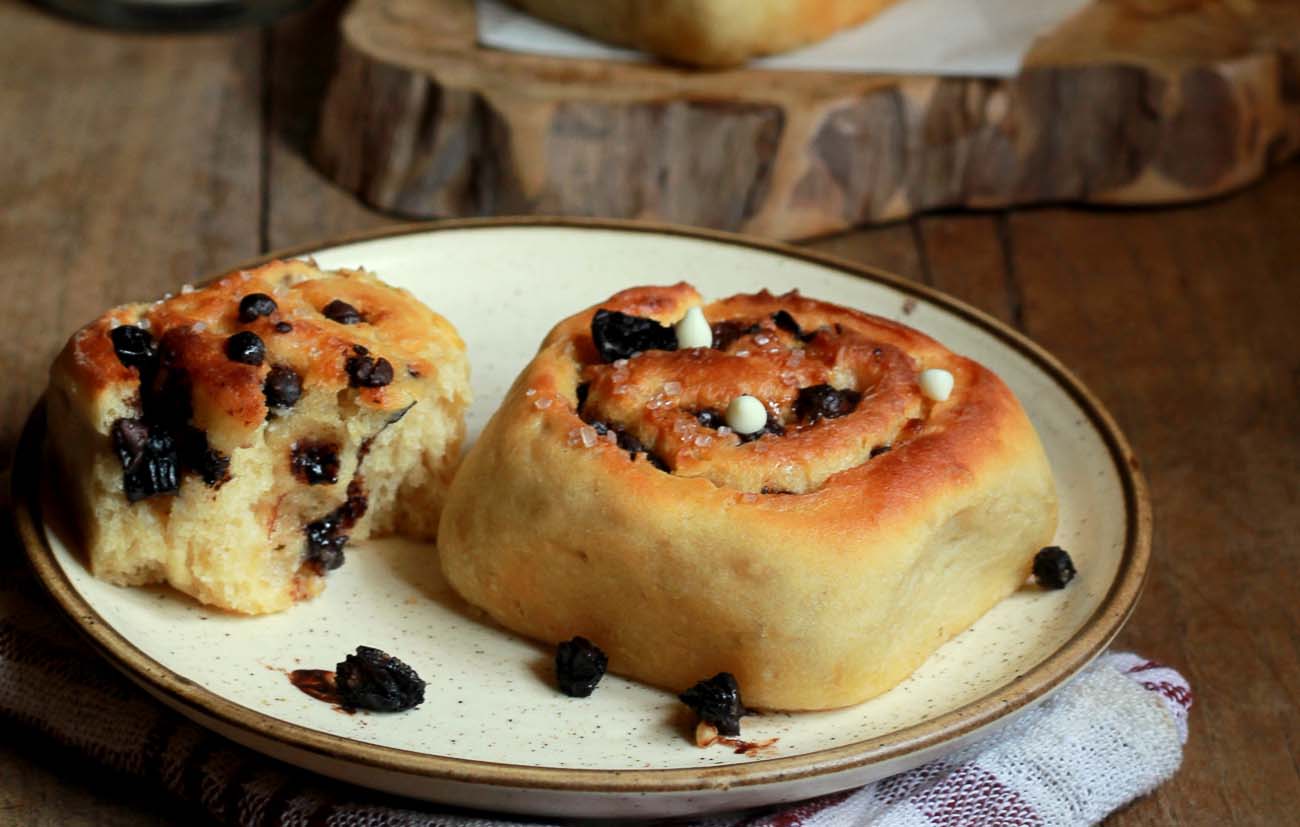 Chocolate Chip & Raisin Rolls is an indulgent breakfast or tea-time treat. There is nothing as satisfying as baking your own bread! Specially if the bread turns out to be a soft, chocolate and raisin filled fluffy roll, best eaten warm. Using a few simple ingredients, a bit of planning and patience, the results of this recipe are satisfying and oh-so-scrumptious.
Serve Chocolate Chip & Raisin Rolls along with your evening masala chai or as an after school snack.
Other recipes that you can try are:
Ingredients
2 cups

Whole Wheat Flour

2 cups

All Purpose Flour (Maida)

1 cup

Milk

, luke warm
3 teaspoons

Active dry yeast

2 tablespoons

Honey

, or jaggery or sugar
1 tablespoon

Butter (Salted)

, softened
1 teaspoon

Salt

1 1/2 cups

Water

, or as required
For the filling
1/2 cup

Sultana Raisins

3/4 cup

Chocolate chips

, dark and white
3-4 tablespoons

Butter (Salted)

, ricotta cheese or cream cheese or soft paneer

Orange Zest (Rind)

, of 1 orange

Sugar

, to sprinkle on top
How to make Chocolate Chip & Raisin Rolls Recipe
To begin making the Chocolate Chip & Raisin Rolls first mix the flours and salt in a mixing bowl or the bowl of a food processor or stand mixer. Blend them together briefly.

Next, in a large measuring cup, measure 1 cup lukewarm milk. To this add honey, butter and whisk together. Sprinkle the yeast over the milk and allow it to get frothy for about 3-4 minutes.

If using a food processor/stand mixer; with the food processor/stand mixer running on low speed, gradually pour the milk mixture into the processor over the flour.

Slowly add in the water (as much required) and allow the flour to form a soft dough within the bowl of the processor/mixer.

If using a mixing bowl; add the frothy yeast and milk mixture to the flour and begin to knead with your hands.

Add water gradually, only as much as needed and keep kneading it till the flour forms a soft and pliable dough.

Take care not to add too much water or you will have a sticky unmanageable dough.

Turn dough out onto a floured surface and knead again for 8-10 minutes, working the dough very well, until it is smooth and elastic. (If using the stand mixer, knead on medium speed using the dough hook)

Transfer the formed dough to a lightly greased bowl, turning once to coat all over. Cover with a wet kitchen towel or plastic wrap and set it aside in a warm place for about 1 - 1 1/2 hours until it has risen and doubled in size.

Meanwhile, mix together the butter, chocolate chips, raisins and orange zest. Grease and line a baking sheet or a tray with parchment paper and set it aside for later use.

Once the dough has doubled, dust a working surface again with flour and gently roll the dough into a rough 9x12 inch rectangle on it.

Spread the butter chocolate chip raisin mixture evenly on top of the rolled out dough.

Then, starting with the longer end, roll the dough up into a scroll, making sure to keep it tight so the filling remains inside.

Use a sharp knife to cut the log into 1 inch rounds. Place the individual rounds on the prepared sheet, cut side down.

Cover the sheet with a wet kitchen towel and allow the rolls to rise a second time, for about 30 minutes.

Meanwhile, set your oven to preheat at 200 degrees C.

When the rolls have risen for 30 minutes, reduce the heat to 180 degrees C, sprinkle the rolls with granulated sugar and place them to bake until they are are golden brown.

Remove the Chocolate Chip and Raisin Rolls from the oven, allow them to rest for 5-10 minutes.

Serve Chocolate Chip & Raisin Rolls along with your evening masala chai or as an after school snack.