Chocolate Chip Scone Recipe

Riya Gulati
On

Tuesday, 08 January 2013 12:56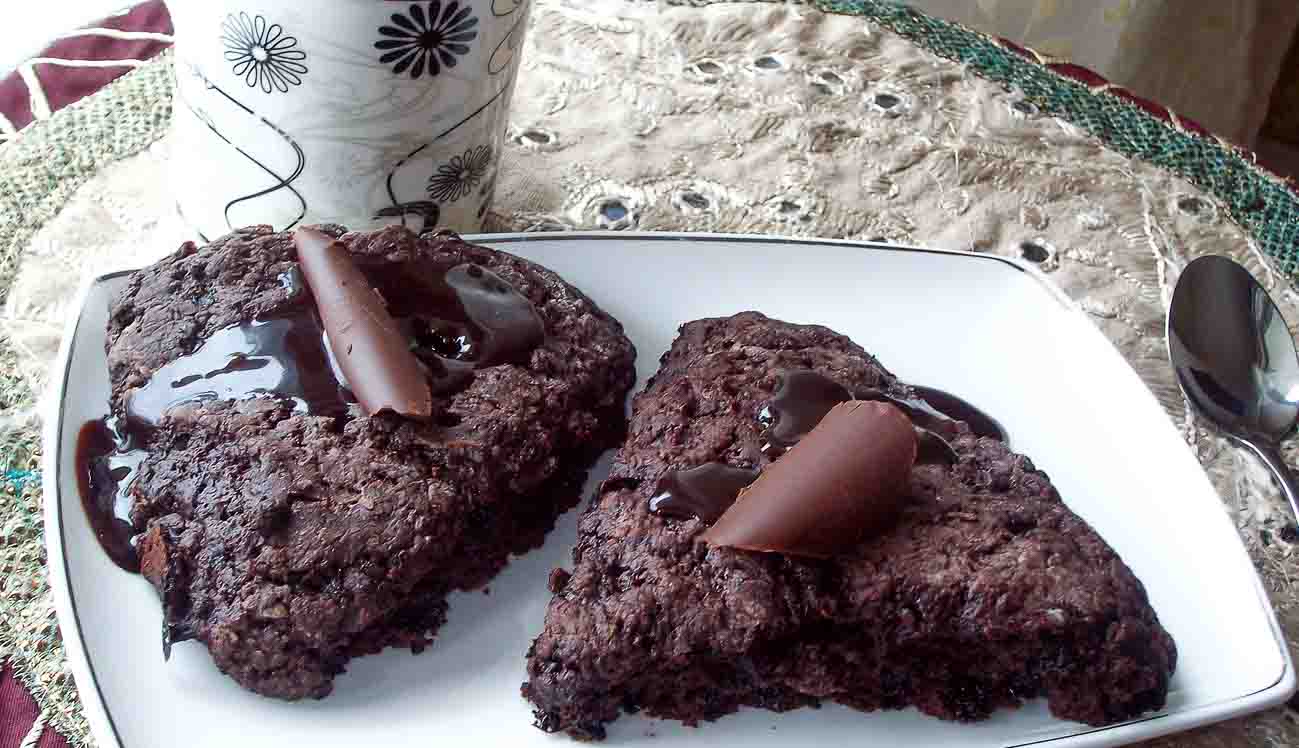 The Chocolate Chip Scones recipe comes from my penchant for chocolate every 2-3 hours in a day! Its a low calorie cake like cookie which is to be enjoyed with your favourite Cappuccino or even tea.
Serve Chocolate Chip Scone along with hot Masala chai for your tea time break.
If you like this recipe, you can also try other Cookie recipes such as
Ingredients
Dry Ingredients
200 grams

All Purpose Flour (Maida)

60 grams

Cocoa Powder

125 grams

Sugar

2 teaspoons

Baking powder

75 grams

Butter (Unsalted)

, cut into cubes
1/2 cup

Whole Almonds (Badam)

, slices
1/2 cup

Chocolate chips

Wet Ingredients
150 ml

Fresh cream

1

Whole Eggs

1 teaspoon

Vanilla Extract

1 recipe

Chocolate ganache
How to make Chocolate Chip Scone Recipe
To begin making the Chocolate Chip Scone Recipe, preheat your oven to 195 C.

In a large mixing bowl, whisk all the Dry Ingredients together except assorted nuts. Add the butter into this mixture and knead it to form a crumbly mixture. Stir in all the wet ingredients (have them at room temperature) into the crumbly mixture. Add the choco chips/nuts. Knead it just a bit more until all the ingredients are well combined. Take care not to over knead it. Over-kneaded dough doesn't give a very soft cake like a Scone.

(if you have a stand mixer or a food processor then you can combine all the ingredients in the above way using them)

Prepare your baking tray by greasing it with an oil spray or margarine. Put a layer of Butter paper/Parchment paper on top.

Place the dough on a lightly floured surface and shape the dough into a big rounds by patting with your hands or rolling with a pin. The dough tends to be sticky so please don't panic. Using a sharp, greased knife cut into wedges of desired size.

You can optionally use cookie cutters to shape the scone dough. Carefully place the wedges on your baking tray and place it into the preheated oven.

Bake for 15-20 minutes.

Use a toothpick to check if it the chocolate scones are done. It should have a thick outer crust but extremely soft inside. Cool it for 15-20 minutes before you serve it.

Pour the chocolate ganache over the Chocolate Scones and enjoy! Serve Chocolate Chip Scone along with hot Masala chai for your tea time break.