Chocolate Crinkle Cookies Recipe

Madhuri Aggarwal
On

Thursday, 17 December 2015 00:29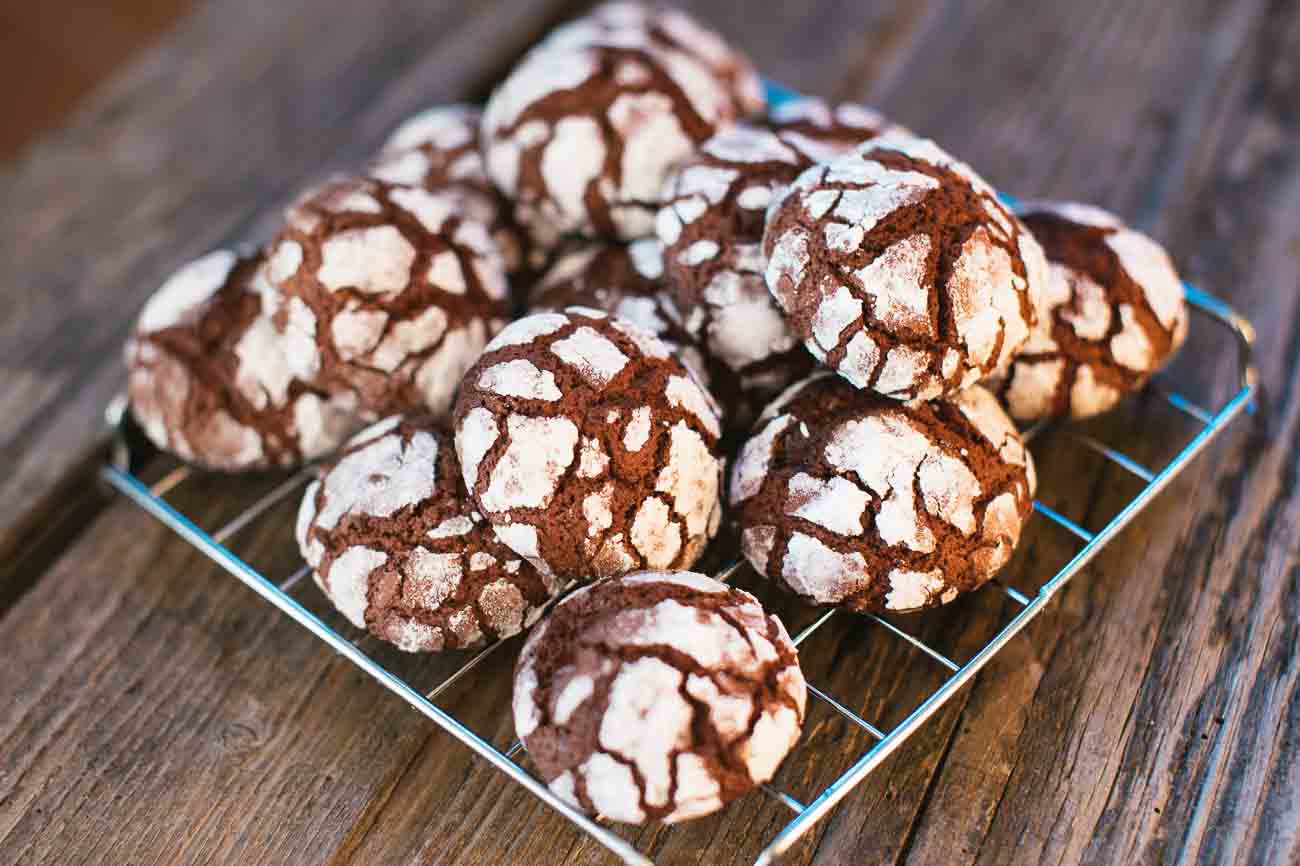 Chocolate Crinkle Cookies are ones where in chocolate yields a beautiful textured cookie with a chewy centre and an uneven, crisp exterior. It's a perfect festive cookie for Christmas party favours or even for your child's birthday party. Usually a hit with the children, these cookies are ideal when served with a glass of cold milk to dunk them in!
Try out some of the other Christmas cookie recipes like:
Ingredients
1 cup

Cocoa Powder

, unsweetened
2 cups

Caster Sugar

113 grams

Butter (Unsalted)

, softened
4

Whole Eggs

2 teaspoons

Vanilla Extract

2 cups

All Purpose Flour (Maida)

2 teaspoons

Baking powder

1/2 teaspoon

Salt

1/2 cup

Icing Sugar
How to make Chocolate Crinkle Cookies Recipe
To begin making the Chocolate Crinkle Cookies, first cream together the sugar and butter using a hand blender.

When it is pale and light, beat in eggs one at a time, and mix till well combined.

Then stir in the vanilla. Once mixed add in the cocoa powder slowly making sure to mix uniformly.

Next, combine the flour, baking powder, and salt and add into the cocoa mixture. Mix very well.

The dough will be very, very sticky. Spoon the dough onto a cling film, wrap it and refrigerate overnight or longer. The longer the dough is chilled, the easier it will be to handle.

Preheat the oven to 180 degrees C and line a baking tray with parchment paper.

Divide the dough into three parts. With one part make 1-inch balls and place them on the parchment-lined cookie sheet. Dampen your palms while making the balls and make them as smooth as possible. Chill the cookies for 10-15 minutes to firm them up again.

Put the icing sugar in a bowl. Roll each chilled dough ball in the sugar, making sure to coat the cookie as much as possible. Place the cookie balls back onto the parchment-lined cookie sheets.

Place the baking sheet in the preheated oven and bake for 10 to 12 minutes. Do not overbake or they will get very hard.

Once done, take the tray out and let it rest on a cooling rack. Repeat this with the other two parts as well.

Store prepared cookies in an airtight container and serve the Chocolate Crinkle Cookies with a cold glass of milk.