Chocolate Cup Cakes with Irish Cream Frosting

Archana Doshi
On

Wednesday, 17 July 2013 20:31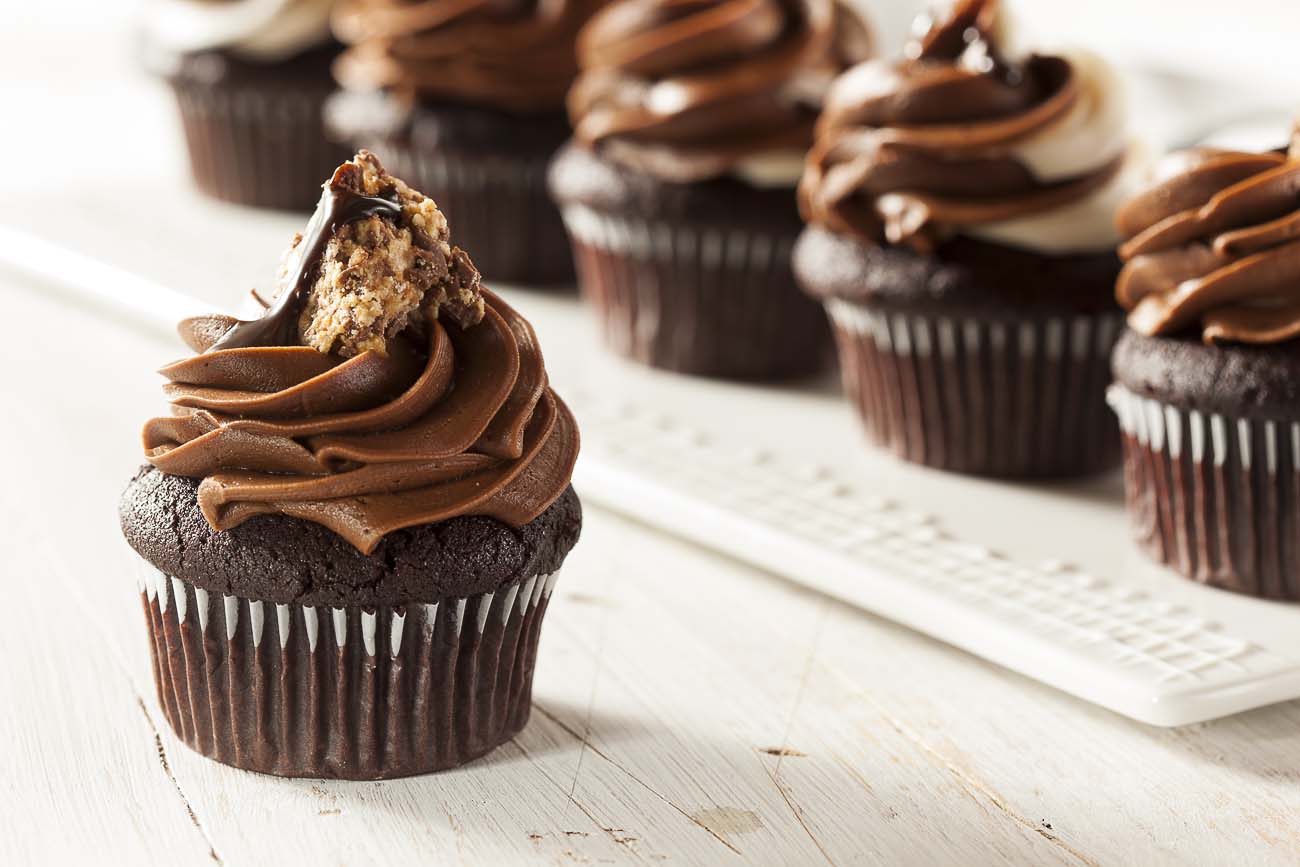 The Chocolate Cupcake Recipe is a rich decadent cake that is frosted with Ganache flavored with Irish Cream. I used to make these dessert cupcakes during my catering days and it rocked many parties. People loved the flavor of the Irish cream Ganache along with the moist cupcakes and always brought me back some compliments. In this recipe I have also shown you how to make an eggless version of the chocolate cup cake.
Here are more dessert recipes to try
Ingredients
Ingredients for the chocolate cupcake
3 cups

All Purpose Flour (Maida)

1-1/2 cups

Cocoa Powder

2-1/2 teaspoons

Baking powder

1/4 teaspoon

Salt

1 cup

Oil

1 cup

Caster Sugar

2 cups

Brown Sugar (Demerara Sugar)

4

Whole Eggs

, or Flaxmeal Egg Replacer
1 cup

Hung Curd (Greek Yogurt)

3 teaspoons

Vanilla Extract

Ingredients for the Irish Cream Frosting

Chocolate ganache

, whipped with Baileys Irish Cream
1/4 cup

Baileys Irish Cream
How to make Chocolate Cup Cakes with Irish Cream Frosting
To begin making the Chocolate Cupcakes, preheat oven to 180 C. Line the cup cake moulds with liners and keep aside.

In a larger mixing bowl sift the dry ingredients like flour, cocoa powder, baking powder and salt. Keep aside.

In the bowl of the stand mixer or another large bowl; whisk the oil, castor sugar and brown sugar until well combined. Whisk in the eggs (flaxmeal egg replacer) one at a time until smooth and fluffy. Finally whisk in the yogurt and vanilla essence until just combined.

Gradually add the dry flour mixture that we set adide into the above egg mixture. Once all the ingredients are combined and mixed well, divide batter into the cup cake moulds.

Bake in the preheated oven for 12 to 15 minutes until a tester when inserted in the center of the cup cake comes out clean. Remove the cup cakes from the oven.

Allow the cake to cool completely, before you can do the frosting. I typically like to refrigerate the cake for about 2 hours until chilled then frost the cake.

Prepare the Ganache and whisk the Irish cream into it as well. Refrigerate the Ganche for a couple of hours, so it gets firm too.

Using a butter knife or a palette knife, spread the Chocolate Ganache evenly on top of the cup cakes. You can also use a piping bag and pipe the ganache onto the cupcakes. Sprinkle nuts or chocolate chips over the Chocolate Cup Cakes and serve.

Refrigerate the Chocolate Cup Cakes in air tight containers, so it sets well and retains moisture and serve them chilled for your parties.