Chocolate Nutella Lava Cookies Recipe

Bhavita
On

Thursday, 04 August 2016 00:31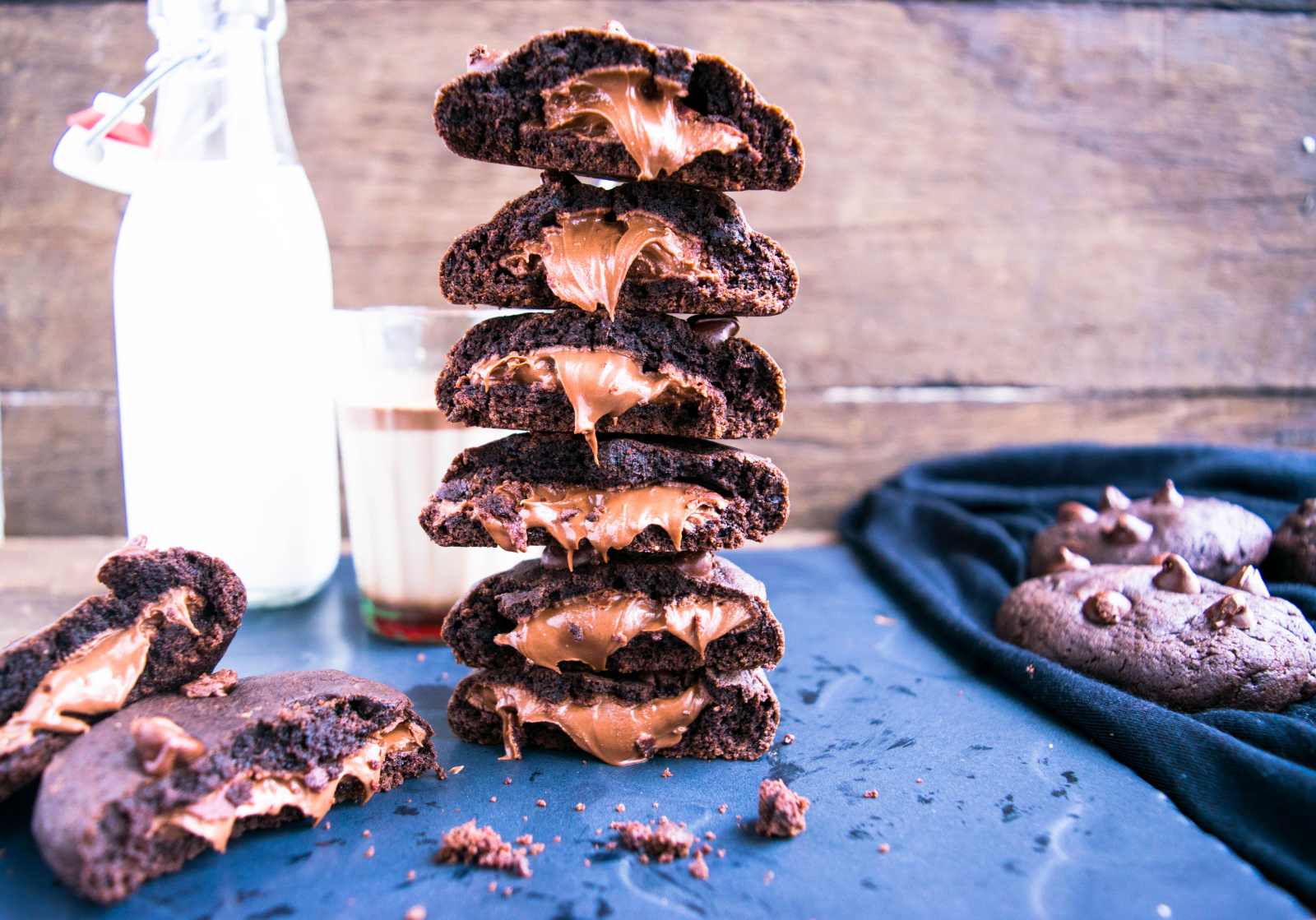 Chocolate Nutella Lava Cookies Recipe is an irresistible treat to chocolate admirers. They are the Chewy, fudgey, gooey chocolate cookies stuffed with luscious Nutella. They have cocoa powder, chocochips in them and have smooth and gooey center filled with chewy nutella. These can be served during tea time or packed in to kids snack boxes or can just be had alone when you have sweet cravings during any time of the day!
Find more of the Nutella recipes here
Ingredients
2 cups

All Purpose Flour (Maida)

200 grams

Butter (Unsalted)

1/2 cup

Sugar

1/4 cup

Brown Sugar (Demerara Sugar)

2

Whole Eggs

3/4 cup

Cocoa Powder

, unsweetened
1 teaspoon

Baking soda

3 teaspoon

Corn flour

1 teaspoon

Salt

2 teaspoon

Vanilla Extract

24 tablespoons

Nutella Spread

1 cup

Chocolate chips
How to make Chocolate Nutella Lava Cookies Recipe
To prepare Chocolate Nutella Lava Cookies Recipe, on a Baking sheet lined with parchment paper/baking paper, drop 24 tablespoonful's of nutella such that they do not touch each other and freeze for about an hour, until solid.

In a medium bowl, add the flour, corn flour/cornstarch, cocoa powder, baking soda and salt; mix and keep aside.

In another large bowl, add the butter, sugar and brown sugar and beat until light and fluffy (about 2 minutes).

Add the eggs and vanilla; mix to combine, and then add the flour-cocoa mixture and mix everything together.

Stir in the chocolate chips, reserving a few to top the cookies with.

Now you need to divide the dough into 24 portions. I found it easiest working with a tablespoon and scooped out about 2-3 tablespoons of dough per portion; you could also use a 1/4 cup measure or eyeball it, whatever works for you.

Once you have portioned the dough, roll it into balls then flatten the dough ball (I used my hands) and place a frozen nutella ball in the centre of each dough ball.

Stretch the cookie dough from the sides so that the nutella ball in the centre is completely covered with the cookie dough. The nutella starts to melt pretty quickly so remove from the freezer in batches or just put it back into the freezer to harden.

Place the cookies on a baking sheet about 2 inches apart, sprinkle with the left over chocolate chips and freeze for an hour.

Preheat the Oven to 175 degrees Celsius.

Bake cookies straight out of the freezer, for 12-15 minutes, on a baking sheet. Cookies are done when they're slightly crispy around the edges and still soft in the center.

Let the Chocolate Nutella Lava Cookies Recipe rest for about ten minutes before serving.