Churros Recipe With Cinnamon & Sugar | Eggless Recipe
If you love Churros, here is a super simple way to make these at home. All it takes is 30 minutes to make a batch of churros which is tossed along with cinnamon and sugar. Serve it along with a strawberry sauce or chocolate sauce and even come vanilla ice cream to make a perfect weekend dessert.

Archana Doshi
On

Friday, 26 September 2014 05:30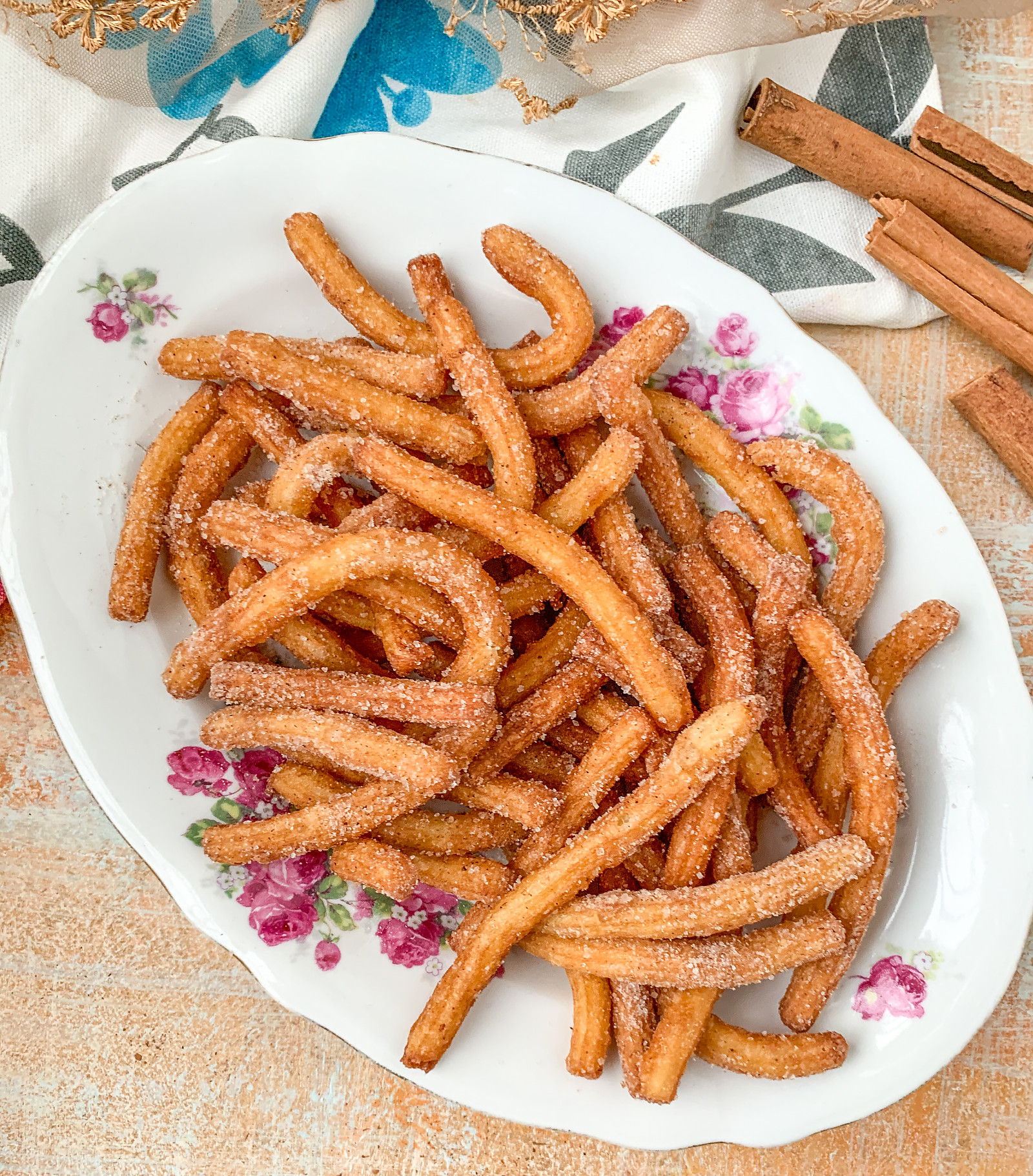 The Churros Recipe with Cinnamon & Sugar is a simple and delectable Spanish/ Mexican sweet that I absolutely love. The recipe hasn a few simple tips and tricks of making these Churros and these are something I will keep for life. Life becomes simple when you learn to learn!
Serve Churros Recipe With Cinnamon & Sugar with dip like Caramel Sauce Recipe or Chocolate Ganache Recipe.
If you like this recipe, try more recipes like
Makes:

40 pieces of 4 inch size Churros
Ingredients
Ingredients for the Churro Dough
1/2 cup

Milk

, or 120 ml
1/2 cup

Water

, or 120 ml
30 grams

Butter (Salted)

, 2 tablespoons approximately
1/2 teaspoon

Salt

1 tablespoon

Sugar

1 cup

All Purpose Flour (Maida)

, 120 grams
1 teaspoon

Baking powder

, or 1 whole egg whisked
Ingredient for Coating the Churros
1/2 cup

Caster Sugar

, fine sugar
1 tablespoon

Cinnamon Powder (Dalchini)
How to make Churros Recipe With Cinnamon & Sugar | Eggless Recipe
To begin making the Churros Recipe With Cinnamon & Sugar, we will first make the Churro dough.

Combine the milk, water, butter, sugar and salt in a saucepan and whisk it well. Bring the mixture to a boil.

Note if you are using baking powder - mix flour and baking powder together and keep aside. If you are using eggs, it it done later in the steps as mentioned below

As soon as the mixture comes to a boil, turn off the heat and add in the flour. Mix well until there are no lumps. The mixture will thicken and form a dough.

Note if using eggs, it has to be added at this stage following this process. While stirring the dough constantly, gradually beat the eggs into the dough using a hand beater which has a paddle attached or a wire whip. Wire whip will split the dough, but once the egg is combined, you can use your hand to knead it for a few seconds so the dough comes together.

Heat oil in a deep frying pan, over medium-high heat until the oil reaches 170 C. Add a small piece of dough into the dough and it should slowly come sizzling up. Ensure the oil is not super hot.

Meanwhile, spoon the churro dough into a pastry bag or a zip lock and clip one of its end. Fit in a large or medium size star tip to the bag.

Directly pipe 4 to 6 inch length of dough into the oil and snip out/cut with scissors to trim the dough.

Ensure you snip close to the oil surface to avoid splash.

Pipe out 4 to 5 churro into the oil per batch based on the size of your frying pan.

Deep fry the Churros, turning them around while frying, until golden brown. Ensure you fry on medium heat and not high heat, as the Churros need to get cooked from the inside.

Transfer the fried Churros to a plate lined with paper towels to drain the excess oil. Allow the churros to cool before we toss it in cinnamon sugar mixture.

In a large platter. Mix the sugar with the cinnamon on a plate and keep aside. This is meant for coating the churros once they are fried.

When the churros are just cool enough to handle, roll them in the cinnamon-sugar and serve hot.

Serve Churros Recipe With Cinnamon & Sugar with dip like Caramel Sauce Recipe or Chocolate Ganache Recipe.