Coconut Thumbprint Cookies With Pineapple And Apricot Preserve Recipe

Jyothi Rajesh
On

Saturday, 18 February 2017 00:12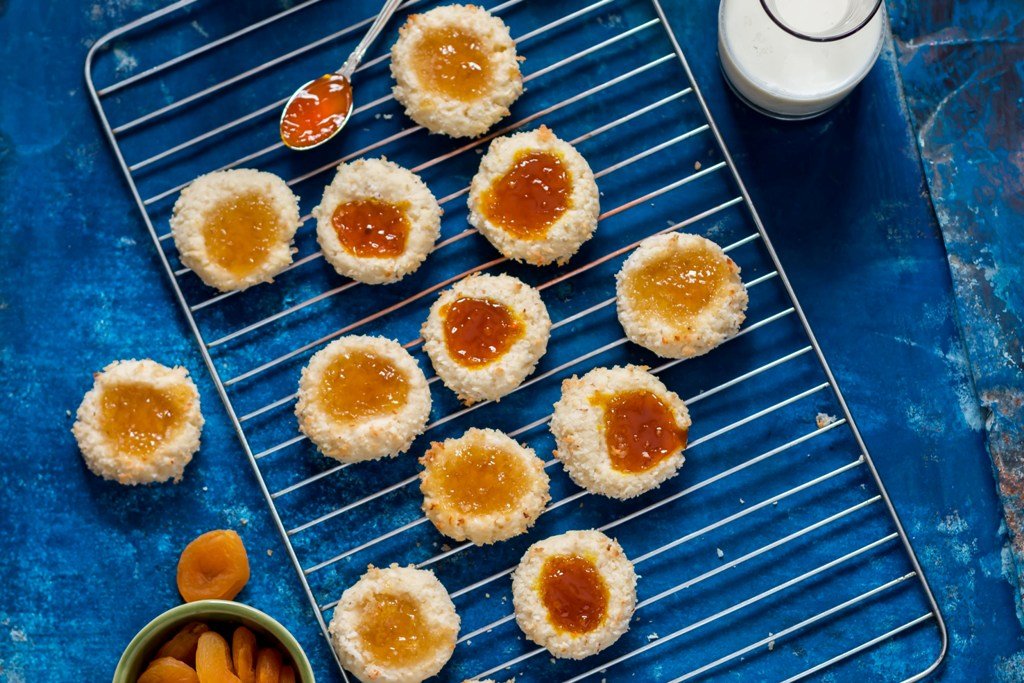 Be it festive season or not, making these thumbprint cookies and storing them for few days to enjoy with your milk or evening tea is a wonderful idea. Making these thumb print cookies is so much fun. Involve your kids and the fun is doubled. Thumbprint cookies are also called jam cookies and adding different flavours of jam and preserves that are all homemade is one of the way to use up the jam that you might have just whipped up in large batches.
Fresh fruit preserve is something you should do at home more often, be it seasonal fruits or the regular ones. Pineapple preserve is one of the most delicious and very easy preserve that you can make and keep at home. Spread it on toast, add it to the meat or use it in your cookies. Along with pineapple preserve I also tried apricot preserve and I must admit I was surprised with the result. It's slightly sweet, a bit of tang and super delicious preserve you can think of. These 2 preserves went into coconut coated thumbprint cookies and my kids absolutely loved it. If you love fruit preserves and coconut then this is a must try recipe for you.
Serve Coconut Thumbprint Cookies With Pineapple And Apricot Preserve along with hot Masala Chai during your tea time break.
If you like this recipe, you can also try other Cookie recipes such as
Ingredients
For pineapple preserve
1

Pineapple

1 cup

Sugar

1 cup

Water

1 teaspoon

Lemon juice

For apricot preserve
1 cup

Apricots

, dried
3/4 cup

Sugar

1 cup

Water

1 teaspoon

Lemon juice

For thumbprint cookies
1 cup

All Purpose Flour (Maida)

100 grams

Butter (Salted)

, softened
1/2 cup

Caster Sugar

1/4 teaspoon

Salt

1/2 teaspoon

Baking powder

1/2 teaspoon

Vanilla Extract

1 cup

Fresh coconut

, grated
How to make Coconut Thumbprint Cookies With Pineapple And Apricot Preserve Recipe
To begin making the Coconut Thumbprint Cookies With Pineapple And Apricot Preserve recipe, we will start with Pineapple preserve.

For pineapple preserve – Peel the skin on the pineapple. Grate the flesh into a bowl. Add grated pineapple along with it's juice and water into a sauce pan and bring it to boil. Continue to cook until pineapple is fully cooked. Will take about 30 minutes. Now add sugar and lime juice and cook till it reaches thick jam consistency (this will take about 25-35 minutes more). Let the preserve cool down and then transfer it into sterile dry bottles and store in cool dry place.

For apricot preserve – chop the apricots into very fine pieces. Add water and apricot pieces into a sauce pan and cook until apricot is cooked fully. Then add sugar, lime juice and continue the cooking process until it reaches jam like consistency. Turn off heat and let it cool completely. Then transfer to a sterile dry bottle and store in cool dry place.

To make the cookies, into a whisking bowl add butter and sugar, whisk until the mixture turns pale yellow and fluffy. Now add vanilla extract and mix once.

Sieve flour, salt and baking powder into a bowl.

Add flour in 3 parts into sugar-butter mix, whisk until just combined. Do not over beat the mixture. Once the cookie dough is ready, cover the dough in cling film and store in fridge for about 30 minutes. Then take the dough from fridge, take 1 tablespoon of the mixture, roll into small balls. Make a small well in the centre using your thumb, and then gently roll the cookie dough into grated coconut. Place them of baking sheet lined with parchment paper about 1 inch apart. Repeat same process for rest of the dough. Scoop a teaspoon of pineapple preserve and fill the centre of half the cookies with it.

The remaining half we will fill it with apricot preserve. Place the cookies in fridge for 20 minutes. Meanwhile pre heat oven to 150 degree centigrade.

Remove chilled cookies from fridge and bake in pre heated oven for about 17 to 20 minutes, until coconuts are toasted well and start to brown on the edges.

Remove from oven and let the cookies sit on the baking sheet for 10 minutes, then carefully transfer to wire rack and cool completely.

Store the cookies in air tight containers and use it with in a week.